Qualcomm announces partnership with Microsoft to develop custom chips for AR glasses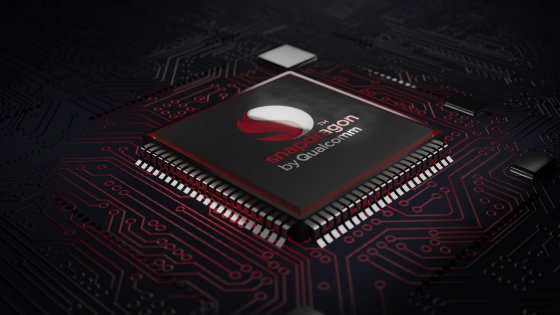 Qualcomm, a leading American semiconductor maker, says, 'We will collaborate with Microsoft to expand and accelerate the adoption
of augmented reality (AR) in both the consumer and enterprise sectors,' the world's largest in Las Vegas.
It was announced at the
CES 2022
class consumer electronics trade fair. Through this alliance, Qualcomm plans to develop custom chips for AR glasses that Microsoft will develop in the future.
Qualcomm Announces Collaboration with Microsoft to Expand and Accelerate AR to Usher in New Gateways to the Metaverse | Qualcomm
https://www.qualcomm.com/news/releases/2022/01/04/qualcomm-announces-collaboration-microsoft-expand-and-accelerate-ar-usher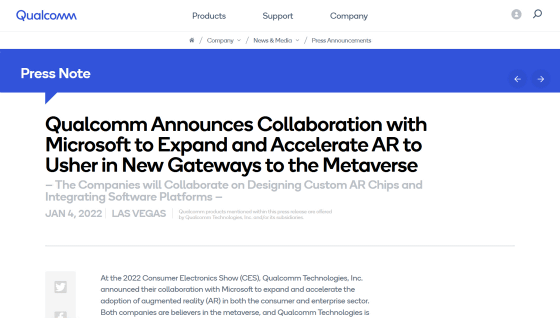 Qualcomm is working with Microsoft on custom chips for next-gen AR glasses --The Verge
https://www.theverge.com/2022/1/4/22867172/qualcomm-microsoft-custom-chips-next-gen-ar-glasses-ces-2022
Qualcomm CEO Cristiano Amon announced in a keynote speech at CES 2022 that he will partner with Microsoft to expand and accelerate adoption in the AR space. In a keynote, CEO Amon announces that we are developing a custom augmented reality Snapdragon chip for the next generation of power-efficient, ultra-lightweight AR glasses in Microsoft's ecosystem. '.
In addition, the newly developed custom Snapdragon chip platform for AR glasses will integrate the software of both companies,
Microsoft's
mixed reality platform 'Microsoft Mesh' and Qualcomm's AR development platform '
Snapdragon Spaces XR'.
Mr. Amon said. Snapdragon Spaces will be fully integrated with Microsoft Mesh and the platform will be available in the next generation of lightweight glasses.
Qualcomm said in an official statement that both Qualcomm and Microsoft believe in the future of the
Metaverse.
'This collaboration recognizes Qualcomm Technologies' proven spatial computing expertise, technical leadership, and willingness to provide an innovative experience for the next generation of head-mounted AR devices towards the Metaverse. That's it. '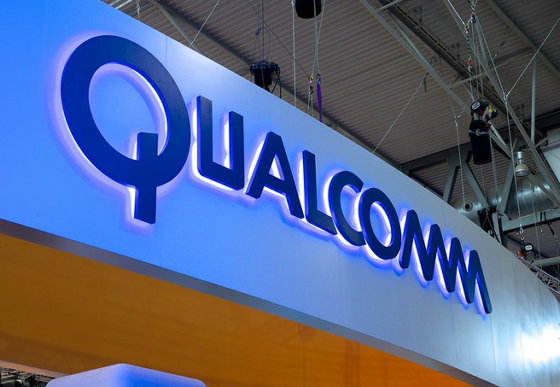 by Kārlis Dambrāns

'This collaboration reflects the next step in the two companies' common commitment to XR and the Metaverse,' said Hugo Swart, vice president of extended reality (XR) at Qualcomm Technologies. We are pleased to be able to promote and expand the spread of AR hardware and software throughout the industry. '

In addition, the overseas media The Verge has been equipped with Qualcomm's Snapdragon 850 chip in Microsoft's MR headset ' HoloLens 2 ' from 2019, and 'Surface Pro X ' is equipped with the SQ1 chip jointly developed by both companies. He pointed out that Qualcomm has been cooperating in developing custom chips for Microsoft for some time.

Microsoft announces next-generation MR headset 'HoloLens 2', greatly improved from the first generation such as double viewing angle and eye tracking --GIGAZINE