Apple reports that it will adopt its own 5G modem chip for iPhone by 2023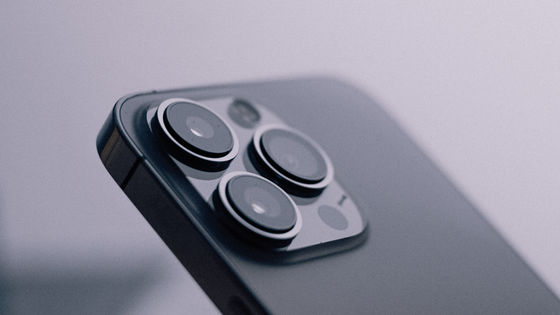 To reduce its reliance on semiconductor maker Qualcomm , Apple has adopted a proprietary SoC for iPhones and iPads, and the latest iPhone 13 series is equipped with the 'A15 Bionic' chip. Apple is accelerating attempts to adopt such proprietary chips, and it is reported that in 2023, 5G modems for the iPhone will be manufactured using TSMC, the world's largest foundry.

Apple taps TSMC to build custom iPhone 5G modem in 2023 --Nikkei Asia
https://asia.nikkei.com/Business/Tech/Semiconductors/Apple-taps-TSMC-to-build-custom-iPhone-5G-modem-in-2023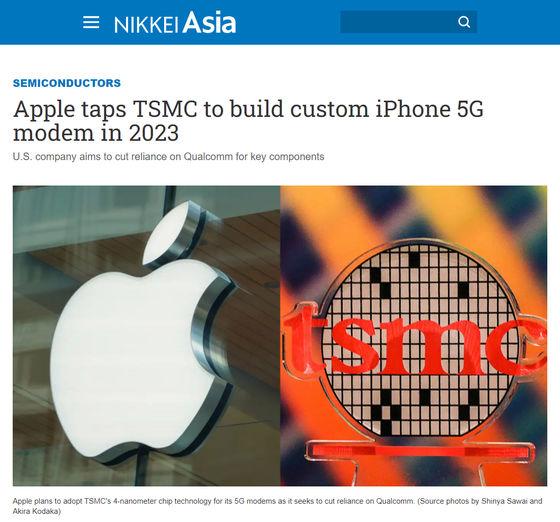 Apple's custom-built 5G modem due to land in 2023 | Macworld
https://www.macworld.com/article/554612/iphone-custom-5g-modem-2023.html

Apple reportedly switching to its own iPhone modem design in 2023 --The Verge
https://www.theverge.com/2021/11/24/22800144/apple-own-iphone-modem-2023-tsmc-4nm

Apple plans to mass-produce 5G modem chips for Apple products using TSMC's 4nm process, Nikkei Asia reported. Nikkei Asia reports details about Apple's 5G modem, with information from four people familiar with Apple's plans. According to media reports, Apple is working on developing a 5G modem that can connect to two bands, its own radio frequency and millimeter waves. In addition, Apple is working on developing its own power management chip for 5G modems, sources said.

According to sources, Apple aims to save money on Qualcomm by developing its own modem chip, allowing the integration of SoCs and modems for Apple terminals. This not only gives Apple more control over hardware integration, but also improves chip efficiency, Nikkei Asia said.

The modem chip is an important component that determines call quality and data transmission speed. The development of modem chips has been monopolized by companies such as Qualcomm, MediaTek and Huawei, which have a large number of related patents. Semiconductor giant Intel has been supplying modem chips to Apple with Qualcomm until 2016, but has stopped developing modem chips for mobile devices and sold its business to Apple in 2019. Apple has been developing its own SoC for over a decade, but developing a modem chip is 'much more difficult' because it needs to support a variety of communication protocols from 2G to 5G, Nikkei Asia said.

Apple announces acquisition of Intel's modem chip business for smartphones-GIGAZINE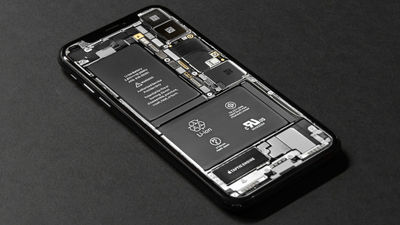 TSMC is an important partner in Apple's strategy of developing its own chips. Sources say TSMC has hundreds of engineers at Apple's headquarters in Cupertino, California, to support the company's chip development.

In addition, the 5G modem for iPhone is designed and tested by TSMC's 5nm process, and mass production will be done by 4nm process. 'Because some global carriers need a lot of time to validate and test new modem chips, the actual commercialization of 5G modem chips will be after 2023,' sources said. increase.

In addition, sources say that Apple will be the first company in the world to release a chip that uses the 3nm process, and that the 3nm process chip will be adopted for the iPad in the latter half of 2022 and for the iPhone in 2023. That is.