Survey result review that analyzed Apple's new SoC 'M1 Pro' 'M1 Max' appeared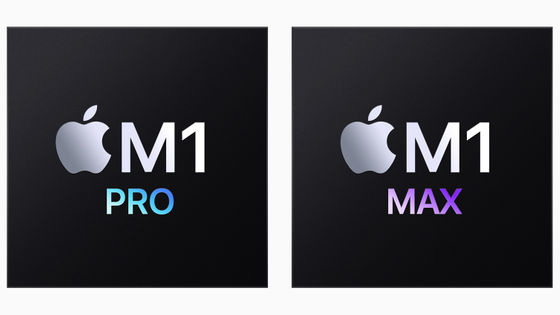 AnandTech, a hardware-related news site, announced the results of a detailed analysis of the performance of the
SoCs 'M1 Pro' and 'M1 Max'
installed in the new MacBook Pro announced by Apple on October 19, 2021. Did.
Apple's M1 Pro, M1 Max SoCs Investigated: New Performance and Efficiency Heights
https://www.anandtech.com/show/17024/apple-m1-max-performance-review
◆ M1 Pro
The M1 Pro is equipped with a CPU with a total of 10 cores, a high-performance core 8 and a high-efficiency core 2, a 16-core GPU, and 33.7 billion transistors. Of these, the CPU is not the new generation used in the
A15
, but the CPU IP of the
same generation as the M1 is used.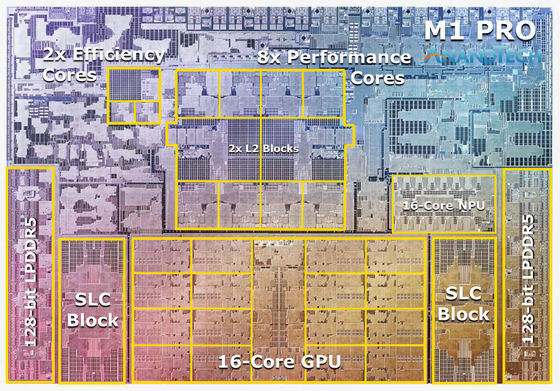 The peak clock number of CPU cores is 3228MHz, but the frequency changes according to the number of active cores in the cluster, which is 3132MHz for 2 cores and 3036MHz for 3-4 cores. The eight high-performance cores on the M1 Pro and M1 Max consist of two four-core clusters, each with a 12MB L2 cache that can operate independently of each other. It is possible to do tricks such as 'a cluster runs four cores at 3036MHz and the other cluster runs one active core at 3228MHz.'

Also, the number is halved compared to the M1 which had four high-efficiency cores, but the peak clock frequency of the two high-efficiency cores installed in the M1 Pro is 2064 MHz, similar to the M1 and A series. It is said that the 4MB L2 cache can be fully utilized.

In addition, the M1 Pro has a data rate of 6400 MT / s and 256-bit wide
LPDDR5
memory, with a total bandwidth of 204 GB / s. This is significantly higher than the M1's 68GB / s, which is higher overall than other laptops that rely on the 128-bit interface.
On the other hand, the system level cache (SLC) is 24MB for M1 Pro and 48MB for M1 Max, which is smaller than AnandTech originally expected, but 'it makes sense considering the space of the SRAM die area,' AnandTech said. I'm evaluating it.
◆ M1 Max
The M1 Max has the same number of CPU cores as the M1 Pro, but the GPU has doubled to 32 cores and the number of transistors has reached 57 billion. According to tests by AnandTech, the GPU of M1 Max operates at a maximum of 1296MHz. This is slower than the GPUs on desktop PCs and game consoles, which often run up to about 2.5GHz, but it's pretty fast for mobile.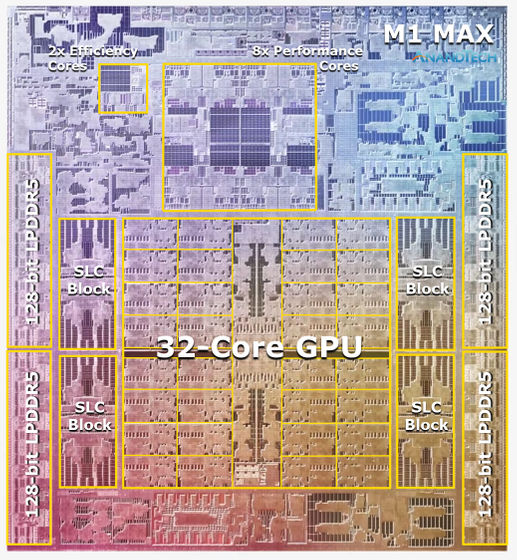 On the other hand, M1 Max uses 512bit wide LPDDR5 memory, which has twice the memory interface of M1 Pro. 'It's an unprecedented SoC and a very rare design in the history of discrete GPUs , which allowed the chip to have a huge bandwidth of 408GB / s,' said AnandTech. ..

In addition, the M1 Max's memory controller cache is 48MB, which allows the chip to amplify the memory bandwidth of various SoC blocks and also reduce off-chip traffic, reducing chip power consumption. I can do it.

From this point, AnandTech said about the SoC of the new MacBook Pro, 'M1 Pro and M1 Max are chips that have been long-awaited for more than a year since Apple announced the M1. M1 is from SoC for smartphones to SoC for notebook PCs. Although it was a legitimate evolutionary system, it was a chip with low power consumption in mind due to thermal limitations. Therefore, although it excels in single-thread performance, it clearly lags competitors in overall performance. However, this situation has changed completely with the advent of the M1 Pro and M1 Max. The two SoCs seem to have been made for power-conscious users, and performance indicators are improving in every vector. I expected the performance to improve, but the tremendous improvement so far was unexpected. '