As an environmentally friendly power source, Bitcoin mining companies are moving in partnership with 'nuclear power generation'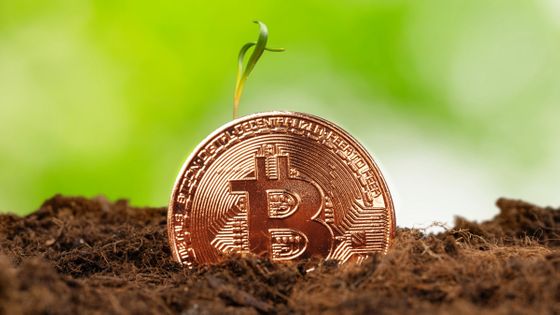 Cryptographic assets (virtual currency) such as Bitcoin can be mined by 'mining
' that provides the computing power of computers for complicated calculation work required for processing transactions, and in recent years virtual currency Companies specializing in mining have also been established. Although some people have criticized mining as 'bad for the environment' because it consumes a lot of electricity, it is reported that Bitcoin mining companies are paying attention to 'nuclear power generation' as environmentally friendly electricity. ..
Bitcoin Miners Eye Nuclear Power as Environmental Criticism Mounts --WSJ
https://www.wsj.com/articles/bitcoin-miners-eye-nuclear-power-as-environmental-criticism-mounts-11632654002
Bitcoin Miners Go Nuclear in Search of Clean Energy --Decrypthttps://decrypt.co/81974/bitcoin-miners-go-nuclear-search-clean-energy
Efficient mining of cryptocurrencies
requires a large facility with a large number of computers
and consumes a huge amount of power to operate. From this point, the virtual currency has raised the voice to criticism and bad for the environment, in the past is Bill Gates of Microsoft founder as a 'bit coin is not good to the climate of the earth for large power requirements,'
remarks
were in addition, Elon Musk, CEO of Tesla, 'but I believe a virtual currency, the use of fossil fuel by a virtual currency, in particular, can not greatly increase the use of coal' and
remarks
have been.
According to the 'Cambridge Bitcoin Electricity Consumption Index (CBECI)' published by the University of Cambridge in the United Kingdom, the power consumption by bitcoin mining accounts for 0.57% of the total power consumption in the world. That is. The annual power consumption by mining is higher than the total annual power consumption of the Netherlands and the Arab Emirates, and it is equivalent to the 31st place in the total power consumption ranking by country. It is pointed out that it exceeds the total power consumption.
Cambridge University explains the power consumption of Bitcoin mining, which consumes national level power, in an easy-to-understand manner --GIGAZINE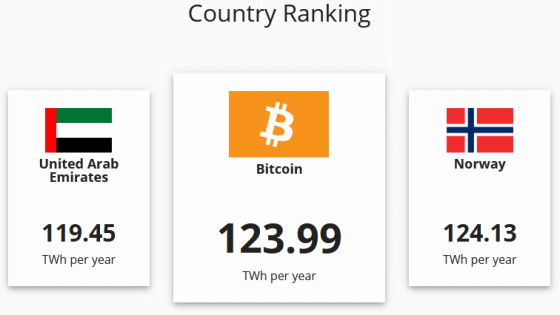 Bitcoin mining companies seeking eco-friendly and clean power sources are accelerating their partnership with 'nuclear power companies' amid growing criticism of environmental issues. In August 2021, power generation company
Talen Energy Corp
announced
that it would start a joint venture with bitcoin mining company
TeraWulf
, equivalent to four American football fields on the site adjacent to the Pennsylvania nuclear power plant. Started construction of a large mining facility.
In addition, Energy Harbor Corp
, a nuclear power company, has announced that since December 2021, Bitcoin mining company
Standard Power
will provide electricity to its facilities in Ohio.
Existing nuclear power companies are not the only ones to partner with Bitcoin mining companies.
Oklo
, a startup that develops a
small nuclear reactor 'Aurora
' with an output of 1.5 megawatts, has signed a 20-year power supply contract with
Compass Mining
, which provides Bitcoin mining equipment. The deal does not include electricity pricing, and Aurora, which has not been approved by the federal government at the time of writing, is expected to go live after 2023, but Whit Gibbs, CEO of Compass Mining. He said he was confident that the two companies could agree on a price that would enable profitable cryptocurrency mining.
These alliances benefit not only Bitcoin miners, which have been criticized for environmental issues, but also nuclear power companies. Nuclear power has been touted as a clean power source that does not emit carbon, but in recent years it has struggled to compete with renewable energy and power generation using cheap natural gas, and many nuclear power plants have been struggling to generate electricity. He said he was forced to decommission the reactor because he could not find a sales destination.
According to the US Energy Information Agency (EIA)
, the pace of decommissioning of nuclear power plants is faster than the pace of construction, and the proportion of nuclear power in the US power generation ratio is expected to decline in the coming years.
In addition, Mayor Francis Suarez is
promoting the nuclear power plants owned by the power generation companies Florida Power & Light
and
NextEra Energy, and
is attracting crypto asset miners and exchanges. Suarez said that many of the environmental concerns of mining were due to the fact that they were done in coal-producing countries, suggesting that working with nuclear power could lead to clean mining.
Bill Dugan, director of customized energy solutions
, an energy advisory firm, expects more partnerships between nuclear power and bitcoin mining companies in the future, but the mining business alone is in danger of shutting down all nuclear power. He points out that it would be impossible to save the place.


While Bitcoin mining companies are becoming more active in partnering with nuclear power companies, power generation companies that use fuels derived from fossil fuels are also becoming more active in partnering with mining companies.

Bitcoin miners align with fossil fuel firms, alarming environmentalists

https://www.nbcnews.com/tech/tech-news/bitcoin-miners-align-fossil-fuel-firms-alarming-environmentalists-n1280060
The Scrubgrass power plant
, which uses waste coal
, a waste of coal processing, to generate electricity in Pennsylvania, is affiliated with the bitcoin mining company
Stronghold Digital Mining.
The Scrubgrass power plant has been on the verge of financial collapse in recent years, but at the time of writing the article, it is said that it is supplying power to about 1800 crypto asset mining computers installed in the container adjacent to the power plant.
Alex de Vries, a Dutch economist who tracks the impact of cryptocurrencies on the environment, not only requires cheap energy to mine Bitcoin, but also has the stability to keep mining equipment running 24/7. Pointed out that it is important. Bitcoin mining companies are reviving existing fossil fuel power generation facilities because fossil fuel power generation meets this requirement.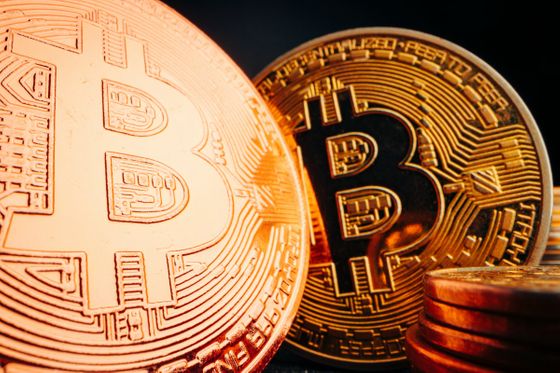 in Note, Posted by log1h_ik