A major update of PlayStation 5 has been released, officially supports SSD expansion & 3D audio playback with TV speakers is possible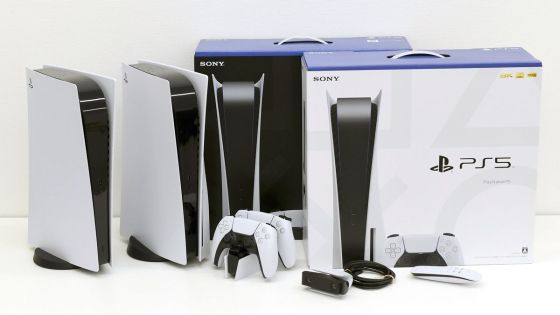 A system software update for the PlayStation 5
will be available on Wednesday, September 15, 2021. With this update, it is said that it will finally support the expansion of the built-in SSD. There are many other enhancements, such as support for 3D audio playback on TV speakers and expanded control center customization.
PS5 ™ system software update delivered tomorrow September 15th! – PlayStation.Blog Japanese
https://blog.ja.playstation.com/2021/09/14/20210914-ps5/
◆ Supports storage expansion with M.2 SSD
PlayStation 5 is equipped with a high-speed SSD, and it is known that the loading time of the game is significantly reduced. However, the PlayStation 5 has only a model with a storage capacity of 825GB, and gamers who want to install a large number of large-capacity games have longed for SSD expansion support.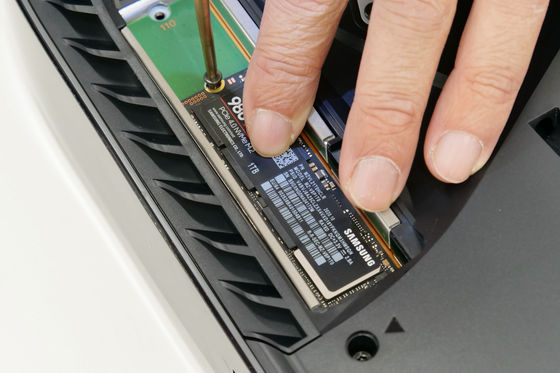 Beta testing of SSD expansion began in July 2021, and it was finally announced that the update delivered on September 15, 2021 (Wednesday) will officially support SSD expansion.

The specifications of the SSD that can be installed are as follows. The SSD installation method, removal method, precautions, etc. are published onSony's support page.

interface
PCI-Express Gen4 x4 compatible M.2 NVMe SSD (Key M)
capacity
250GB-4TB
Sequential read speed
5500MB / sec or higher recommended
Socket type
Socket 3 (Key M)
Corresponding size
2230, 2242, 2260, 2280, 22110
Size including heat dissipation structure
Width: up to 25mm
Length: 30/40/60/80 / 110mm
Height: Maximum 11.25 mm (up to 8.0 mm above the base, up to 2.45 mm below the base)
In addition, you can check the procedure to actually install the SSD in the following movie.
How to install M.2 SSD on PlayStation®5 --YouTube
◆ Supports 3D audio playback on TV speakers
PlayStation 5 has a feature called '3D audio' that allows you to hear in-game audio from all directions in 360 degrees, but you needed headphones such as the
'PULSE 3D Wireless Headset' to enjoy this feature.
With this update, you can finally enjoy 3D audio even with the speakers installed in your TV.
When enjoying 3D audio with TV speakers, it is possible to measure the acoustic characteristics of the room using
the PlayStation 5 standard controller 'DualSense' and reflect the 3D audio settings suitable for each room.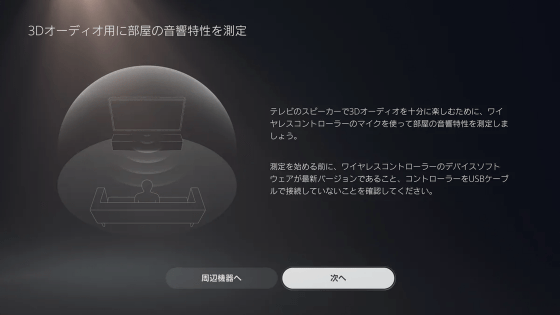 ◆ Other updates
You will be able to set the functions displayed in the Control Center more freely than before. In addition, you will be able to change the equalizer settings of your PULSE 3D wireless headset from the Control Center.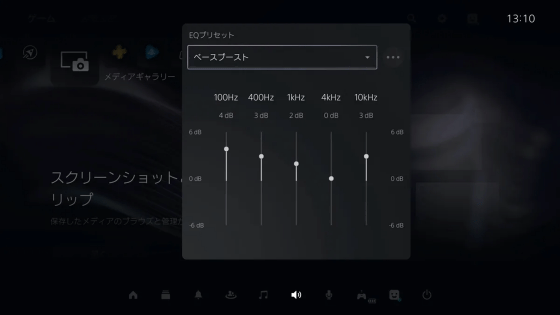 Other functions such as the following will be added.

・ It is possible to send messages in 'game base'
-PlayStation 5 version and PlayStation 4 version of the same title are now displayed separately
・ Voice reading can be paused
・ Maximum resolution of PlayStation Now can be selected from 720p and 1080p
・ Automatic capture of 'personal best' video
・ 'Trophy Tracker' has been added to the Control Center.