PS5 finally supports storage expansion, what are the requirements you care about?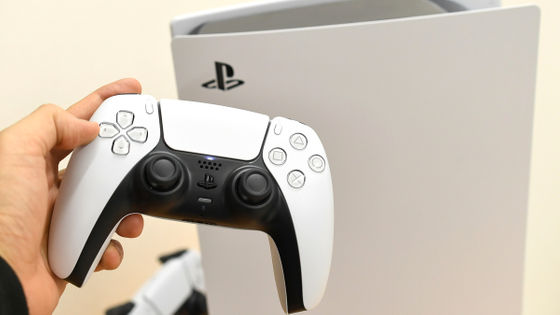 On July 30, 2021, the beta version of the next major system update for PlayStation 5 (PS5) was distributed, supporting the long-awaited expansion of storage with M.2 SSD. PlayStation Support also announces the requirements for compatible SSDs.

How to install M.2 SSD on PS5 Japan

https://www.playstation.com/ja-jp/support/hardware/ps5-install-m2-ssd/
The requirements for M.2 SSD that can be used for PS5 are as follows
| | |
| --- | --- |
| interface | PCIe Gen4x4 M.2 NVMe SSD |
| capacity | 250GB-4TB |
| Heat dissipation structure | Heat dissipation structure such as heat sink |
| Sequential read speed | 5500MB / sec or higher recommended |
| Module width | 22mm width (25mm width is not supported) |
| Corresponding size | M.2 Type 2230, 2242, 2260, 2280, 22110 |
| Socket type | Socket 3 (Key M) |
| Size including heat dissipation structure | Length 110 mm x Width 25 mm x Height less than 11.25 mm |
The details about the size are as follows.
| | |
| --- | --- |
| length | Compatible with 30mm, 42mm, 60mm, 80mm and 110mm SSDs |
| width | Requires 22mm wide M.2 SSD module |
| height | Appropriate position up to 2.45 mm below the board and 8.0 mm above the board |
When using an M.2 SSD with PS5, it is necessary to attach a single-sided or double-sided heat sink to the M.2 SSD, or use an M.2 SSD that has a heat dissipation structure such as a heat sink in advance.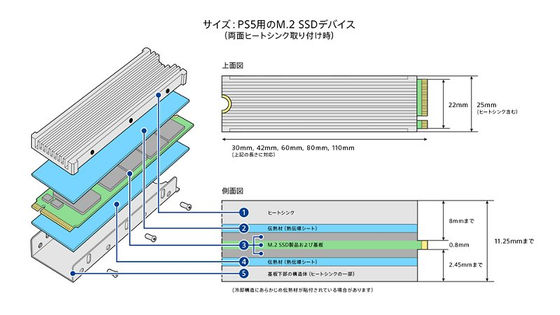 It has also been announced that it supports single-sided and double-sided SSDs, not M.2 SATA SSDs. In addition, even if the sequential read speed of M.2 SSD is 5500MB / sec or more, it is not possible to play all games with the same performance as the ultra-high speed SSD built in PS5.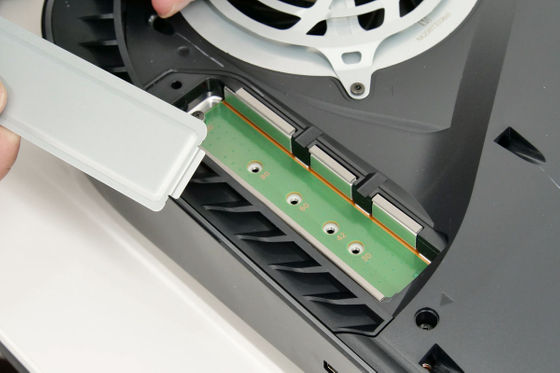 The distributed beta version is only available to users who are participating in the PS5 beta program.

The PS5 has an M.2 slot that supports PCIe 4.0 inside the main unit, but expansion storage was not supported at the time of release. The capacity of the built-in SSD of PS5 is 825GB, and the free space is 667GB excluding the system occupancy, and due to the problem that recent large-capacity games quickly overwhelm the storage, support for extended storage has been awaited. ..