Amazon has excluded the keyword that treats ivermectin as a therapeutic drug for the new corona from the search, and criticism from overseas media that it is insufficient response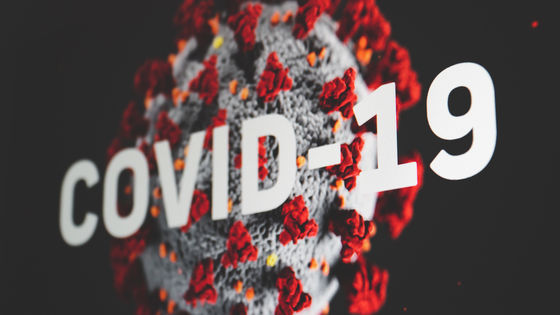 Amazon, which operates the world's largest EC site, has misinformation on Amazon about
'ivermectin
', a drug that was developed based on the research of Professor
Satoshi Omura of
Kitasato University, who won the Nobel Prize in Physiology or Medicine. I announced that I deleted a part of the search results because it was displayed in.
Ivermectin misinformation has poisoned Amazon's platform, with few fixes planned --The Verge
https://www.theverge.com/2021/9/1/22651653/amazon-ivermectin-misinformation-autocomplete
Amazon to block autocomplete responses linked to ivermectin searches
https://www.usatoday.com/story/tech/2021/09/01/amazon-autocomplete-responses-search-block-ivermectin-humans/5679427001/
Ivermectin is sometimes given to cattle, horses, and humans as an oral anthelmintic. After the outbreak of the new coronavirus infection (COVID-19) around the world, there was information that 'ivermectin is effective as a therapeutic drug for COVID-19', and the demand for ivermectin increased sharply in some areas. ..
In fact, for their effects on COVID-19 of ivermectin have been conducted research, a study conducted in the early laboratory that 'a copy of the new coronavirus (SARS-CoV-2) stop within 48 hours.'
Result
Became
clear.
Therefore, although it was expected to be effective as a therapeutic drug, the latest 'study based on the case of ivermectin administered to COVID-19 patients' published in August 2021 stated that 'it has no effect'. It is shown.
Studies show that ivermectin 'has no effect' on the treatment of the new corona-GIGAZINE

In this way, there is no scientific data showing that 'ivermectin is effective as a therapeutic drug for COVID-19', so government authorities have not approved ivermectin as a therapeutic drug for COVID-19, and even in Japan.
The Kitasato Institute is in the process of conducting a doctor-led clinical trial
. In clinical trials at the Kitasato Institute, hospitals have no choice but to prioritize the treatment of critically ill patients due to the spread of infection, and
sufficient data have not been obtained
.
In addition, the Centers for Disease Control and Prevention (CDC), which leads the countermeasures against the new coronavirus in the United States, reported that 'the number of prescriptions for Ibermectin has increased 24 times compared to before the pandemic of the new coronavirus,' and the official new type has been
reported.
The dangers of using Ibermectin, which is not approved as a treatment for coronavirus, are being explained, but the number of Americans taking Ibermectin for livestock is increasing rapidly. The US Food and Drug Administration (FDA), which has jurisdiction over drug regulation, has issued an official warning that 'you are neither a horse nor a cow.'
The number of Americans drinking ivermectin for livestock has increased rapidly as a countermeasure against the new corona, and the authorities officially warn that 'you are neither a horse nor a cow' --GIGAZINE

Not a few people buy ivermectin in the hope that it will function as a remedy for the new coronavirus, and the government authorities are vain. There is no end to the people who are trying to make money by reselling.
To address that situation, Amazon has announced efforts to prevent false information about ivermectin from spreading on its platform. Amazon spokeswoman Craig Andrew told The Verge, an overseas media outlet, that some of the items displayed in Amazon's search results will be removed for ivermectin.
Clearly using ivermectin as a treatment for COVID-19, such as 'ivermectin for humans' and 'ivermectin for covid', has been removed from Amazon's search results. It's like a recommendation. Searching for these keywords will display 'No search results found' and will provide a link
to the FDA's warning page about ivermectin.



However, this does not mean that you can no longer purchase ivermectin on Amazon, and you will continue to see many 'ivermectin' related search words when you type 'iv' in the Amazon.com search box. At the time of writing the article, ivermectin for animals is displayed as a search candidate, but these are sold without any problems, and there is no text that warns about the danger if ingested by humans.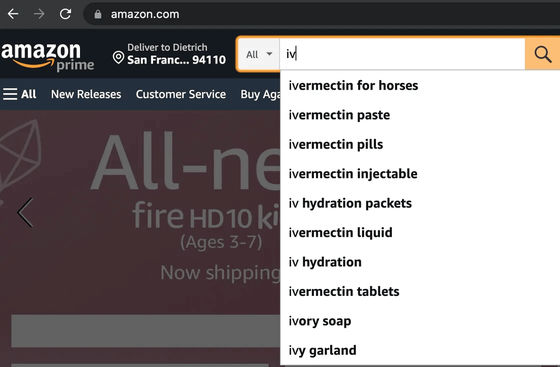 As a result, 'Ivermectin, which is not approved for the treatment of COVID-19, is increasingly being purchased as a treatment for COVID-19, so appropriate cautionary statements are required,' The Verge complains. In addition, a review of the animal ivermectin sold on Amazon states that 'Ivermectin is very difficult to obtain, but it is very effective in preventing something not mentioned here (COVID-19). There are many reviews that implicitly recommend the use as a therapeutic drug for COVID-19, and The Verge argues that false alarm measures including deletion of such reviews should be implemented. doing.

In addition, The Verge wrote, 'Unlike platforms such as Facebook, TikTok, and Reddit, Amazon has made no effort to stop the spread of false alarms regarding COVID-19,' criticizing Amazon's too late response. I am.