Fitbit under Google announces fitness tracker 'Charge 5'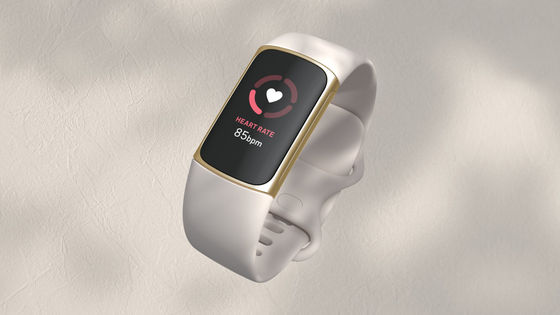 Fitbit
, a fitness and wearable device maker under the umbrella of Google, has announced a new fitness tracker product, the Charge 5. With a buttonless terminal that uses a color organic EL display, you can manage your daily health by using functions such as heart rate variability, respiratory rate detection, and skin electrical activity (EDA) scan app that detects changes in sweating. The planned selling price in Japan is 24,990 yen including tax.
Fitbit Charge 5
https://www.fitbit.com/global/jp/products/trackers/charge5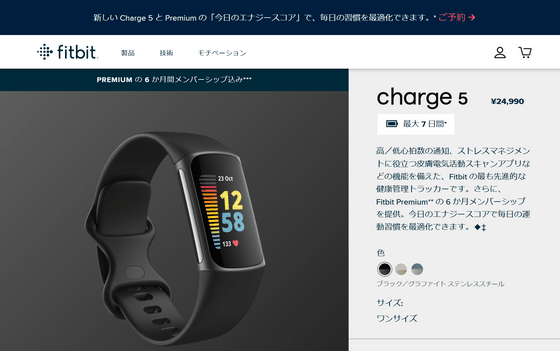 Fitbit's new Charge 5 has a rounded design and a color screen --The Verge

https://www.theverge.com/2021/8/25/22640462/fitbit-charge-5-rounded-design-color-screen-daily-readiness-score
The screen size of the Charge 5 is 21.93 mm in length and 14.75 mm in width, which is 10% larger than the previous model 'Charge 4'. Brightness increased from a maximum of 200 nits to a maximum of 450 nits. Also, instead of the angular design that was characteristic of the successive Charge series, it has been changed to a more rounded design. Below, the image on the left is Charge 4 and the right is Charge 5.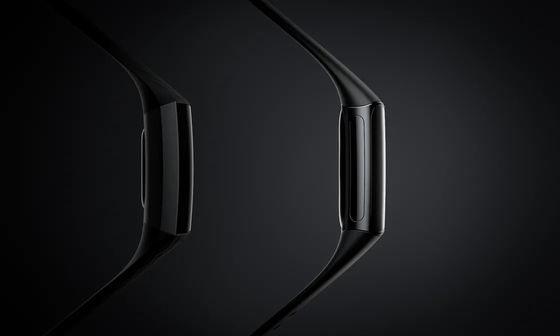 Charge 5 is a watch-type wearable fitness tracker equipped with a 3-axis accelerometer, GPS, red sensor and infrared sensor. By wearing it on your arm with a silicon belt, it measures blood oxygen concentration, skin temperature, sleep cycle, etc. and displays it as a 'score'. You can also experience more advanced analysis by registering for the paid plan '
Fitbit Premium'.
Charge 5 buyers can try Fitbit Premium for free for 6 months.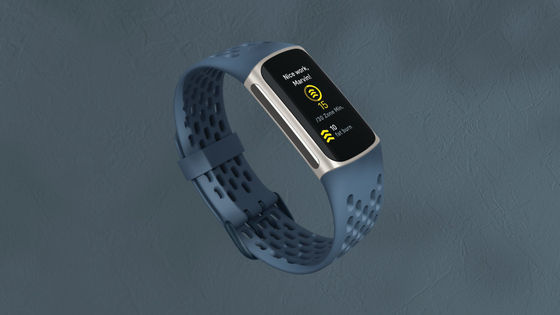 It can be used for up to 7 days with a 2-hour charge, but requires more frequent charging when using the constant screen mode or blood oxygen wellness function. It is water resistant up to a depth of 50 meters and can be used even when swimming. In addition to being able to link with iOS / Android apps, contactless payment using Fitibit Pay is also available. In Japan, only Suica, Sony Bank, and PayPay Bank support it.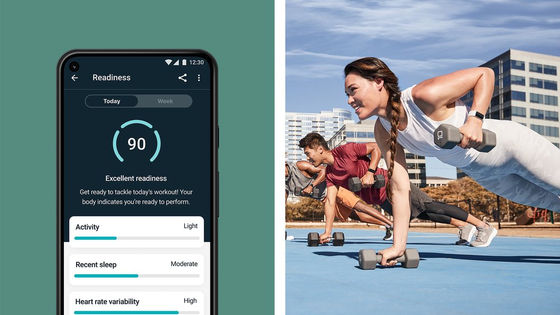 Below is an image comparing the functions of successive Charge series. The Charge 5 doesn't have the guided breathing and altimeter that the previous model had, but it does include high and low heart rate notifications and the Fitbit ECG feature that creates an electrocardiogram.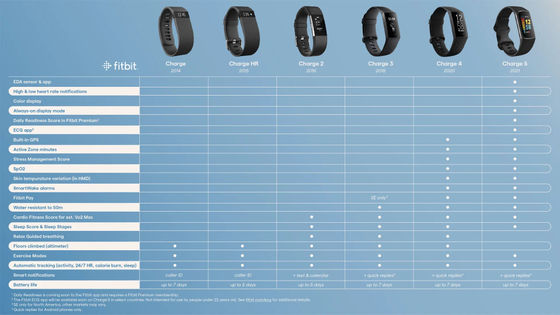 Release is scheduled for fall 2021. The planned selling price in Japan is 24,990 yen including tax, and you can make a reservation from the online store. It will be shipped by the end of September 2021.