Johnson & Johnson reports that booster vaccination increases antibodies 9-fold after 28 days of initial vaccination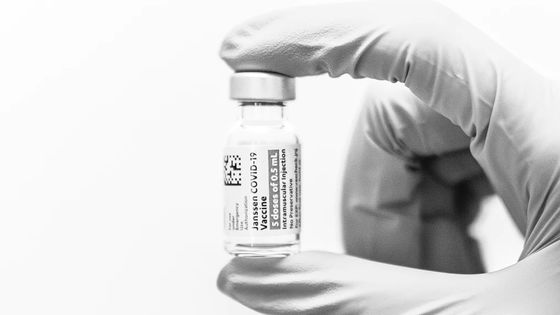 Unlike Pfizer and Moderna vaccines, which require two doses of the new coronavirus vaccine,
Johnson & Johnson
vaccines, which require one dose, will increase the number of antibodies 28 days after the first dose. It has been reported to increase 9-fold.
Johnson & Johnson Announces Data to Support Boosting its Single-Shot COVID-19 Vaccine | Johnson & Johnson
https://www.jnj.com/johnson-johnson-announces-data-to-support-boosting-its-single-shot-covid-19-vaccine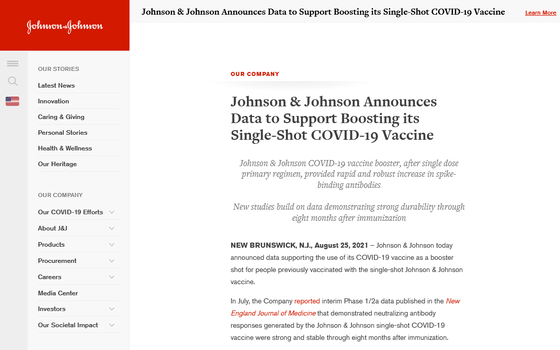 Durable Humoral and Cellular Immune Responses 8 Months after Ad26.COV2.S Vaccination | NEJM
https://doi.org/10.1056/NEJMc2108829

Joint Statement from HHS Public Health and Medical Experts on COVID-19 Booster Shots | CDC Online Newsroom | CDC
https://www.cdc.gov/media/releases/2021/s0818-covid-19-booster-shots.html

Johnson & Johnson says coronavirus booster shot increases antibodies nine-fold | Live Science
https://www.livescience.com/johnson-and-johnson-booster-increases-antibodies-covid.html

The research results are published in the peer-reviewed medical journal, The New England Journal of Medicine.

The research team gathered 20 people who received one or two doses of the 'Ad26.COV2.S vaccine' developed by Johnson & Johnson and Janssen, and five people who received placebo.

The antibody lasts for 8 months with one inoculation of 'Ad26.COV2.S vaccine', but in this study, the antibody was 'quickly and strongly' in the person who received the second booster inoculation (booster inoculation). It was found that it increased 9 times compared to the value 28 days after the first inoculation.

A significant increase in antibody numbers was confirmed in participants aged 18 to 55 years and those aged 65 years and older who received low-dose booster vaccinations.

In response to this result, Matthew Mamen of Janssen's R & D department commented, 'We look forward to discussing with public health authorities the potential strategy of booster vaccination more than eight months after the initial vaccination.' Did.