Adobe acquires cloud video collaboration tool 'Frame.io' for 140 billion yen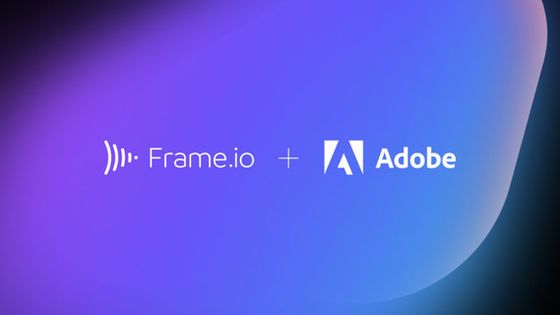 We announced that Adobe will acquire
Frame.io
, a cloud-based video collaboration tool used by more than 1 million professional video creators. The total purchase price is $ 1.275 billion.
Frame.io is joining forces with Adobe in a $ 1.275B acquisition deal
https://blog.frame.io/2021/08/19/adobe-announces-intent-to-acquire-frameio/
Adobe --Adobe to Acquire Frame.io
https://news.adobe.com/news/news-details/2021/Adobe-to-Acquire-Frame.io/default.aspx
Adobe agrees to acquire Frame.io
https://blog.adobe.com/en/publish/2021/08/19/adobe-agrees-acquire-frameio.html
Adobe acquires'Frame.io' video editing platform for $ 1.3 billion --9to5Mac
https://9to5mac.com/2021/08/19/adobe-acquires-collaborative-video-editing-platform-frame%e2%80%a4io-for-1-3-billion/
The video collaboration tool 'Frame.io' uses
a technology called 'Camera to Cloud (C2C)
' to instantly upload video data shot by the user to the cloud, so that people who are not at the shooting site have just shot it. It is a tool that allows you to check the video data of the camera and preview the video that has just been created on the cloud. Since you will be accessing the video data on the cloud, you will not have to share huge file size data, and you will be able to receive feedback on the video quickly.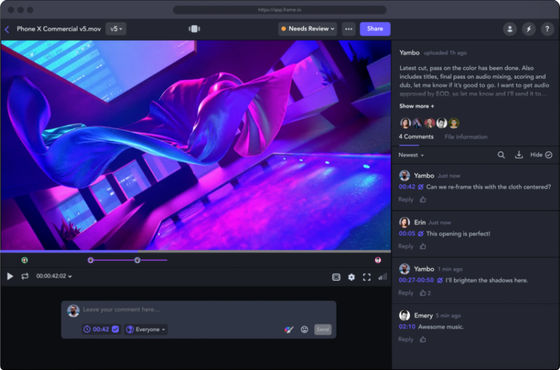 Such Frame.io updated the blog on August 19, 2021 local time and announced that it was acquired by Adobe. In a blog, Frame.io co-founder Emery Wells said, 'In March 2015, co-founder John and I were for a
post-production
company in a boutique in New York City. We launched Frame.io. Frame.io is a product that is built with a deep understanding of the needs of professionals, making full use of our experience as a post-production expert. ' He talks about the background of Frame.io.
Over the last few years, the video industry has 'has undergone unprecedented change,' Wells said. Specifically, the need for videos such as videos to tell brand stories on social media, how-to videos about coding, and new product announcement videos is increasing, so it is the best time to become a professional video creator. It is said that it is going on. On the other hand, the video supplier said, 'The current situation is that we have hardly been able to keep up with the insatiable needs of users.' Wells analyzes that this explosive increase in video demand has boosted the popularity of Frame.io.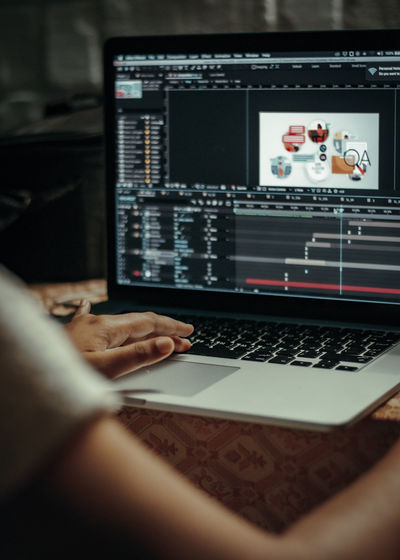 As for why Frame.io accepted the acquisition by Adobe, 'No other company in the world has revolutionized the creative industry as much as Adobe. Creativity tools are at the core of Adobe's DNA. It's also the core of Adobe's business. Video is the culmination of several creative disciplines, and we've often heard requests for more seamless integration of Frame.io with Adobe's Creative Cloud. When you imagine a company that not only allows Frame.io to continue its innovation-oriented mission, but also takes Frame.io to the next level, Adobe is definitely the right acquisition. We also have a corporate culture that shares our values with us, and we are confident that we are the best companies to grow. '

Meanwhile, Scott Belsky, chief product officer at Adobe's Creative Cloud, said, 'This acquisition allows us to welcome an incredible customer-oriented team. Frame.io's cloud-native workflow We aim to add features, make Creative Cloud's creative process more collaborative, productive, and efficient, and unleash the creativity of everyone, 'said Frame.io. 'Frame.io and Adobe share the vision of'creating a future of collaboration in video production by integrating Adobe's strengths in video production with Frame.io's cloud-native platform.'' He also said that the two companies are looking at the same thing.

According to Wells, the total acquisition by Adobe is $ 1.275 billion. According to Adobe, Frame.io co-founder and CEO Wells and co-founder John Trevor will become Adobe employees and Wells will continue to lead the Frame.io team once the acquisition is complete. .. The acquisition is expected to close during the fourth quarter of 2021 of Adobe.

In addition, this acquisition will not eliminate Frame.io, a video collaboration tool, and in the future it will be deeply integrated with Adobe products such as Premiere Pro. However, Wells emphasizes that the acquisition by Adobe does not end collaborations with other video editing tools such as Final Cut Pro, DaVinci Resolve, and AVID Media Composer.