Apple limits the speed of non-genuine wireless chargers by half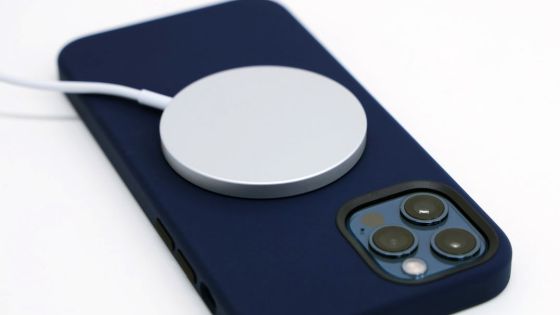 Introduced in 2020, the
iPhone 12
series has a built-in magnet that allows you to attach MagSafe-compatible accessories such as
wireless chargers
,
mobile batteries
, and
card cases to the back.
Wireless chargers that support this magnet have appeared from various companies, but the technology-related media The Verge
says that only a small number of Apple-certified wireless chargers can demonstrate the original charging performance of the iPhone 12 series. Points out.
Apple's been playing it too MagSafe --The Verge
https://www.theverge.com/2021/8/18/22629703/apple-magsafe-charging-mfi-standard-accessory
MagSafe-enabled wireless chargers are said to be able to charge compatible devices with up to 15W of power. However, according to The Verge, only a few wireless chargers certified by Apple can charge wirelessly at a maximum of 15W, and other wireless chargers are limited to a maximum power of 7.5W. If you check the
product page
of the Belkin wireless charger 'BOOST ↑ CHARGE PRO MagSafe 3-in-1 magnetic wireless charger
' that has actually obtained Apple certification, it says that it can be charged at a maximum of 15 W. ..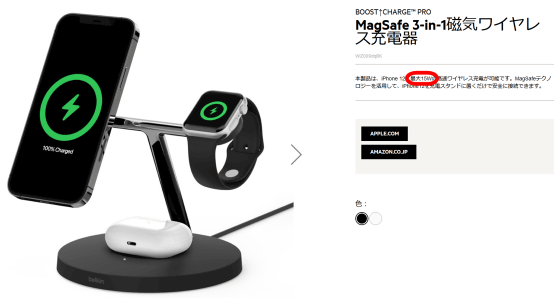 On the other hand, Belkin's wireless charger '
BOOST ↑ CHARGE 3-in-1 Wireless Charger for Apple Devices
' has a maximum power of 7.5W.
According to ChargerLAB
, a media that specializes in charging matters
, Apple began offering
modules that enable charging at up to 15W to charger manufacturers from June 22, 2021. 'Manufacturers will get the module, develop the product, pass Apple's certification process, and then start mass production, which will take months,' said The Verge. It is estimated that each manufacturer will introduce a MagSafe compatible wireless charger that can charge up to 15W.
The Verge announced that it took about a year for each manufacturer to introduce a charger compatible with the 'Apple Watch
' that appeared in 2015, and Apple announced a cable equipped with USB Type-C and Lightning terminal. Taking the example of how it took a third-party manufacturer to launch a compatible cable from Apple, 'The fact that Apple has monopolized accessories for months to years reduces the choices of users. Means. '
In addition, with the most compact '
iPhone 12 mini
' in the iPhone 12 series, even if you use a wireless charger that supports charging at a maximum of 15 W, the
official support is that the output during charging is limited to a maximum of 12 W.
It is explained.
Only iPhone 12 mini reveals that MagSafe charger output is limited to 12W-GIGAZINE