Huawei announces new flagship 'P50' & 'P50 Pro' equipped with 50-megapixel main camera and original HarmonyOS 2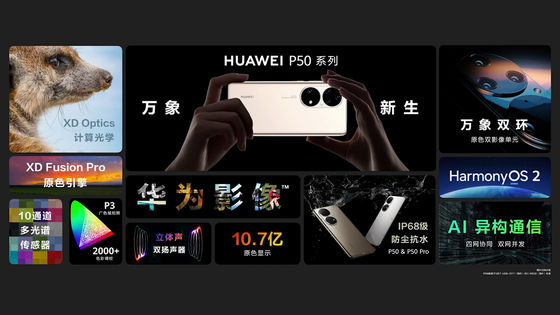 Chinese smartphone maker Huawei has announced new flagship models ' P50 ' and ' P50 Pro
' equipped with its own OS 'HarmonyOS 2'.
It looks like it has two huge lenses on the back, but in reality it has three P50 cameras and four P50 Pro cameras, centered on a 50-megapixel main camera.
HUAWEI Flagship New Products Launch Keynote --YouTube
HUAWEI P50 Pro – Huawei Network
https://consumer.huawei.com/cn/phones/p50-pro/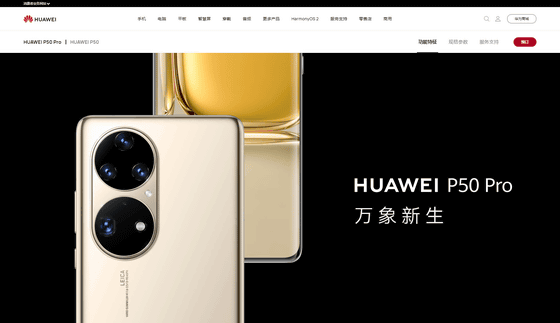 HUAWEI P50 – Huawei Network

https://consumer.huawei.com/cn/phones/p50/
Huawei's P50 announced with Snapdragon 888 and HarmonyOS --The Verge
https://www.theverge.com/2021/7/29/22598135/huawei-p50-china-release-date-price-news-features-specs-cameras
The top model 'HUAWEI P50 Pro' has dimensions of 158.8 mm x 72.8 mm x 8.5 mm. Weight is 195g.
The screen is a 6.6-inch OLED, and the resolution is Full HD + (2700 pixels x 1228 pixels). The density is 450 ppi. The refresh rate is 120Hz and the touch sampling rate is 300Hz. In the presentation event, slides comparing the size with iPhone 12 Pro and iPhone 12 Pro Max were used.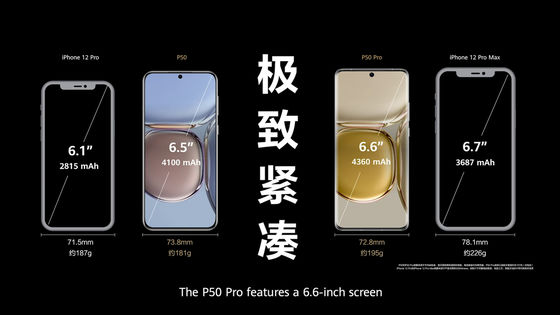 There are two types of processors, Huawei's 'Kirin 9000' model and Qualcomm's 'Snapdragon 888' model. Memory is 8GB or 12GB, storage is 128GB, 256GB or 512GB.

In addition to the 50-megapixel main camera, it has a 64-megapixel telephoto camera, a 40-megapixel monochrome camera, and a 13-megapixel ultra-wide-angle camera on the back side. Optical zoom is 3.5x.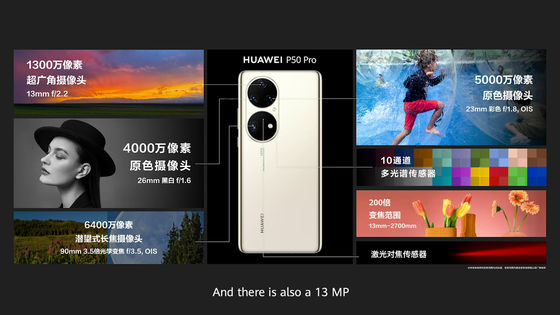 The battery capacity is 4360mAh, and wireless charging is possible. Equipped with IP68 grade waterproof and dustproof performance. In addition, due to exclusion from the US market, Google's OS 'Android' can not be used, it is equipped with its own HarmonyOS 2, and it is not compatible with 5G.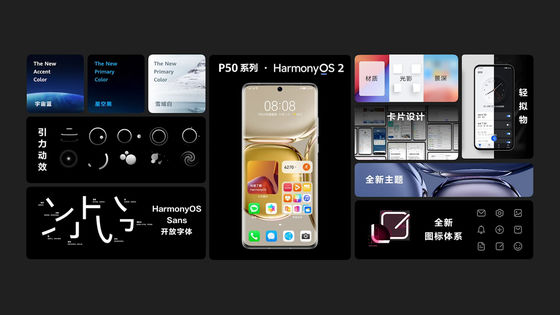 The price of the 8GB memory model is 5988 yuan (about 101,000 yen) for 128GB of storage, 6488 yuan (about 110,000 yen) for 256GB of storage, and 7488 yuan (about 127,000 yen) for 512GB of storage.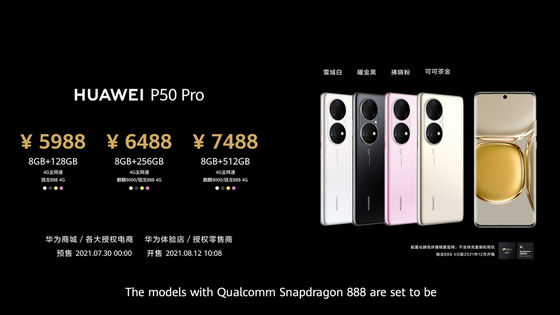 The 12GB memory model has 512GB of storage and costs 7988 yuan (about 136,000 yen).



The dimensions of the 'P50' are 156.5mm x 73.8mm x 7.92mm, which is a little smaller than the 'P50 Pro'. The main camera has the same 50 million pixels, but the others consist of a 13 million pixel ultra-wide-angle camera and a 12 million pixel telephoto camera. The optical zoom is 5x, which exceeds the P50 Pro. The screen is 6.5 inch OLED, the refresh rate is 90Hz, and the processor is Snapdragon 888 version only.

The price is 4488 yuan (about 76,000 yen) for 8GB of memory and 128GB of storage, and 4988 yuan (about 85,000 yen) for 8GB of memory and 256GB of storage.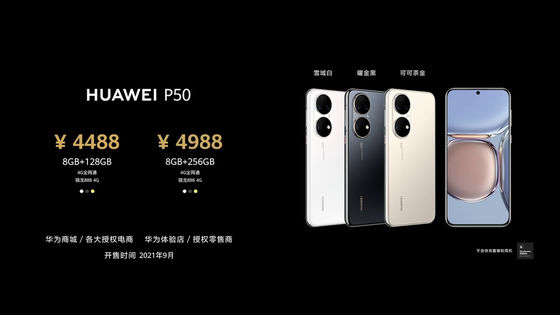 The release date is August 12, 2021 for P50 Pro and September 2021 for P50. It is a product for the Chinese market, and it is unknown whether it will be sold to Japan.