Why is VTuber being accepted not only in Japan but also overseas?


VTuber (Virtual YouTuber) uses 2D illustrations or 3DCG avatars to perform various activities such as game distribution, talks, and songs. Among the top 10 in the cumulative amount ranking of YouTube's money transfer function 'Super Chat', the top 7 people are VTubers, and their existence is attracting attention not only from Japan but also from overseas. Rest of World, a news site that deals with various topics around the world, covers the acceptance of VTuber overseas.

Japan's virtual YouTubers have millions of real subscribers — and make millions of real dollars --Rest of World
https://restofworld.org/2021/vtubers/

Bulgarian-born Ivan (pseudonym), who responded to an interview with Rest of World, said he moved to Japan, his mother's home country, three years ago. Although Mr. Ivan was following famous gamers on YouTuber and Twitch, he was tired of 'Thirst Traps ' and 'e-Thots' in the new corona pandemic, and gradually became addicted to VTuber.

'Thirst Traps' is a way to get attention and make money by publishing underwear and naked photos on the net. In addition, 'e-Thots' is an abbreviation for 'electronic that hoe over theres' and means 'a flirty woman who infests the Internet.' On YouTube and Twitch, distribution that appeals your sexual appeal and collects money is popular, and in fact, Twitch is so popular that 'swimsuit distribution from the bath or beach' is added to the category.

Twitch adds 'Swimsuit delivery from bath and beach' to the category-GIGAZINE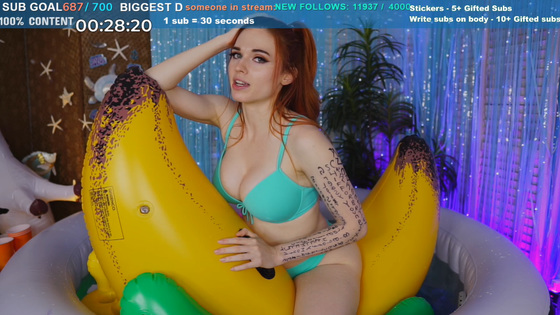 'Women with real sexy bodies are always trying to show off naked in the bathtub or small pool and get their viewers lustful, but they don't care about them. I'm only looking at money. On the other hand, in the case of a 2D character, it doesn't hurt my heart. I don't know what she looks like, and a pretty girl just sings and talks with a cute voice. I'm just watching them do it. '

Mr. Ivan, who studied at a Japanese university for two years, worked as a part-time staff member of a Japanese VTuber operating company, and now he is busy producing and watching VTuber distribution. 'I think VTuber's distribution is about containing viewers' dreams and making the most of them without betraying their wishes,' said Ivan. Rest of World points out that most of VTuber is an extension of Japanese idol culture.

'VTuber's culture is an extension of Japanese idol culture,' points out the cute look, practice, diligence, respect for the elders, and the realization of the ideal 'neatness.' However, the epidemic of VTuber is now spreading not only in Japan but also overseas, especially in Southeast Asia and Latin America.

For example, the YouTube channel ' Dengeki Onegai ' is a VTuber group operating in Latin America. It is the same as VTuber in Japan, such as distributing games, baking pizza, and talking, and the appearance of the character is similar to that of Japanese animation.

Tarde Casual en Dengeki 7u7 --YouTube


In late January 2021, PewDiePie , the world's most popular YouTuber, released a video wearing an anime avatar like VTuber and became a hot topic.

I Did A DNA Test ... (I Guess Im Cancelled Now) --YouTube


In addition, Netflix stated at the end of April 2021 that it would 'become a member of the anime fan community personally and directly,' and introduced VTuber 'Nko Mei Kurono' whose performer is a Netflix employee who likes anime. rice field.

Say Hello to N-ko | Netflix Anime --YouTube


Rest of World says, 'VTuber, because of its simplicity, allows viewers to project ethnic, emotional, and even elastic racial and gender identities into their designs, and this aesthetic interactivity. Taking this one step further, we are currently ensuring privacy on the screen. Now we can fulfill everyone's childhood dream of 'interacting with anime characters in real time'. That's why VTuber said it fits the needs of the world.

However, the innocence of VTuber and the reality of globalization are not without controversy. VTuber is also very popular in China, but Taiwan's problem is very deep-rooted, and Japanese VTuber's drawing of the Taiwanese flag and mention of Taiwan's existence have led to fierce protests from Chinese nationalists. have become.

Also, VTuber is certainly a character that will never grow old due to the presence of avatars, but in reality there are people who play it. Even if the performer retires, the avatar will continue to remain, but it is not a story that can be solved by including another person who has a similar voice. Even if the operating company holds the rights to Avatar, it is the performers who provide the content itself that is popular with fans.

Rest of World mentions that VTuber Kiryu Coco, who was popular not only in Japan but also overseas, has retired, and while various companies are trying to develop VTuber not only in Japan but also overseas, the company side is called a performer He also states that it is necessary to be aware of the outflow of human resources.

VTuber Kiryu Coco Announces Hollow Live 'Graduation' in July 2021 --GIGAZINE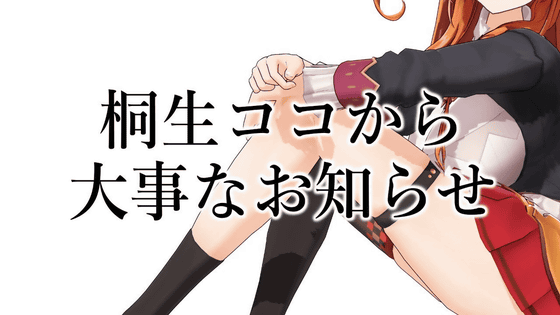 'While VTuber avatars are relatively easy and cheap to create and duplicate, human talent has become irreplaceable for fans,' said Rest of World.