Nintendo's 'Initial Design Proposal for Wii Remote' Leaked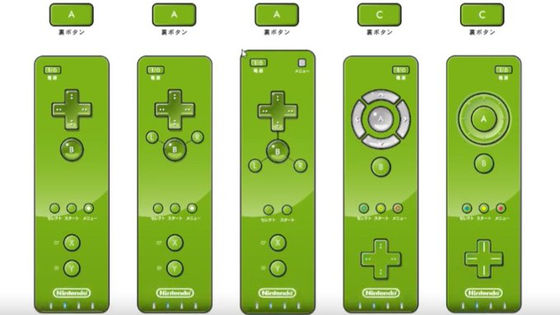 In July 2020, a large amount of Nintendo's internal materials were leaked to the Internet. Due to this data leak called 'Nintendo Giga Leak', it was revealed that Nintendo was preparing Luigi as a playable character in Super Mario 64, but regarding the Wii remote controller in the early stages of development Materials have been found.

Leaked Nintendo Emails Reveal Unused Wii Remote Designs
https://kotaku.com/early-wiimote-designs-uncovered-in-leaked-nintendo-emai-1847331531

Forest of Illusion , a Twitter account that collects Nintendo's old game-related materials, and Dreamers Dev , a game developer, have unearthed an internal Nintendo email exchange regarding the Wii released in 2006. It seems that the design proposal of the early Wii remote controller was pasted in this email as an attached image.

The email dated July 28, 2005 included an image of a lime green Wii remote with various buttons. This is believed to have been an early prototype of the Wii Remote, and you'll see some buttons that weren't included in the final design. In the early prototype, you can see that the back button is 'A button' and 'C button' is added, which is quite different from the final design.

Early Wii Remote designs, including X and Y buttons and a remote ring. Pic.twitter.com/4GJKEGgYlg

— TV | Dreamers Dev (@lombTV) July 20, 2021


Below is the design after some revisions from the initial prototype. It is quite similar to the design of the commercial version of the Wii remote controller, but in plans A and B, the buttons on the left and right of the home button are 'BACK' and 'PAUSE', which makes it more The button configuration is similar to that of a remote control such as a TV. Plan C has the same button layout as the product version of the Wii remote controller.

Some later revisions of the remote, now with a more complete design. Note the 'Rewind' and 'Pause' buttons instead of the final Minus and Plus. Pic.twitter.com/D8GgQHwuzk

— TV | Dreamers Dev (@lombTV) July 20, 2021


Four other design proposals were prepared: 'Da', 'Db', 'Dc', and 'Dd'. In all plans D, the buttons on the left and right of the home button are arrows, and it is difficult to understand how the button was planned to be used by looking at this alone.

And here are some other designs, using left and right arrows instead of the Minus and Plus. Pic.twitter.com/gEVTkt0Tjf

— TV | Dreamers Dev (@lombTV) July 20, 2021


Nintendo didn't use arrow buttons on pre-Wii game consoles, so adding an arrow button would have made it difficult to instantly understand how to use it. We've adopted the +/- button, 'Dreamers Dev points out.

Regarding the Wii remote controller, the actual prototype was put up for auction in the past.

A prototype of the Wii controller 'Wii Remote Control' that sold more than 100 million units worldwide has appeared at the auction --GIGAZINE