Amnesty International and others announce that Israeli spy software is used in 45 countries around the world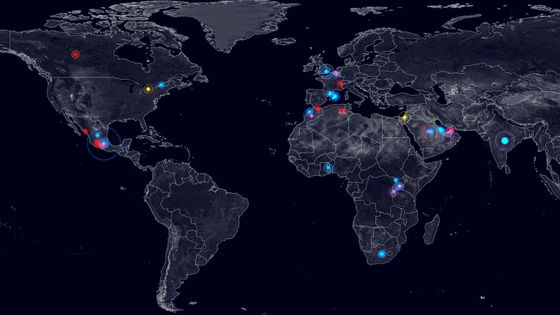 Forensic Architecture,
a human rights think tank under the umbrella of Goldsmith College in the United Kingdom,
and Amnesty
International, the world's largest international human rights NGO, are activists in 45 countries around the world for smartphone monitoring software 'Pegasus' of Israeli security company
NSO Group.
-Announced that it was used to monitor journalists and human rights defenders. Edward Snowden, known for accusating the US National Security Agency's (NSA) international surveillance network '
PRISM,
' said the case was 'the worst of the worst.'
New investigation shows global human rights harm of NSO Group's spyware | Amnesty International
https://www.amnesty.org/en/latest/news/2021/07/investigation-maps-human-rights-harm-of-nso-group-spyware/
Digital Violence: How The Nso Group Enables State Terror ← Forensic Architecture
https://forensic-architecture.org/investigation/digital-violence-how-the-nso-group-enables-state-terror
NSO Group Technologies Ltd., a security company founded in Israel in 2010, is part of the country's cyberweapon ecosystem for the purpose of continued occupation of Palestinians and colonial surveillance of settlers. It is said that it is continuing development as. Forensic Architecture and colleagues have announced that a new study has found that NSO Group surveillance software Pegasus is used in more than 45 countries around the world.
Forensic Architecture also publishes a dedicated website that explains the results of this survey.
Digital Violence: How the NSO Group Enables State Terror
https://digitalviolence.org/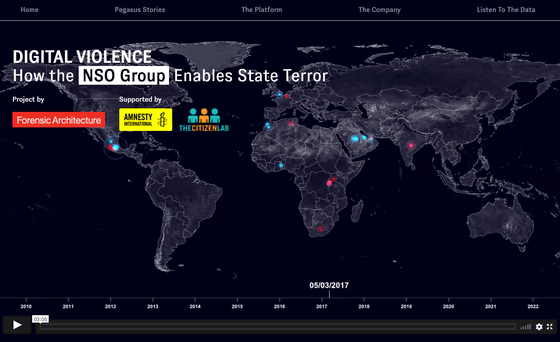 Looking at the movie that visualizes the monitoring situation by Pegasus published on the above website, it was used in Mexico, the United Kingdom, Germany, Saudi Arabia and African countries in 2015 ...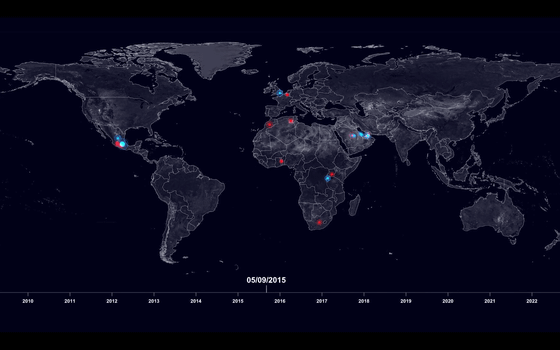 You can see that Pegasus was confirmed in the United States, Canada, China, India, etc. in 2019.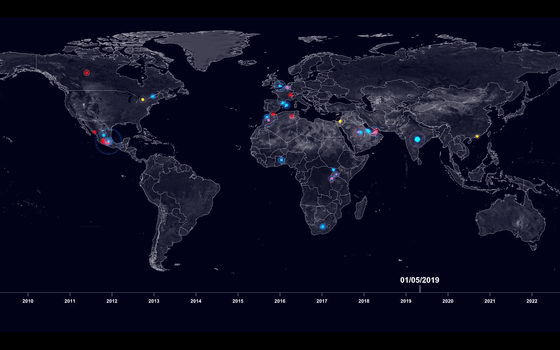 In the '
The Company
' section, you can browse the corporate structure in which the NSO Group is incorporated by age group, and you can see that the NSO Group is involved not only with Israel but also with companies in the United States and the United Kingdom. This corporate structure builds
on Amnesty International's reports
on NSO Group investments, news sources, leaked financial information and reports.


According to the announcement, the NSO Group exploited a zero-day vulnerability in Pegasus to intercept text messages and emails from iPhone and Android, monitor contacts and calls, track location information, collect passwords, and more. It is said that the microphone of the smartphone is forcibly turned on and the conference is recorded.

According to Forensic Architecture, the NSO Group continues to receive a Pegasus export license from the Israeli Department of Defense, despite being challenged in Israeli courts and international courts. Pegasus is believed to have been used in the killing of reporter Jamal Khashoggi by Saudi authorities, but the NSO Group has denied this, saying, 'We have investigated all credible allegations of misuse and the results. Take appropriate measures based on. ' It states that it has refused to sell Pegasus to at least 55 countries.