Microsoft reports that it is casually trying to announce the release date of Windows 11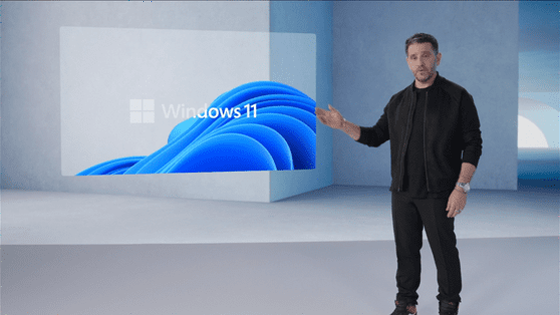 Microsoft has announced the next major version of
Windows, Windows 11
, but hasn't released any clear information about its release date. However, some information released by Microsoft has been talked about as hiding clues about the release date.
Windows 11 Set For An October 2021 Release Date
https://www.techadvisor.com/news/windows/windows-11-release-date-3806147/
Microsoft keeps hinting at an October release for Windows 11 --The Verge
https://www.theverge.com/2021/6/28/22553666/microsoft-windows-11-october-20th-release-date-hint-rumor
Microsoft only mentions the release date of Windows 11 as 'holiday' and 'late 2021', and the exact date is not yet known.
Hi, there. Windows 11 is due out later in 2021 and will be delivered over several months. The rollout of the upgrade to Windows 10 devices already in use today will begin in 2022 through the first half of that year.

— Windows (@Windows) June 27, 2021


However, foreign media such as Tech Advisor have noticed the images released by Microsoft. For example, the following image used in the video that Microsoft announced Windows 11. In the upper right corner, you can see a Microsoft Teams message notification from Stevie Bathiche , a key engineer for Microsoft Surface devices, to Panos Panay, who is responsible for Windows and devices. The content of the message is 'Excited to turn it up to 11 ... can't wait for October!'.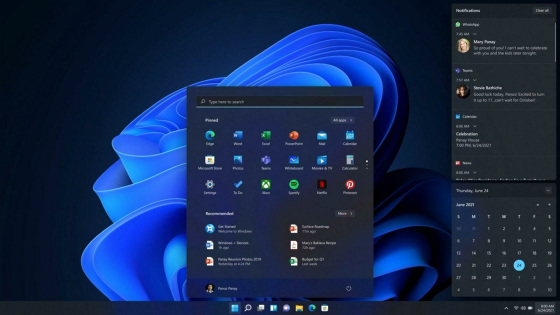 In addition, in the image below, the date of the device is October 20, 2021, and the calendar schedule is registered as 'Presentation' at 13:30 on October 20.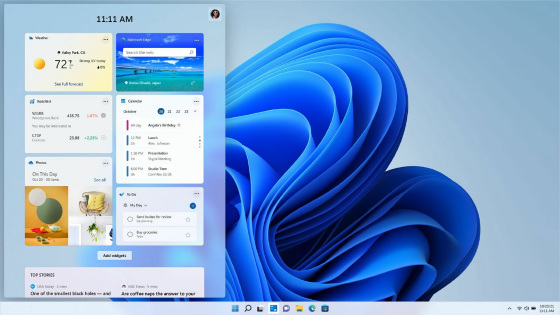 Based on this information, Tech Advisors estimate that Windows 11 will be released on October 20, 2021. However, there is an image that the date of the device is October 6, and since Mr. Stevie is the person in charge of Surface, it is presumed that it is the release date of 'Surface Pro 8', it is just one possibility. It's just that. Also, October 20th isn't a holiday, but it's the same Wednesday as when Windows 10 was released.

As a general rule, newer versions of Windows will be available on all compatible devices on the same day. Check whether the essential requirements of Windows 11 such as '64-bit compatible processor or SoC with 2 cores or more at 1 GHz or more', 'memory of 4 GB or more', 'storage device of 64 GB or more', ' TPM2.0 ', etc. are satisfied. It seems better to use it, check it, and wait patiently.