Finally the free upgrade offer date & release date of "Windows 10" is officially found out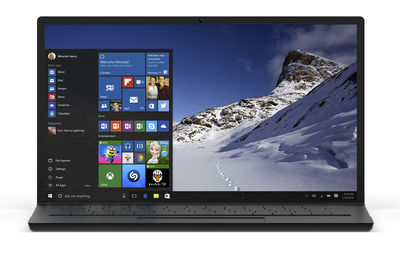 Windows's next-generation OS, "Windows 10"OEM version revealed priceMicrosoft further officially announced that Windows 10 will be available from July 29, 2015 (local time).

Hello World: Windows 10 Available on July 29
http://blogs.windows.com/bloggingwindows/2015/06/01/hello-world-windows-10-available-on-july-29/

Official blog of WindowsIt is announced that Windows 10 will be available on July 29, 2015. When asking "Cortana" of the voice assistant system the release date of Windows 10, "Windows 10 will be available from July 29" will be answered, and for Windows 7 and Windows 8.1 simultaneously with release Free upgrade will be offered.

In Windows 10, voice personal assistant "Cortana","Microsoft Edge"Office on Windows (Word, Excel, PowerPoint)" corresponding to the touch operation of Windows 10 in addition to the full-featured desktop suite of Office 2016, and Xbox Live are integrated, and it is possible to play a game even on a tablet even on a PCXbox App"New photos, video, music, maps, contacts, mails, calendar apps" that enhanced cooperation with OneDrive, Mobile version Windows 10 loaded smartphone can be used as PC "Windows Continuum"Biometric authentication system capable of logging in by displaying the face on the PC"Windows Hello"It is announced that it will be equipped with the function of" Windows Store "which makes it easy to install / uninstall the application.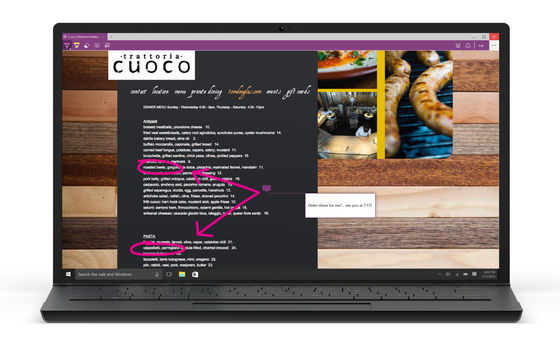 · Additional notes June 1, 2015 19: 09
To the PC with Windows to be upgraded, add "Get Windows 10Icons are emerging. Clicking ......



"Free upgrade procedure" will be displayed. It is not possible to update to Windows 10 right now, and you can do "Free upgrade reservation procedure" which will be downloaded automatically when it becomes available. When downloading, it is necessary to prepare 3 GB of free space on the PC.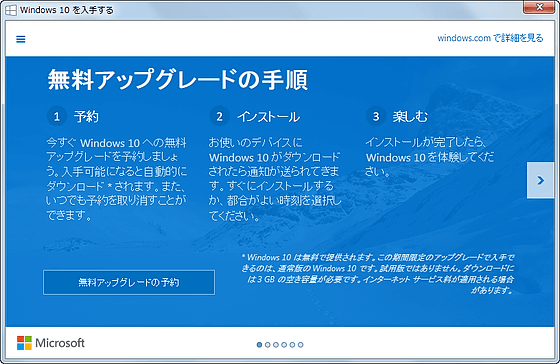 So by clicking on the arrow you can read a brief description of the new features of Windows 10 written in Japanese.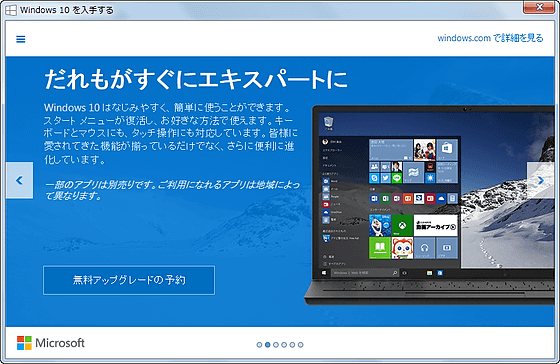 To make a reservation, click "Reserve Free Upgrade".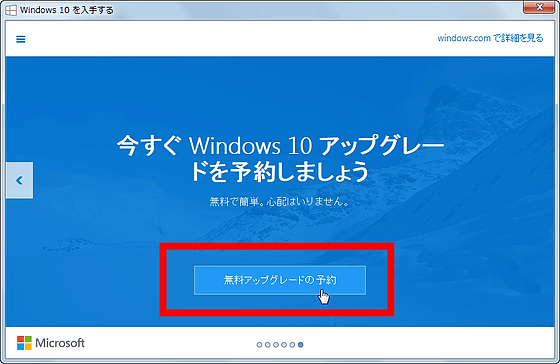 The mail address input screen opens. Even if you click "Skip confirmation by e-mail", you can complete the reservation as notification arrives at PC, but if you want to receive notification by e-mail, enter e-mail address and send "confirmation" Click.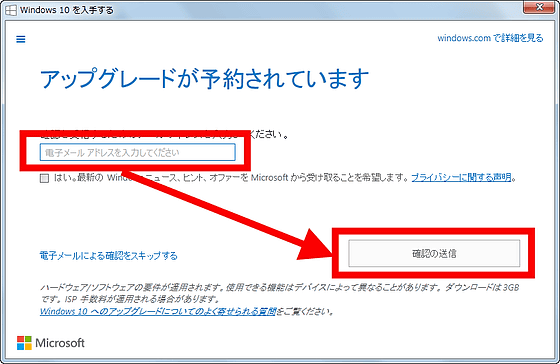 This completes the reservation procedure. A free upgrade is now automatically done on July 29th.