The world's first 'Bionic Bird' with a titanium prosthesis is born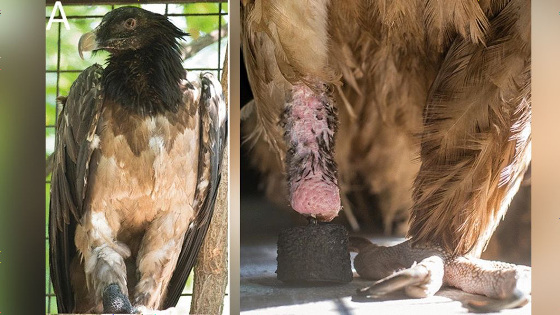 In general, most birds are inevitably short-lived because they cannot stay on trees or feed when they lose their legs. Doctors at the University of Medicine in Vienna have announced that they have performed 'surgery to integrate a titanium prosthesis with bone' on
a bearded vulture that has lost its right leg.
This is the first plastic surgery in the world to be performed on a bearded vulture.
Avian extremity reconstruction via osseointegrated leg-prosthesis for intuitive embodiment | Scientific Reports
https://www.nature.com/articles/s41598-021-90048-2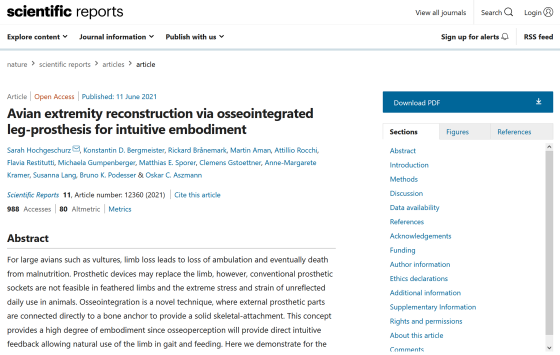 Bionic reconstruction: New foot for 'Mia' the bearded vulture | MedUni Vienna

https://www.meduniwien.ac.at/web/en/ueber-uns/news/default-871192d93f/bionische-rekonstruktion-neuer-fuss-fuer-bartgeier-mia/
The right leg of a bearded vulture, named Mia, was necrotic due to the entanglement of wool collected by her mother to build a nest. Many birds, including bearded vultures, are inevitably short-lived because they cannot stay on trees or feed if they lose their legs.
Veterinarians ask Oscar Asman, a plastic surgeon at the University of Medical Sciences in Vienna, to help save the bearded vulture. Bearded vulture legs, which have wingspans of up to 2.6 m, need to withstand a variety of loads, so Asman adopted
a special technique called 'osseointegration,' which combines titanium and bone.
Mr. Asman said that he had used Osseointegration for humans, but never for birds. So, Asman dissected another dead bearded vulture, learned about living organisms, and then went on to surgery.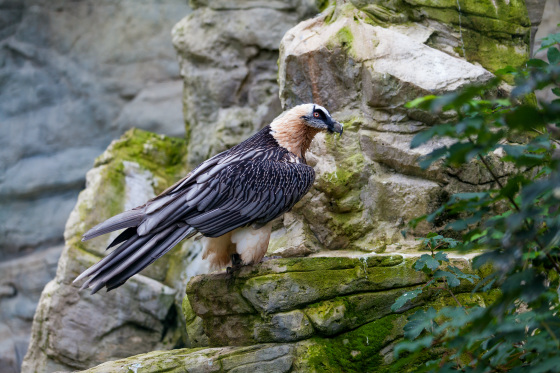 Mr. Asman gave general anesthesia to the bearded vulture and inserted a threaded titanium fixture into the bone marrow of the foot. A cylindrical rubber-like prosthesis specially designed for bearded vultures was attached to the fixture. This prosthesis gives the bearded vulture a high degree of tactile sensation, and the cylindrical design minimizes the possibility of damage to the bearded vulture when it gets caught on a branch.




The operation was successful. Mia was able to walk 3 weeks after the operation, and 6 weeks later she was able to live with a load on her prosthesis. 'The bearded vulture is once again able to land and walk with both feet, making it the first'Bionic Bird',' said Asman.