Google's first real store 'Google Store' opens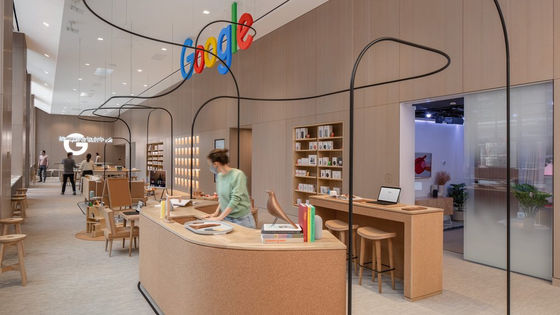 Google's first physical store, the Google Store , will open in New York, USA on June 17, 2021.
It is a
store where you can actually experience and purchase Google products such as Pixel,
Nest
,
Pixelbook
,
Fitbit.
The first Google Store is now open in New York Cityhttps://blog.google/products/devices-services/google-store-nyc-opening
Google's first ever retail store opens tomorrow in NYC!

???? Friendly staff ready to answer your questions
???? A full selection of products and product colors
???? Interactive exhibit

Learn more: https://t.co/0GzeJNuCtQ

NYC Dept of Consumer Affairs Lic. Nos: 2099131-DCA, 2099133-DCA pic.twitter.com/zLihiMBbba

— Made By Google (@madebygoogle) June 16, 2021


'The number of details to consider was daunting,' said Nathan Allen, head of store design and project at the Google Store. Still, he said he wanted to take the same approach to store design as product design, with 'making the product always useful to people' in mind.

The store is designed by Reddymade, an architectural studio based in New York. All the members involved in the project, including the Reddymade architect, brainstormed and formed the concept.

The appearance of the Google Store is as follows.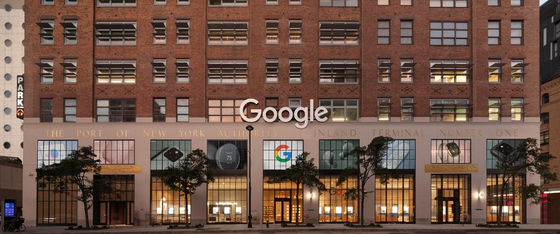 Google products are displayed outside the store, giving you a glimpse of the product's features and design.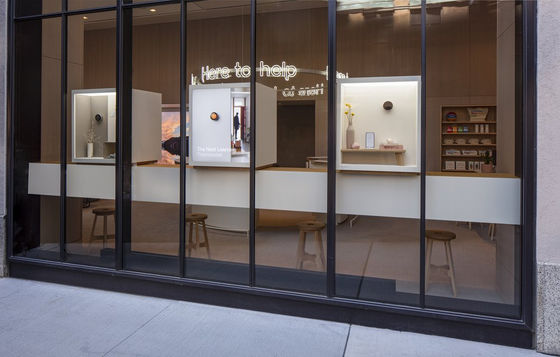 A 17-foot-high circular glass object is placed near the entrance of the store, which is named 'Google Imagination Space'. A screen is placed inside this glass object, and AI built around Google Translate and machine learning functions will guide users to experience the best products and technologies. This AI guide is available in 24 languages.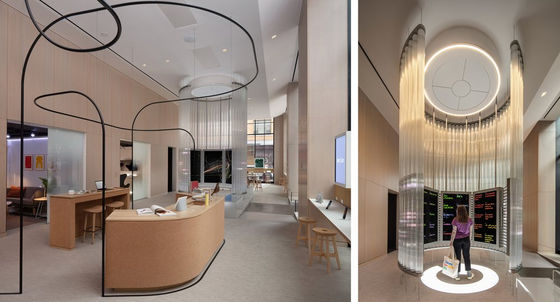 Of course, it is also possible to have the store staff directly guide you about products and services. In addition, you can have Google products repaired or troubleshooted.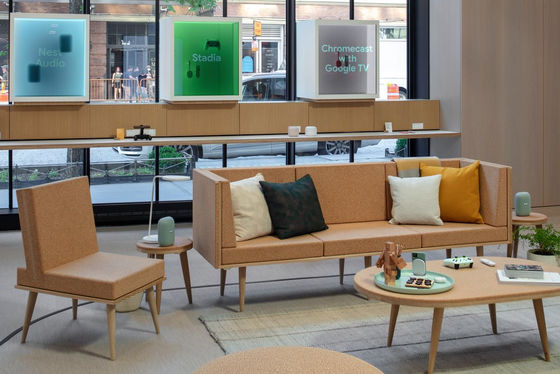 The Google logo and a huge 'G' are also placed inside, but the overall atmosphere is calm.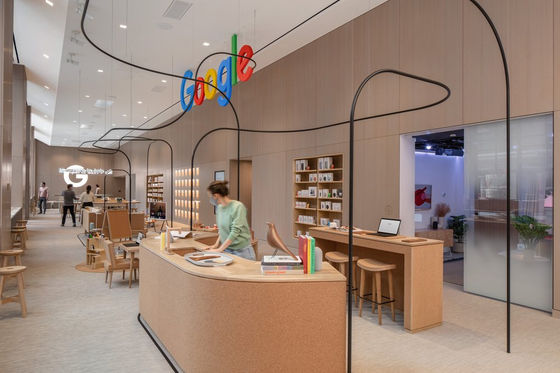 There is also a corner where you can actually pick up and experience Google products, and you can also check the controller for Google Stadia.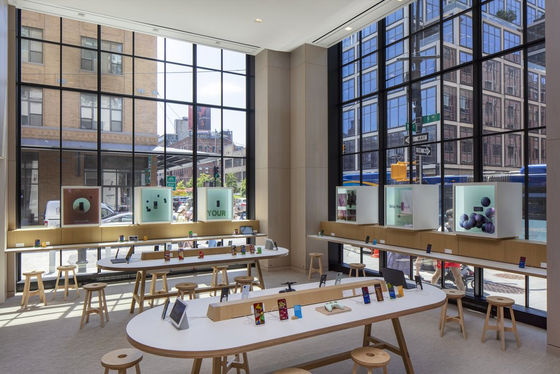 In addition, a spacious space used for events and workshops, a space where you can experience the high-performance camera of the Pixel series, an experience-based space where you can enjoy cloud gaming on Google Stadia, and what kind of life would you like to realize a smart home with Nest products? There are various spaces such as a space where you can experience what you can do.

Google has announced that it will use recycled materials in all products released after 2022, and many products already use recycled materials. The use of such environmentally friendly materials is also carried out at the Google Store, for example, hickory boards on the wall, cork furniture used for counters, carpets made of recycled materials, etc. are all sustainable. It seems that it is procured in various ways.

A movie showing the inside of the Google Store is also released.

The Google Store Chelsea Opens June 17! --YouTube


In addition, it seems that about 4 years have been spent on the development project of Google Store, which is Google's first actual store.