'Google Meet' desktop version update to improve control bar and add data saver function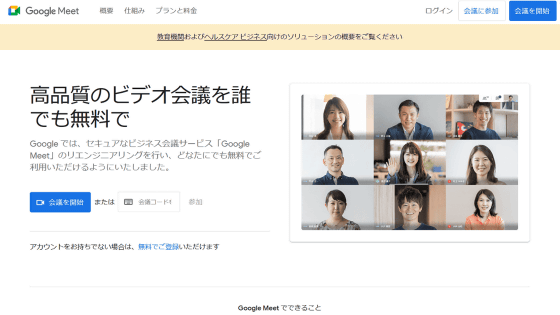 The online video conferencing tool '
Google Meet
' developed and provided by Google has come to be used by many people due to the increase in remote work and remote learning due to the pandemic of the new coronavirus infection (COVID-19). It was. On April 21, 2021, a new blog post by Google announced improvements to the user interface (UI) and features of the desktop version of Google Meet.
New ways we're making Meet calls easier (and more fun)
https://blog.google/products/meet/design-updates-video-backgrounds/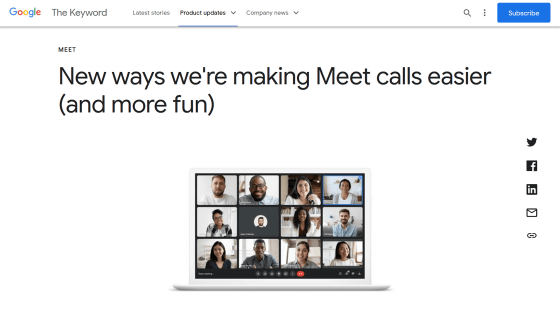 Google Meet is getting a UI refresh next month with smarter meeting features --The Verge
https://www.theverge.com/2021/4/21/22395485/google-meet-new-ui-refresh-smart-meeting-features
Google Meet gets a more likely design and video backgrounds
https://www.xda-developers.com/google-meet-new-ui-video-backgrounds/
◆ Fixing / releasing content and video
Starting May 2021, you'll be able to quickly unpin presentation tiles when viewing presentations and other content on Google Meet and sharing them in a video conference. Click the pinning icon on the presentation tile as shown below ...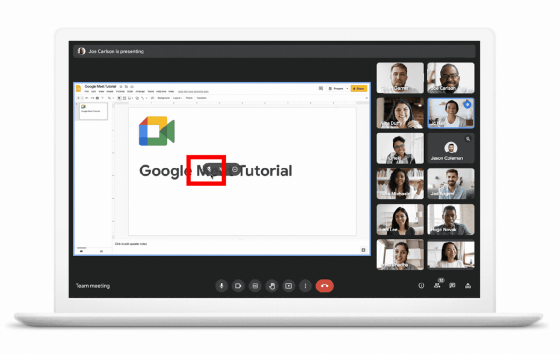 It has been unpinned and is now the same size as other user tiles. This makes it possible to increase the number of speakers and check the reaction of participants.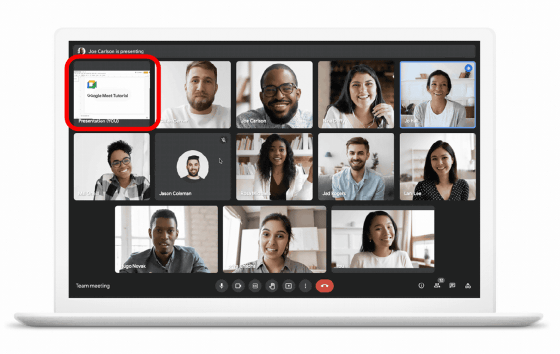 In addition, a function to pin multiple tiles will be added within the next few months, and it will be possible to customize the presentation tile and speaker to be displayed in large size, or to display multiple speakers in large size at the same time. If you don't want to see your face during a call, you can also minimize or hide your tiles.
Since it has been pointed out
that 'keeping looking at your face during a video call leads to mental fatigue', it is possible to reduce the burden of video conferencing by hiding your tiles.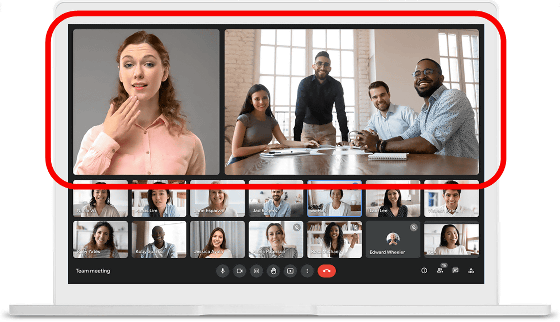 The news site The Verge also points out that the fact that the control bar for adjusting settings is centralized at the bottom is also a big improvement.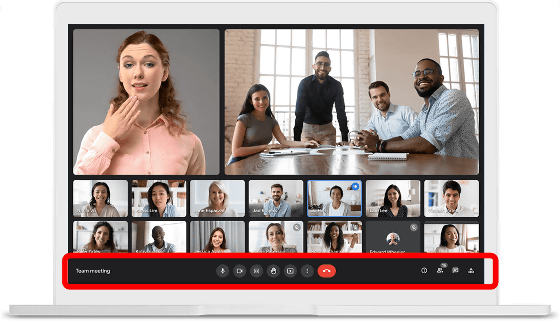 ◆ Data saver function
Data communication costs associated with online video conferencing are not constant in every country or region in the world, and data communication costs can be high in developing countries. Therefore, Google Meet will release a 'data saver' function in April to save data traffic when using mobile networks.

◆ Low light mode
The mobile version of Google Meet has already introduced a 'low light mode' that uses artificial intelligence to detect the brightness of the room and automatically adjust the screen exposure to make it easier to see. The desktop version of Google Meet will also be available in low light mode in the coming weeks.

◆ Auto zoom function
Users of the corporate software suite
Google Workspace
will also have access to Google Meet's new auto-zoom feature within the coming months. The auto-zoom function automatically tracks the user's position as the user moves around, and adjusts the user displayed on the video conference screen so that he or she is always facing straight ahead.
◆ Animation background
Google Meet will be able to select animated backgrounds for calls within the next few weeks. From the beginning, there are three types to choose from, 'classroom,' 'party,' and 'forest,' and Google says it plans to add more options at a later date.