Tesla Model S burns big in a collision, killing two people, unmanned driver's seat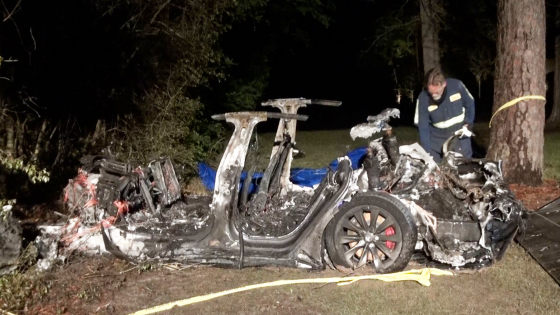 A 2019 Tesla Model S crashed off the road and hit a tree, killing two people in a fire on April 17, 2021 in Spring, Texas, USA. The car burned violently and the fire was extinguished for four hours. Authorities also announced that the driver's seat was unmanned when the body was recovered.

'No one was driving the car': 2 men dead after fiery Tesla crash in Spring, officials say

https://www.click2houston.com/news/local/2021/04/18/2-men-dead-after-fiery-tesla-crash-in-spring-officials-say/
PCT4: Two killed in fiery crash involving Tesla in Spring | khou.com
https://www.khou.com/article/news/local/tesla-spring-crash-fire/285-c28a4993-5b5f-43f4-a924-e39638390647
Two people killed in fiery Tesla crash with no one driving --The Verge
https://www.theverge.com/2021/4/18/22390612/two-people-killed-fiery-tesla-crash-no-driver
According to Mark Harman of the Harris County Police Department, the Model S is running at a fairly high speed and is believed to have been unable to turn the curve and hit a tree off the road.
It is not yet known if the Model S had the autopilot feature enabled while driving, but when the body was recovered, there was no one in the driver's seat, one in the passenger seat and the other in the back seat.
The following is the state of the accident.
Two men killed after Tesla that may have been in autonomous driving or self driving mode didn't adhere to a curve, slammed into a tree then burst into flames in the Woodlands, officials say. Firefighters say they had to call Tesla to figure out how to oust the blaze. @ KPRC2 pic.twitter.com/nmhDxKeTHT

— Deven Clarke (@ KPRC2Deven) April 18, 2021


Most of the car body that burned is melted.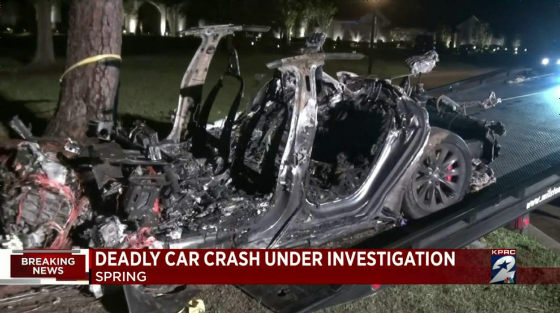 In a traffic accident, the position where the body was sitting may move due to the impact, but Mr. Harman said, 'As a result of skillful forensics, I am 100% convinced that there was no one in the driver's seat from the position of the body. I'm doing it. ' It is believed that a 59-year-old man and a 69-year-old man died, and the incident is still under investigation.

The accident was also characterized by the fact that the car continued to burn for four hours, and it was said that 32,000 gallons (about 120,000 liters) of water was needed to extinguish the fire. The fire department has asked Tesla for advice on fire extinguishing activities, but it has not been revealed what kind of reaction it was, including whether or not there was a response. However , according to information released by Tesla, unlike natural gas vehicles, Tesla's electric vehicles may rekindle the EV battery even if it is extinguished once, so 'continue to burn rather than trying to extinguish the fire. It's better to do it. '

As of March 2021, the National Highway Traffic Safety Administration has investigated more than 23 car accidents related to the autopilot function, but no accidents that were 'unmanned in the driver's seat' have been reported so far. Hmm.

The autopilot is different from the autonomous driving system, and when an accident occurred on the Tesla Model X in the past, Tesla called for 'the driver should be careful' and 'put his hand on the handle'. ..

Tesla makes a statement blaming the driver who died in the Tesla Model X-GIGAZINE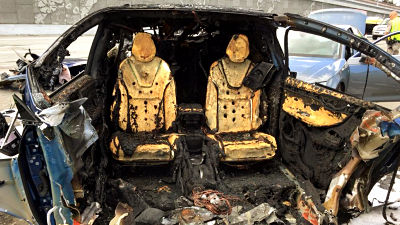 At the time of writing the article, Tesla did not respond to the media's request for comment, and Elon Musk's Twitter account was the last to mention the decrease in the autopilot accident rate on April 18.

Tesla with Autopilot engaged now approaching 10 times lower chance of accident than average vehicle https://t.co/6lGy52wVhC

— Elon Musk (@elonmusk) April 17, 2021
in Video, Posted by logq_fa