Amazon denies involvement as suspicion of 'non-existent employee' emerges on Twitter account praising Amazon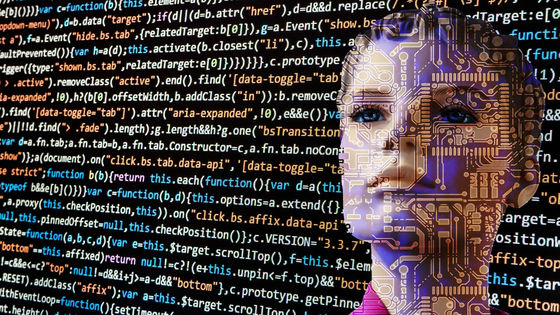 In Alabama, USA, an account of a person who claims to be an Amazon employee was opened on Twitter while
the movement to form a labor union by Amazon workers is booming.
This account, which tweeted about Amazon's greatness and labor union's shortcomings, has been accused of being 'a fake account using an automatically generated face photo.'
Amazon employees, bots or trolls? New Twitter bios emerge to speak out mostly against union effort --GeekWire
https://www.geekwire.com/2021/amazon-employees-bots-trolls-new-twitter-bios-emerge-speak-mostly-union-effort/
There's Something Fishy About Amazon's Anti-Union Twitter Army [Updated]
https://gizmodo.com/thees-something-fishy-about-amazons-anti-union-twitter-1846572212
Is This Alleged Amazon Employee On Twitter Fake?
https://www.dailydot.com/debug/fake-amazon-employee-twitter/
On March 27, 2021, a person who was an Amazon employee created a Twitter account. The string 'GYR1' in the name
'Darla at GYR1
' is probably Amazon's fulfillment center in Alabama
.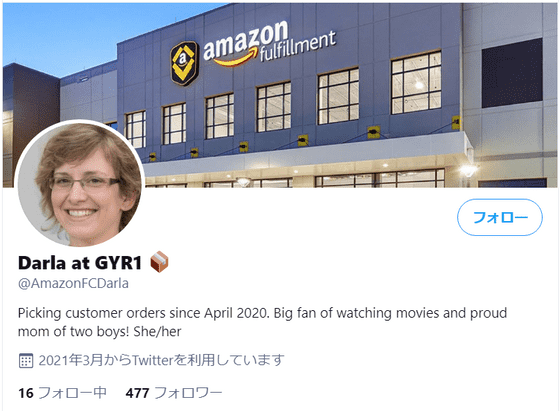 Darla at GYR1 said in a tweet from Amazon's official public relations account calling for the new coronavirus vaccine, 'I'm very happy to see Amazon prioritize our safety.' Retweet with.

I've already received my second dose, but so glad to see another example of Amazon making our safety a priority ❤️

https://t.co/zvN4Wshh0f — Darla at GYR1 ???? (@AmazonFCDarla) March 29, 2021


On the other hand, 'The most troublesome thing about the union is that I can't refuse to pay the membership fee. As a single mother with two children, I'm living on the edge of my life, but the union Is coming to Amazon and trying to get me to pay a portion of my salary. It's true! '

What bothers me most about unions is there's no ability to opt out of dues! As a single mother with two boys I'm barely scraping by as it is, and now unions want to come to Amazon and make pay them a piece of my salary . No thanks!

— Darla at GYR1 ???? (@AmazonFCDarla) March 29, 2021


News site Gizmodo pointed out that Darla at GYR1's face photo was 'almost certainly created using Generated Photos, a site that uses AI to generate face pictures of non-existent people.' In fact, Generated Photos generated a picture of a woman very similar to Darla at GYR1, and at least the profile picture was of a non-existent person.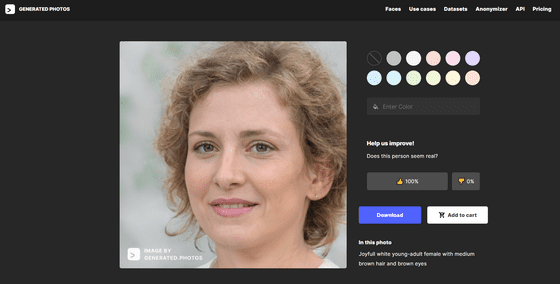 Amazon has an 'FC Ambassador Program ' that gives volunteer employees a day of paid vacation and an Amazon gift card worth $ 50 (about 5497 yen) to convey the wonders of working in the company's warehouse. It has been reported, and the existence of the 'Twitter army ' that defends Amazon has been talked about several times in the past.

An Amazon spokeswoman told GeekWire, an IT news site, 'Darla at GYR1 is not an Amazon FC ambassador. It's probably a fake account that violates Twitter's terms, so investigate and respond appropriately to Twitter. I asked for action, 'he said, denying Amazon's involvement.

In addition, New York Times reporter Karen Weise said on Twitter, 'I heard from Amazon that the Darla at GYR1 account is fake, so I reported it. By the way, Amazon's FC tweet was posted via a service called Sprinklr. Usually, Darla at GYR1's tweets are posted from the Twitter Web App. '

Amazon just told me that the Darla account in particular is fake and they have reported it to Twitter.

FWIW, 'her' tweets are posted via the Twitter Web App, and Amazon's other FC tweets are typically posted via Sprinklr pic.twitter.com/KOPzD0DBlz

— Karen Weise (@KYWeise) March 29, 2021


'It's possible that the trolls are creating fake accounts to hit the union, but I'm not sure if they're Amazon fans or just fun criminals,' GeekWire said of Darla at GYR1. Did.