I went to 'bb.q OLIVE CHICKEN Cafe' where you can enjoy fried chicken that is fried in olive oil on the outside and juicy on the inside.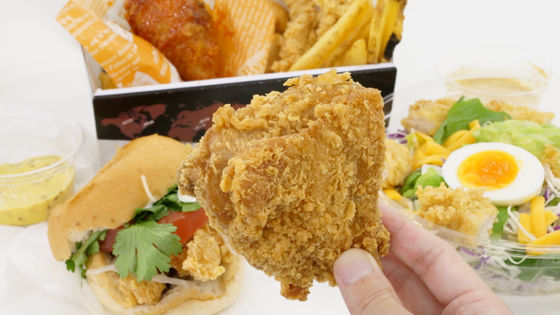 The popular fried chicken chain 'bb.q OLIVE CHICKEN Cafe
', which boasts the largest number of stores in Korea, has landed in Japan. Fried chicken from Korea fried in extra virgin olive oil ordered from a contract farmer in Spain is a take-out premise menu with elaborate cooking methods that do not spoil the taste even when cooled and packaging materials that do not make the dishes stuffy. It is said that it has become. It is said that such 'bb.q OLIVE CHICKEN Cafe' first entered the Kansai area on March 27, 2021, so I actually went to the store and purchased a popular menu.
A cafe where you can have a stylish lunch in Ibaraki. Offering delicious olive chicken
https://bbq-olivechickencafe-ibarakioda.com/
'
Bb.q OLIVE CHICKEN café Aeon Town Ibaraki Ota
' is located on the 1st floor of
Aeon Town Ibaraki Ota
, located in 2-1 Shironomaecho, Ibaraki City, Osaka Prefecture.
That's why I arrived at Aeon Town Ibaraki Oda.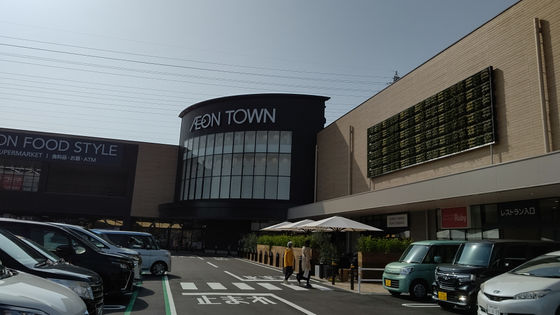 There was a line in front of the bb.q OLIVE CHICKEN café.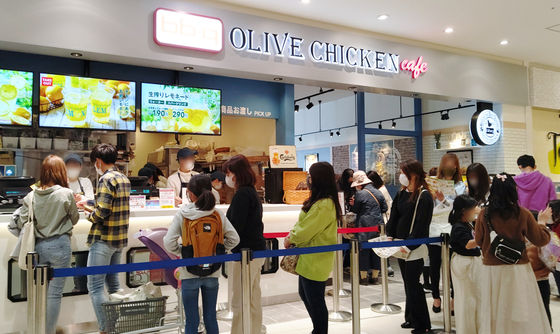 Line up in a line while looking at the menu table given by the clerk ...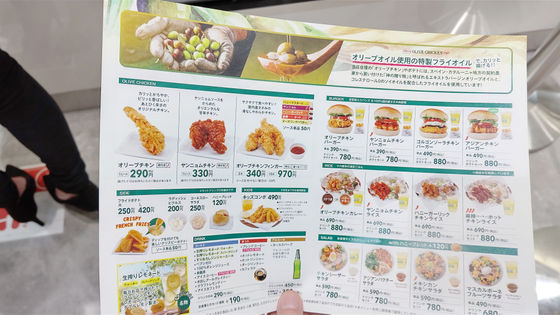 I bought it and came back. From the left, we took out 'Olive Chicken (290 yen including tax)', 'Ajiantikin Burger (490 yen including tax)', 'Yangnyeom Chicken Combo (990 yen including tax)' and 'Custom Salad (590 yen including tax)'.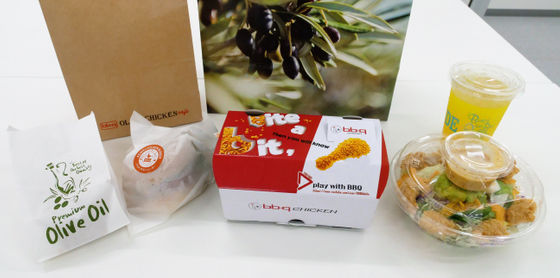 First of all, I will try eating from the signboard menu 'Olive Chicken' which is also the name of the store.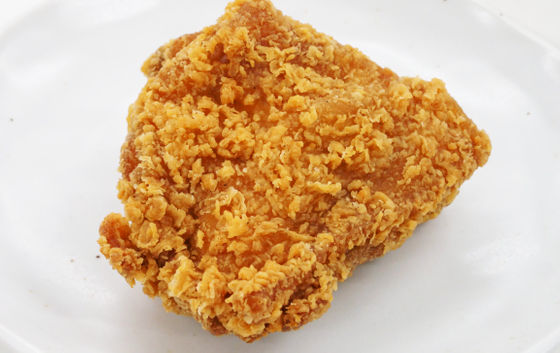 Comparing the size with a transportation IC card, it looks like this.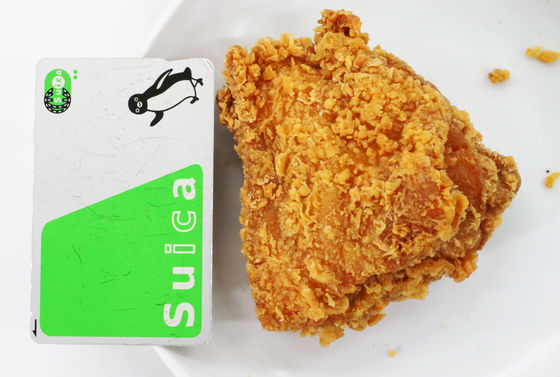 It took about 30 minutes to take it home, but the batter remained crunchy. Unlike fried chicken from a typical chain store, it doesn't feel oily and is lightly seasoned, but the aftertaste leaves a spicy spiciness. Thanks to this light texture and addictive spiciness, the chicken was finished so that it could be eaten refreshingly even if ordered for lunch.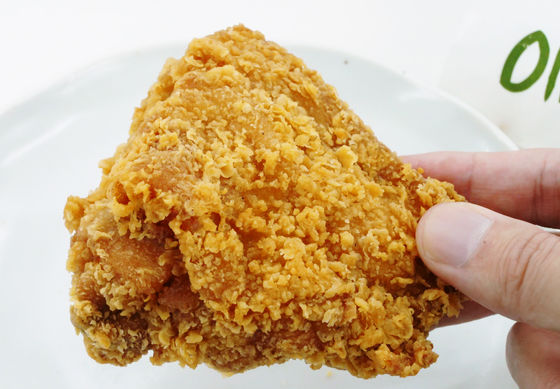 Next, I will try 'Ajianti Chicken Burger'.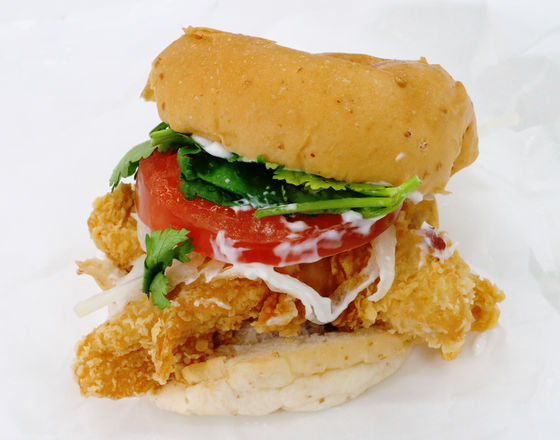 The ingredients are boneless olive chicken fingers, onions, tomatoes and coriander with sweet and spicy sauce from the bottom.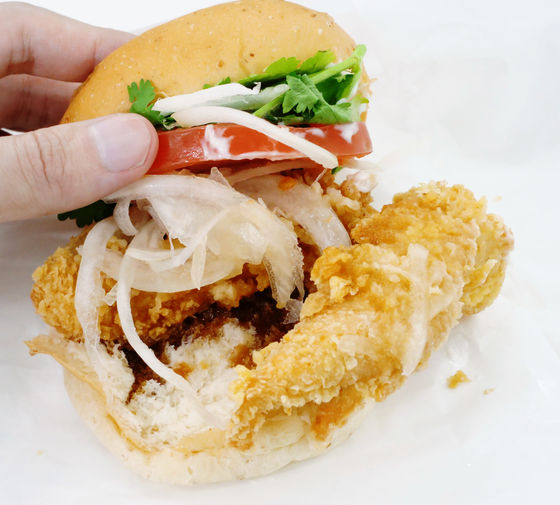 The size is a little smaller than the long side of the transportation IC card.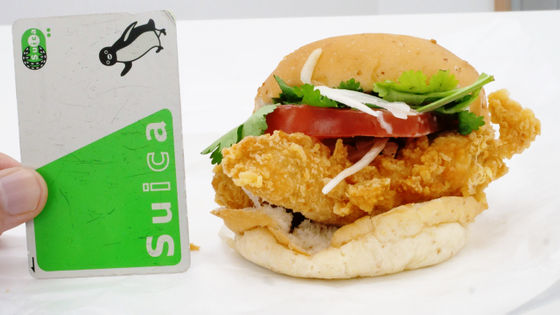 The unique flavor of coriander with plenty of it goes perfectly with chicken fingers with soy sauce-based sweet and spicy sauce. Coriander is an ingredient with different tastes, but it is definitely recommended for those who like coriander.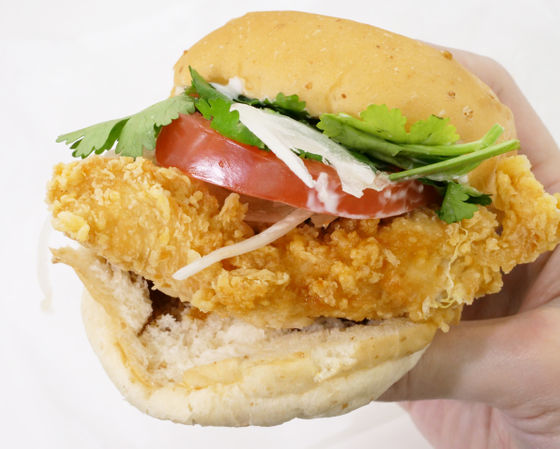 '
Yangnyeom
Chicken Combo' comes with a drink.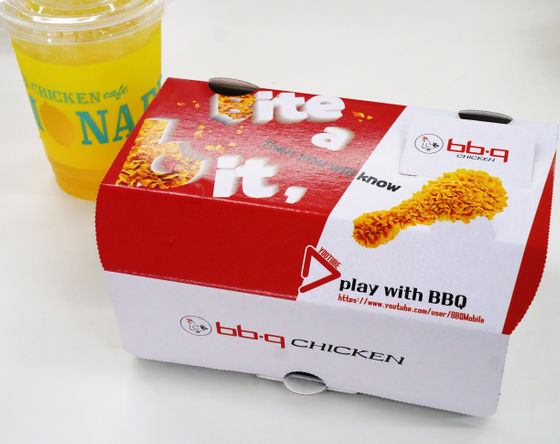 This is what I opened the box. From the left, the contents are Yangnyeom chicken, potatoes, 3 chicken fingers, and honey bread.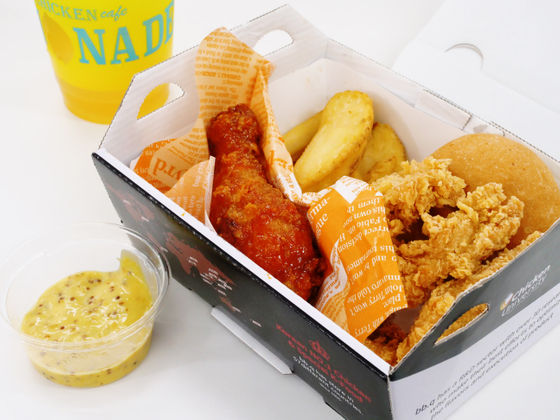 'Yangnyeom' is a general term for combined seasonings in Korean food, and it is said that
gochujang and ketchup are used for Yangnyeom chicken at bb.q OLIVE CHICKEN Cafe.
Contrary to its reddish and spicy appearance, the straight spiciness is not so strong thanks to the sweet and spicy seasoning. The rich sweetness of gochujang and the gentle acidity of ketchup brought out the umami of juicy chicken many times, making it an appetizing chicken.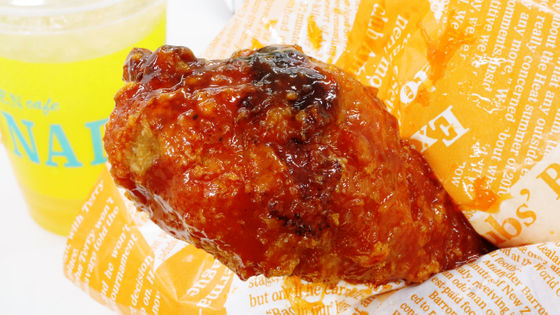 Chicken fingers have a crunchy and light texture like olive chicken, but unlike olive chicken, they have no bones. Also, since it is not spicy, it is suitable for people who want to enjoy fried chicken with a light texture.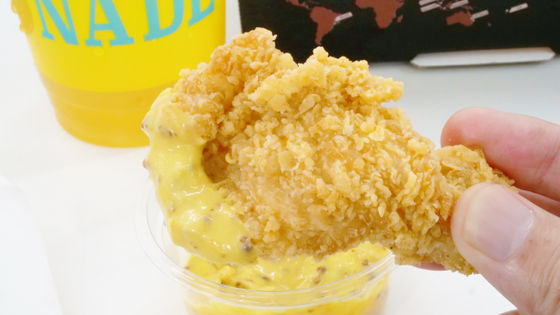 Although the potatoes are lightly salty, they have a skin and are thick, so even when cooled, I could feel the chewy texture and the scent of potatoes. It has a V-shaped cross section and is designed to make it easy to dip the sauce, so if you feel the taste is light, you can add chicken fingers sauce.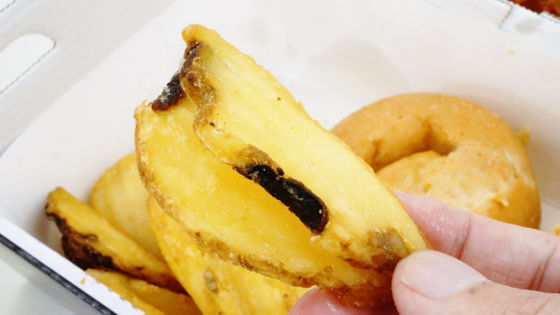 There is a notch in the center of the honey bread.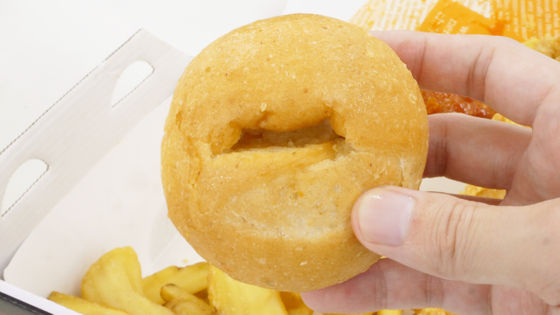 When I split it in half from the notch, I could see the contents of the syrup. The outside of the honey bread is firm and has a floury scent like French bread. On the other hand, the contents are fluffy and soft, and also slightly salty. This saltiness brings out the sweetness of the honey that has soaked into the contents, making the bread simple yet satisfying like a sweet bread.



For the drink that comes with the set, select 'raw squeezed lemonade'. The refreshing acidity refreshes the mouth, making it a perfect drink to accompany fried chicken.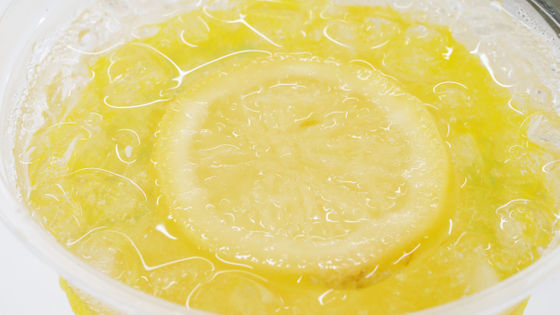 There are four types of salad menu, 'Chicken Caesar Salad', 'Asian Pakuchi Salad', 'Mexican Chicken Salad' and 'Mascarpone Fruit Salad', but this time I ordered 'Custom Salad' with free choice of toppings.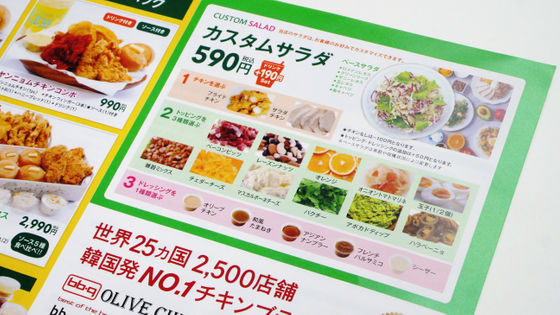 Select 'fried chicken' for chicken, and choose 'egg', 'cheddar cheese', and 'avocado dip' for the toppings that can be specified. The dressing was 'olive chicken'.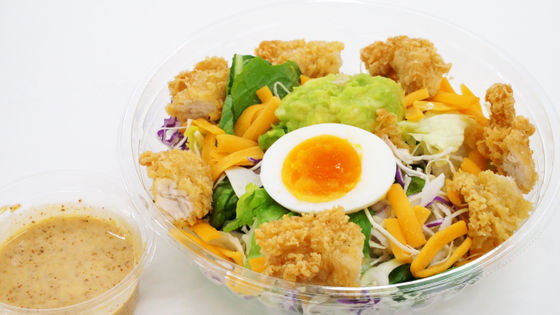 There is plenty of vegetable salad and even chicken, so if you are a small person or on a diet, it is an ant volume to order only the salad. Also, if you don't need chicken, you can get a 100 yen discount without chicken, and you can add toppings for 50 yen, so you can pursue your favorite combination of toppings.