What is the 'method of earning more than YouTube' adopted by the world's leading YouTuber who earns more than 3 billion yen a year at the age of 9?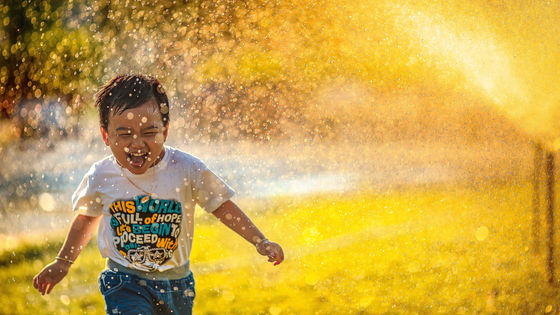 Ryan's World , which has 29.1 million subscribers, is a YouTube channel where 9-year-old YouTuber Ryan Kaji opens and exercises new toys. Economic media Bloomberg reports on how this 'Ryan's World' is making a lot of money.

How YouTube Channel Ryan's World Makes Most of Its Revenue: Merchandise, Not Ads --Bloomberg
https://www.bloomberg.com/news/articles/2021-03-22/how-youtube-channel-ryan-s-world-makes-most-of-its-revenue-merchandise-not-ads

Ryan's World has over 29 million subscribers and is explosively popular with over 46 billion total channel views. Therefore, it is said that the annual income of the channel is equivalent to hundreds of millions of yen.

Ryan first appeared on YouTube when he was three years old, with a home video showing the toys in the box. This video has been spread all at once and has been played billions of times. This kind of 'children's toy opening video' is still popular on YouTube as a genre.

Ryan's World is making subtle changes as Ryan grows, and he explains why, 'I always loved playing toys when I was little, so I made a lot of toy videos. Now I have a video. I like games, science, arts, crafts, exercise, etc. ', he explains, changing videos based on his own tastes.

Research firm Tubular Labs estimates that Ryan's World has a total daily play time of around 1 million hours.

Ryan's World-YouTube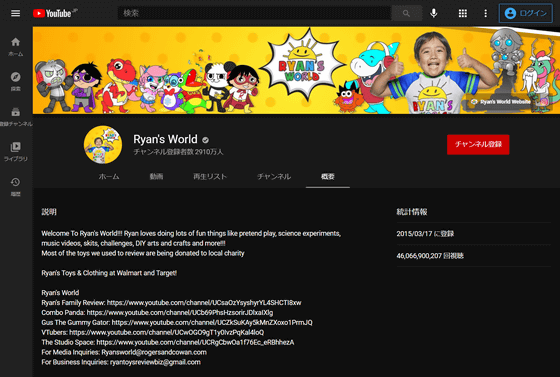 However, Ryan's parents, Zion Kaji and Lone Kaji, have signed sponsor merchandising contracts with Wal-Mart and Target, and have signed documentary program production contracts with Nickelodeon and Amazon, other than YouTube. We are also expanding our income from. Furthermore, in 2021, SKECHERS released a collaboration product with Ryan's World, and efforts are being made to develop goods.

In 2017, Pocket Watch , a global franchise of YouTuber, and Ryan's and Ryan's World characters will sign a long-term exclusive partnership agreement. As part of this agreement, Ryan will acquire a portion of the shares in Pocket Watch.

According to Pocket Watch founder Chris Williams, Ryan's World-related goods will generate more than $ 250 million in sales in 2020. In addition, a company called Maker Studios, which develops YouTuber goods like Pocket Watch, seems to sell more than 8 billion dollars (about 870 billion yen) annually in the license business, and similar businesses will continue to grow in the future. It is expected that it will continue.

In addition, Ryan's annual income, including YouTube income, is said to be 30 million dollars (about 3.3 billion yen). Goods sales account for 60-70% of this, so Ryan's biggest source of income in 2020 is no longer on YouTube, but on goods sales.

It is clear that the method of developing goods and services using popular influencers on YouTube and SNS as advertising towers has achieved rapid growth in the last few years. In the early days when such marketing methods began to be used, collaboration hoodies and hats were sold, but in recent years , various developments such as the opening of a fast food chain by popular YouTuber have been carried out. Sales are also skyrocketing. Logan Paul , a well-known YouTuber of the turmoil , was reported to have collaborated with clothing brand MAVRIK to generate $ 30 million in sales over the course of a year.


in Note, Posted by logu_ii