Report that '64 same debit cards have arrived from the bank'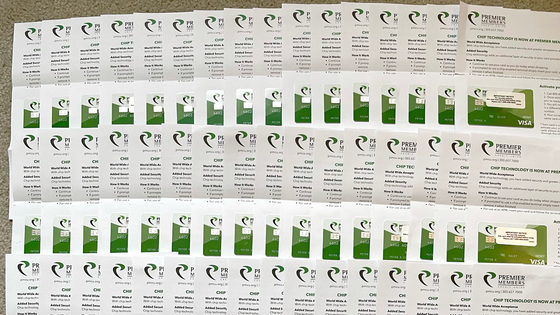 A 'debit card' is a card that allows you to pay without using cash like a credit card, and the amount you use is immediately deducted from your bank account. The bulletin board site Reddit reported that 64 such debit cards were suddenly sent from the bank.

My bank sent me 64 copies of the same debit card: mildly interesting

https://old.reddit.com/r/mildlyinteresting/comments/m2x83h/my_bank_sent_me_64_copies_of_the_same_debit_card/
Below are 64 debit cards posted by Reddit user PTR FRLL.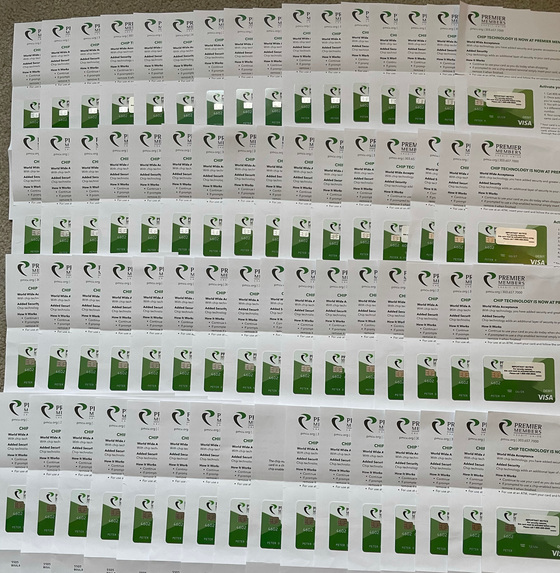 According to PTRFRLL, the 64 debit cards arrived at home every few days from December 2020. Of course, all the numbers written on the card are the same, but only the expiration date is different.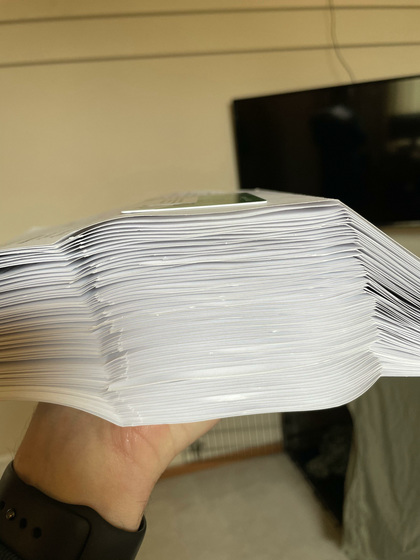 Mr. PTRFRLL does not seem to remember issuing debit cards, he said, 'A large number of debit cards were probably issued by a third party.' I'm not sure.

Hacker News, a social news site, has received various comments about this mysterious phenomenon.

My bank sent me 64 copies of the same debit card | Hacker News
https://news.ycombinator.com/item?id=26428453

It seems that the bank will detect and stop the unusual situation where 64 same cards are issued, but bob10293 said, 'This is not surprising. There are usually five debit cards issued. ~ 6 authentication systems intervene. Only one of them is responsible for verifying the card number. The card issuer does not have time to verify this information. As long as the PIN is valid , No validation or exception handling is done. ' He points out that the result is that banks do not directly manage and confirm the issuance of cards one by one.

In addition, a user who has worked for a card printing company at Reddit testified that 'the same card was about to be shipped as many as 3000 due to the operator's sloppy check at my factory.' doing.



'It's very frustrating to see plastic cards in circulation, including credit cards,' BugsJustFindMe said. 'You just want to buy things, not deal with card shipping.' He pointed out that the existence of physical cards risks loss. When I actually lost my credit card overseas, as a result of many exchanges saying 'I want you to send the card to the place you are now instead of your home', an episode that 5 credit cards arrived at your home Is revealed.

Regarding 'Can I use 64 debit cards at the same time to shop beyond the balance of my bank account?', If there are multiple transactions from different locations at the same time, the account account will be flagged and frozen. It is impossible because it will be done.

in Note, Posted by log1i_yk