Apple ID is frozen due to misconfiguration of Apple Card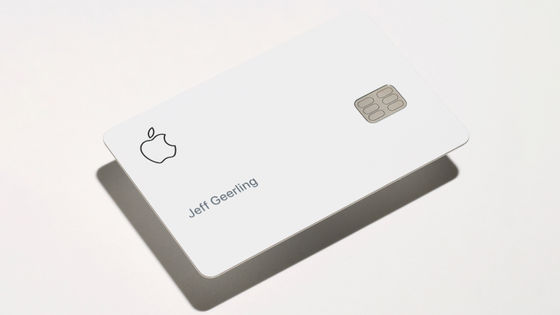 by
Jeff Geerling
Apple users want to avoid 'account freezes' that make Apple services such as the App Store and iCloud unusable.
Apple user and designer Dustin Curtis
has sued that Apple's account was suspended because Apple's credit card, the
Apple Card
, forgot to reflect the change in bank account number.
Apple Card disabled my iCloud, App Store, and Apple ID accounts
https://dcurt.is/apple-card-can-disable-your-icloud-account
The first incident that Curtis noticed was the 'account disabled' error that appeared when trying to update the app on the Mac App Store.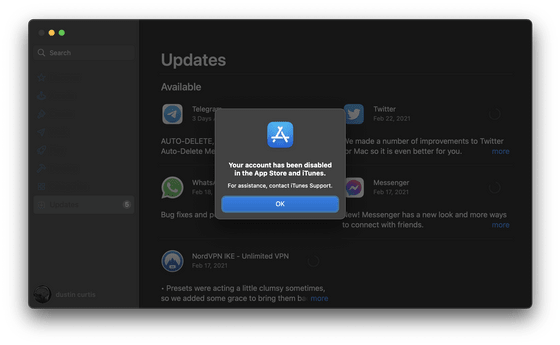 On the Internet, we often see news that 'accounts were locked for unknown reasons and lost all email and data', but 'customer-centric companies like Apple won't do that. Mr. Curtis thought that it was a difficult move and did not take any action.

However, a few days later Apple Music became unavailable, and a few minutes later iCloud calendars began displaying a message that syncing failed.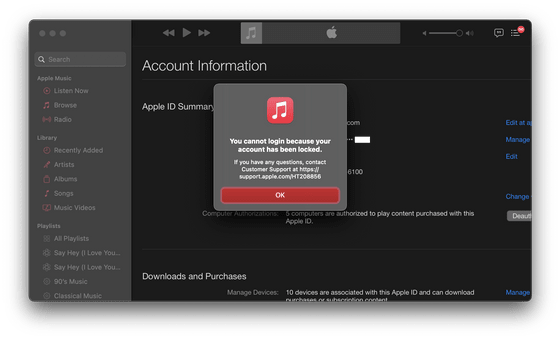 Curtis, who was impatient, contacted Apple's support center. However, the support staff couldn't pinpoint the cause at all and told Curtis, 'I'll call you tomorrow if I find out.' However, Apple never called Curtis.

After waiting a few days, he didn't get any contact, so Curtis contacted Apple's support center again. Then, the second support person explained something about the Apple Card. Although it didn't make sense, it turned out that the Apple Card was the cause, so Curtis checked to see if there was any contact regarding the Apple Card.

Then, on February 15, 2021, Apple said, 'We were unable to fully collect the price for your new iPhone. Therefore, we blocked access to Apple iTunes and the Mac App Store from your device and put it on your device. It turns out that I received an email saying 'I will disable all related accounts.'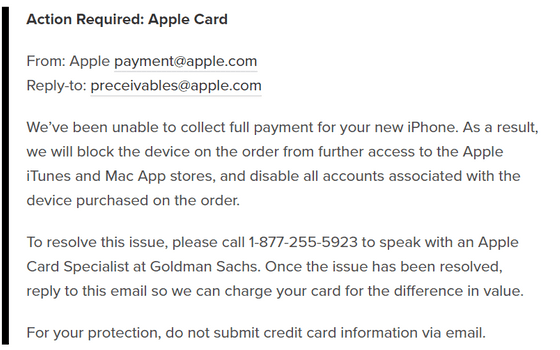 Regarding this email, Curtis said, 'This is an email that was sent when the payment deadline for the Apple Card was only a few days. In it, Apple held my Apple account hostage to collect the charges. But I bought a MacBook Pro from Apple instead of an iPhone. I also mention iTunes, but iTunes as a media app
no longer exists.
' I will.
The origin of this problem was that the bank account number used by Mr. Curtis was changed in January. However, Mr. Curtis had forgotten to change the setting of Apple Card, so the automatic payment function was causing an error. After that, although the Apple Store charged the Apple Card, it was not possible to settle with the Apple Card, so the App Store, iCloud, Apple Music, Apple ID, etc. were all frozen within 15 days of the problem. I did.
Curtis also
bought a MacBook Pro with an M1 in
January, using the
Apple Trade In, which
offers a discount on trade-in old devices. However, I couldn't send my old Mac to Apple because I didn't receive a trade-in mailing kit from Apple. Curtis believes this is what Apple said in an email saying, 'We couldn't fully recover the price of the new iPhone.'
Sure, I received an email from Apple in mid-February urging me to send my old Mac, but Curtis replied to the email, 'I haven't received the kit, so please resend it.' However, after that, there was no sound from Apple, and it seems that the mailing kit has not arrived.
Curtis, who modified the Apple Card settings, replied to '
[email protected]
', which was designated as the reply address for emails received from Apple, and asked for a solution to the problem. However, the email could not be sent due to the error 'Address does not exist'.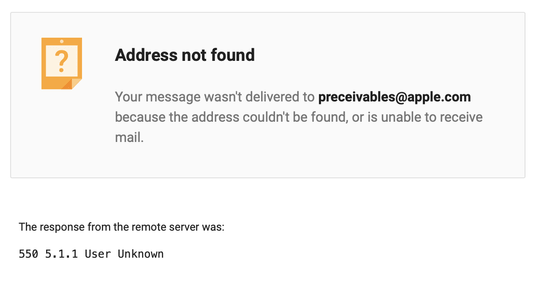 I had no choice but to use Business Chat to contact Goldman Sachs, the publisher of the Apple Card, and it seems that Curtis finally received a message saying 'I will unfreeze my account in 3 to 5 days.' ..

From this experience, Curtis said, 'Apple Card billing seems to be treated quite differently from other Apple payments, which can have serious consequences.'