Lightweight version 'Instagram Lite' with a capacity of only 2MB has restarted in 170 countries around the world, it is 1 / 15th the weight of the original family and there is no advertisement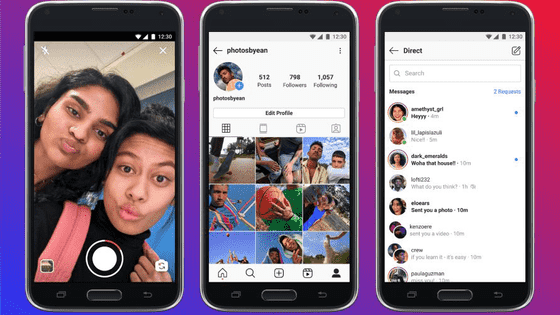 On March 10, 2021, Facebook announced that it has re-released
Instagram Lite
, a lightweight version of
Instagram
that was quietly released in May 2020, in 170 countries around the world.
Instagram Lite, which has made a new start for Android, is expected to cut into emerging markets such as India with the lightness of the installation size, which is about 1/15 that of the original Instagram.
Bringing Instagram Lite to More Than 170 Countries --About Facebook
https://about.fb.com/news/2021/03/bringing-instagram-lite-to-170-countries/
Instagram will relaunch its Lite app in 170 countries with support for Reels --The Verge
https://www.theverge.com/2021/3/10/22321394/instagram-relaunch-lite-app-release-update-reels-android
Facebook targets emerging markets with the launch of Instagram Lite, an Android app that takes up just 2MB, in 170 countries | TechCrunch
https://techcrunch.com/2021/03/10/facebook-targets-emerging-markets-with-instagram-lite-a-new-android-app-that-takes-up-just-2mb-in-170- countries /
Facebook tries to fill the void TikTok left in India --Rest of World
https://restofworld.org/2021/facebook-india-instagram-lite/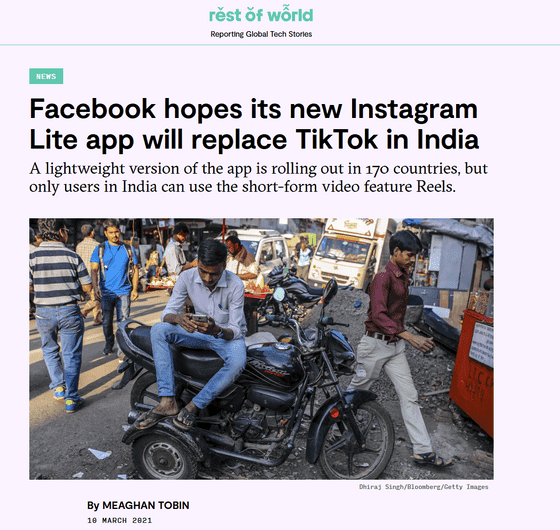 In 2018, Facebook's Instagram quietly released Instagram Lite, which was lighter with some features reduced, without making any major announcements, but ended its release in 2020. Instagram Lite, which had an installation size of only 573KB, did well, such as breaking into the top of the installation ranking in Mexico and the Philippines, but it has been pointed out that it did not perform well in other areas.

Facebook announced on March 10 that it has released the Android version of Instagram Lite on the Google Play store in 170 countries around the world. The installation size of Instagram Lite is about 2MB, which is larger than the original Instagram Lite, but the capacity is significantly reduced compared to the original Instagram with a capacity of 30MB. Along with this, many functions such as dark mode, shopping function,
end-to-end encryption
, TikTok-like short movie sharing function '
Reels
' have been eliminated, and advertisements are not displayed.
On the other hand, Instagram Lite has basic functions such as viewing, editing, and posting photos and videos, as well as creating and viewing stories, adding stamps,
IGTV
,
Explore tab,
etc., just like the regular version of Instagram. It is available.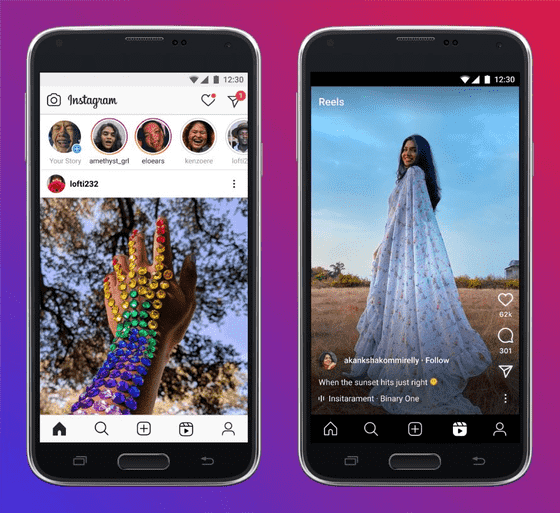 The restarted Instagram Lite is targeting emerging markets like the original version of Instagram Lite that withdrew in 2020, and it is said that it is particularly conscious of the Indian market.
Rest of World
, a non-profit news site, said, 'The new Instagram Lite seems to be aimed at users in India, not Mexico, which was once the main target. As evidence, India is the only one to browse Reels on Instagram Lite. It's a country that can do it. This seems to be Facebook's strategy to fill the void created
by India's ban on a large number of Chinese-made apps, including TikTok, in June 2020. '
..
Nick Brown, product manager for Instagram Lite, told the IT news site The Verge, 'We are planning to introduce a series of monetization tools to Instagram Lite, and it is as good as the regular version of Instagram. I would like to take the time to work on making it possible to experience it, 'he said, showing the idea of incorporating the same advertising space and various functions as Instagram in Instagram Lite in the future. I did.
Instagram Lite has been released on the Google Play store in 170 countries, including the United States, and Facebook has announced that it will expand further globally in the future. However, at the time of writing the article, it can not be installed from Japan, and it is unknown whether or not it will be released on the iOS version and when.