Qualcomm announces high-quality, low-latency next-generation wireless audio technology 'Snapdragon Sound'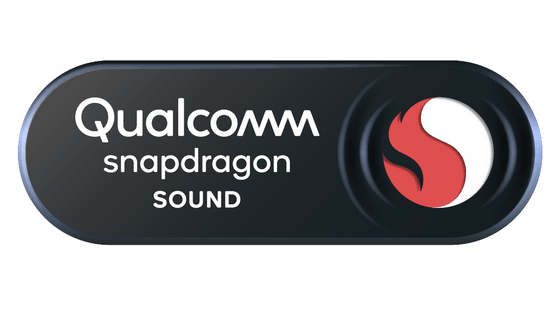 Semiconductor manufacturer Qualcomm announced on March 4, 2021, a suite of mobile audio technology and software, the Snapdragon Sound . Qualcomm claims that this technology will enable higher sound quality and lower latency in wireless audio equipment such as smartphones, headphones and gaming headsets.

Qualcomm Redefining Wireless Audio with Launch of Qualcomm Snapdragon Sound | Qualcomm

https://www.qualcomm.com/news/releases/2021/03/04/qualcomm-redefining-wireless-audio-launch-qualcomm-snapdragon-sound
Qualcomm's new Snapdragon Sound certification promises a big wave of hi-fi wireless headphones --The Verge
https://www.theverge.com/2021/3/4/22313214/qualcomm-snapdragon-sound-announced-high-res-audio
Qualcomm's Snapdragon Sound aims to bring high-quality, low-latency audio to your next smartphone
https://www.xda-developers.com/qualcomm-snapdragon-sound-high-quality-low-latency-audio-next-smartphone/
Qualcomm's newly announced Snapdragon Sound was developed with the goal of providing the sound quality and stability of wired devices with wireless devices.
Snapdragon Sound can wirelessly provide Hi-Fi
sound quality of up to 24bit / 96kHz by combining hardware such as Qualcomm's processor and audio
SoC with
software such as Qualcomm's audio codec for Bluetooth,
aptX Adaptive.
Qualcomm says.
In addition, the latency
that becomes a problem when using Bluetooth audio equipment is 89 milliseconds, which is 45% shorter than that of competitors, and it is said that the occurrence of sound interruptions and skips is suppressed.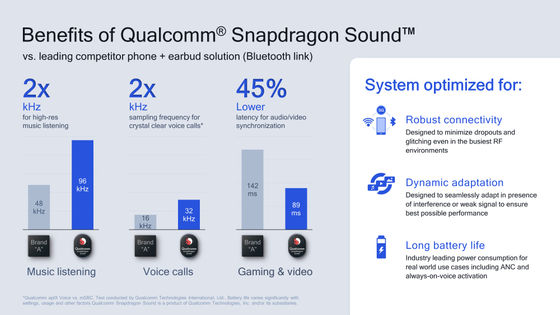 James Chapman, vice president of voice, music and wireless business at Qualcomm, said in a statement, 'The human ear is a frequent occurrence in streaming music, video conferencing, and wireless games. Qualcomm is very sensitive to issues such as latency and vowel breaking. By focusing on end-to-end, Qualcomm is innovating to solve the common consumer concerns at virtually all audio equipment connectivity points. I would like to provide it. '

Following Qualcomm's announcement, Japanese audio equipment maker Audio-Technica and Chinese smartphone giant Xiaomi have announced the adoption of Snapdragon Sound. Amazon has also partnered with Qualcomm to publish a playlist on Amazon Music featuring high-resolution music for devices optimized for Snapdragon Sound.


The Verge, an IT news site that featured Qualcomm's announcement, said of Snapdragon Sound: 'Qualcomm wasn't the first to advocate high-quality wireless audio. For example, Sony has three times as much data as the
standard SBC Bluetooth codec.
We have launched LDAC
, a unique code that can be exchanged. Meanwhile, Qualcomm has the advantage that its own components are used in headphones and earphones of various manufacturers such as Bose, audio technica, and Anker. ' ..
According to Qualcomm, devices that support Snapdragon Sound will be released in the second half of 2021. Products that support Snapdragon Sound will have the following 'Snapdragon Sound badge' on their packaging.