I tried to combine 'Kewpie smoked mayonnaise' that makes the ingredients smoked even though it is mayonnaise with various foods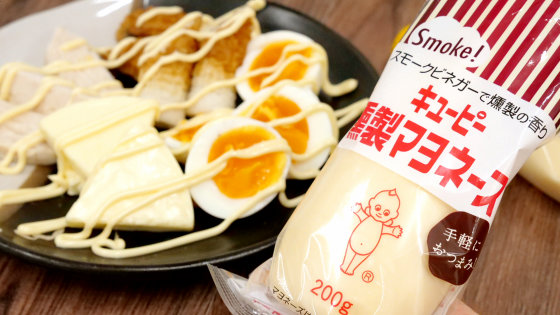 Even if you buy
smoke boxes
and
clay pots
that
smoke
ingredients, they are difficult to use because of the 'great smoke' and 'difficult preparation'. Under such circumstances, the mayonnaise '
Smoked Mayonnaise
' will be released on February 10, 2021 (Wednesday), where you can enjoy the deep scent of smoked eggs and the richness of eggs just by 'sprinkling' on the ingredients from Kewpie. I got a pair of smoked mayonnaise that I was curious about, 'What is smoked mayonnaise ...?!', So I actually tried using it.
Kewpie Smoked Mayonnaise | Product Information | Kewpie
https://www.kewpie.co.jp/products/product/mayonnaise/mayonnaise/4901577082849/
Kewpie Mustard Mayonnaise Kewpie Smoked Mayonnaise | Kewpie
https://www.kewpie.co.jp/karashi_kunsei/
This is the Kewpie smoked mayonnaise package.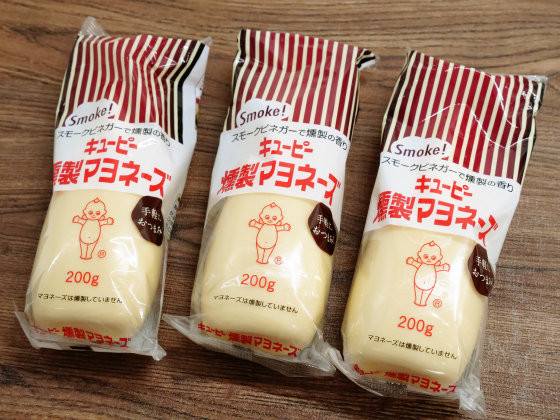 The content is 200g, and the raw material names include edible vegetable oils, egg yolks, brewed vinegar, and salt.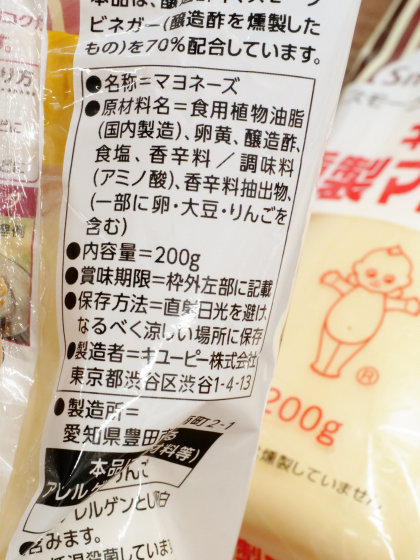 Calories are 107kcal per tablespoon (15g).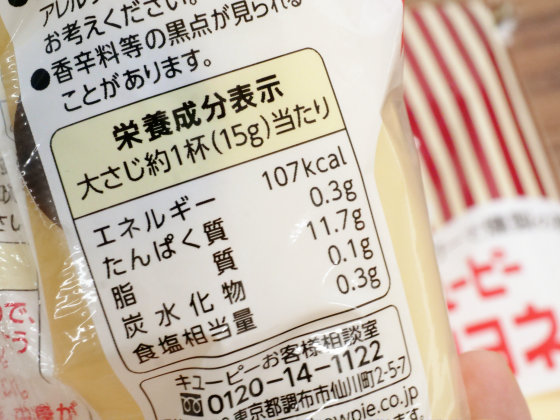 When opened, it looks like this. The cap is mustard-colored and has a sticker that says 'Kewpie Smoked Mayonnaise.'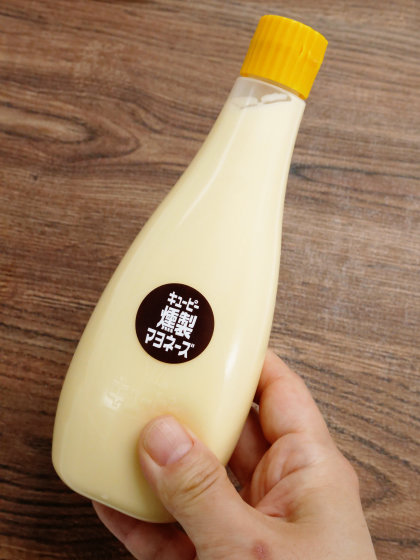 Put the contents on a plate ...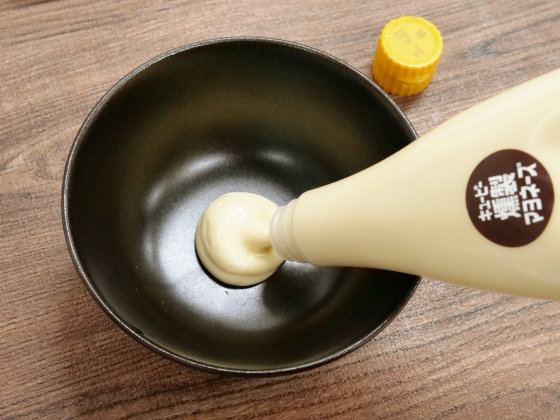 First of all, when I licked it as it was, the acidity of vinegar stimulated the tongue at the moment it entered the mouth and it was similar to normal mayonnaise, but after a few seconds, the smoked scent spread from the back of the tongue to the nose, and it pulled back. Smoked.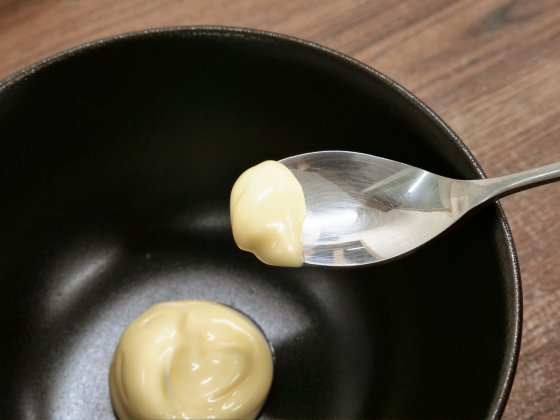 Comparing smoked mayonnaise (left) with regular mayonnaise (right), there is no particular difference in color.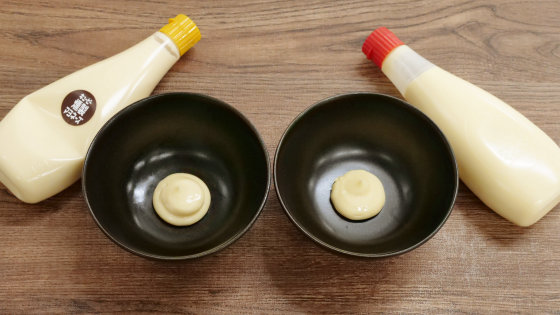 However, when compared by eating, the sourness of normal mayonnaise is behind, while the sourness of smoked mayonnaise is replaced by the smoked aroma in the middle, so I felt that the latter half had a slightly mild taste.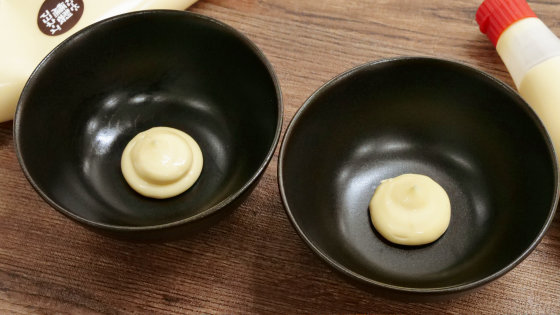 Therefore, we have prepared popular chicken, eggs, chikuwa, cheese, etc. as ingredients for smoking. First, let's see how much smoked mayonnaise can add aroma to the ingredients.



When I dipped it in a boiled egg and ate it, it had a high degree of perfection, just like 'Kuntama mayonnaise.' Smoked mayonnaise is not smoked mayonnaise, but smoked vinegar, so it's smoky but not too assertive. It's very convenient because you can easily and moderately add aroma to the boiled egg, and it's also good for people who say that '
liquid
smoke has too much aroma.'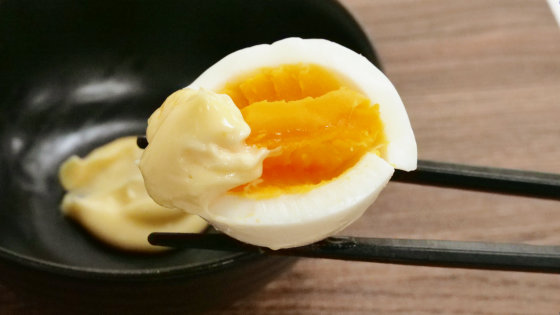 We will add more and more ingredients to the smoked mayonnaise. Then Chikuwa.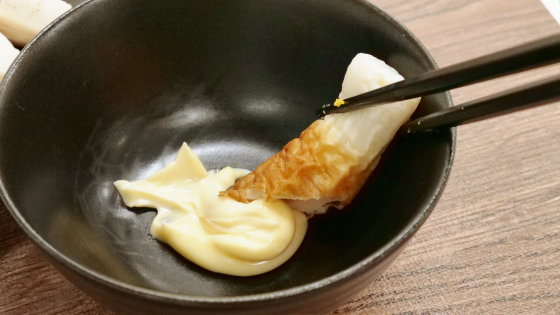 The taste of the boiled egg is light, so I felt the smoked mayonnaise strongly, but the chikuwa has a strong saltiness and fish flavor, so it is a little less smoky than the boiled egg.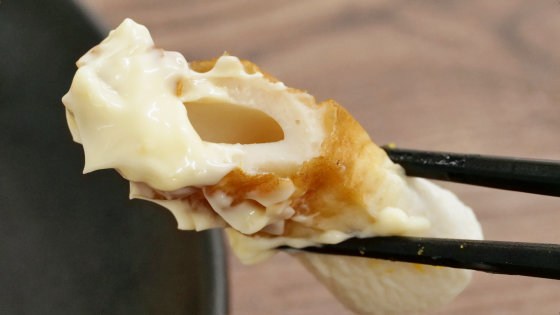 On the other hand, the light-tasting salad chicken goes well with smoked mayonnaise. With actual smoke, the ingredients are a little harder, but with smoked mayonnaise, it's good to eat juicy ingredients as they are.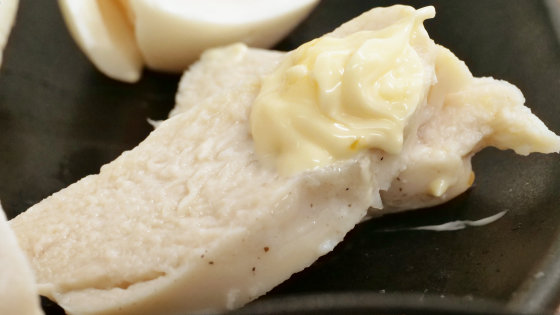 Like the cheese chikuwa, the saltiness and rich taste of the cheese itself prevailed, and the smoked mayonnaise felt a little thin. Overall, the conclusion is that it works best with boiled eggs of the four ingredients.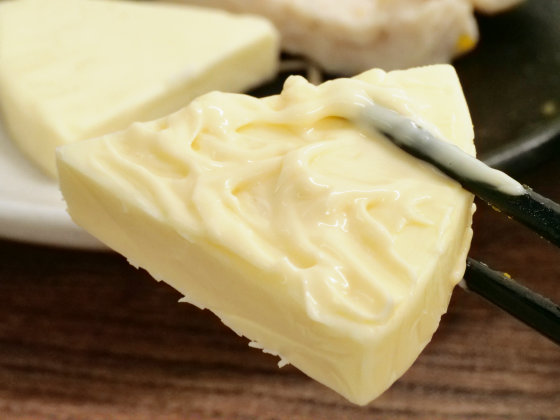 Now that you've checked the smokyness of smoked mayonnaise, let's also check how well it goes with what you generally eat with mayonnaise. First of all, I tried it on a salad of raw vegetables.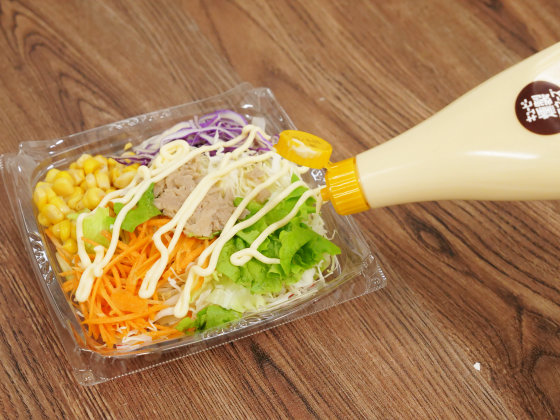 When I tried it, the taste of the ingredients was as simple as the boiled egg, so the sourness and mellowness of the mayonnaise, and the smoky aroma were all over, so whether you like smoked or mayonnaise, it's quite ant. Just by applying mayonnaise, it has a very fashionable taste, and it goes well with tuna, so it looks good to use tuna mayonnaise.



In addition, instead of butter, apply smoked mayonnaise to the bread ...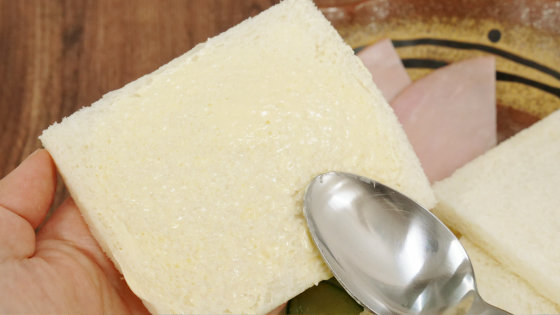 I will sandwich vegetables and ham.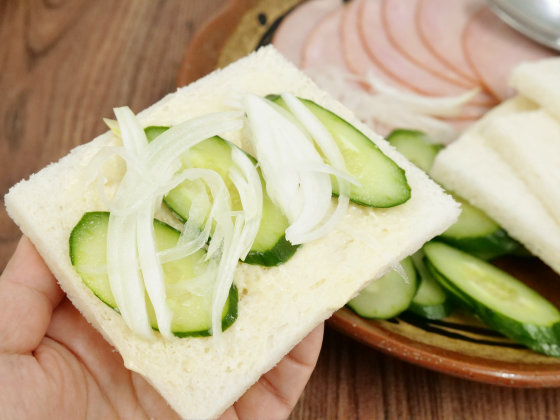 Smoked mayonnaise sandwich is completed. Opinions differed depending on the person who ate this, and some people said that it was not very smoked, but 'It's quite good that it's a' sandwich with a different taste 'because you can feel a faint smoke. Boiled eggs and salads. Some people comment, 'I like it better than putting it on chicken.' It is a unique characteristic of smoked mayonnaise that you can get an exquisite smoked feeling that is not overstated.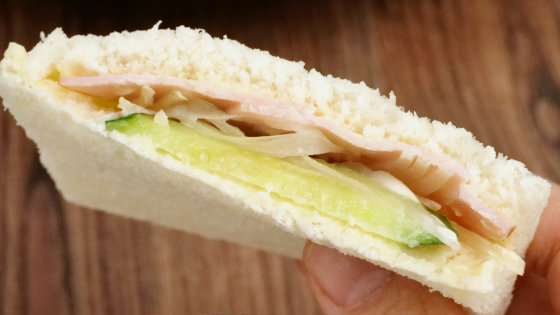 In addition, I made potato salad because 'Speaking of mayonnaise'.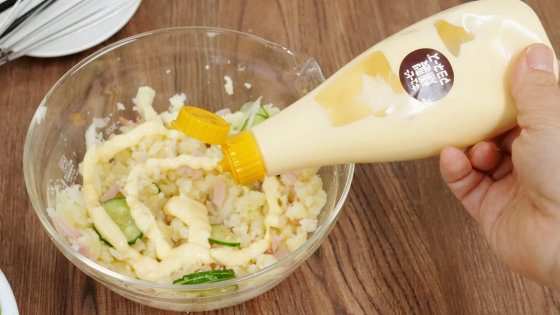 According to Kewpie, the recommended golden ratio is ingredients: mayonnaise = 10: 2, so the point is to consume mayonnaise without hesitation. The smoke disappeared when I reduced the amount of mayonnaise because I was concerned about calories, but when I added mayonnaise firmly according to the recipe, I completed a rich potato salad that you can enjoy both the flavor of mayonnaise and the aroma of smoked.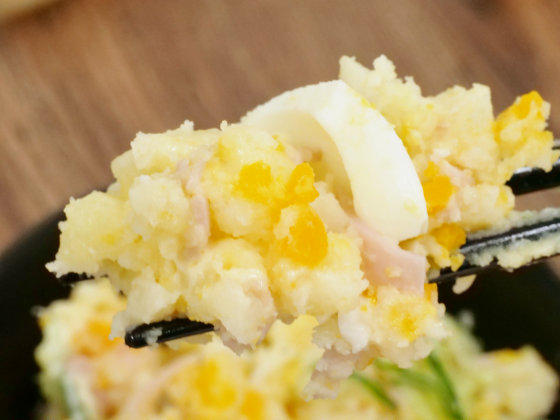 Finally, I will sprinkle smoked mayonnaise on the frozen okonomiyaki.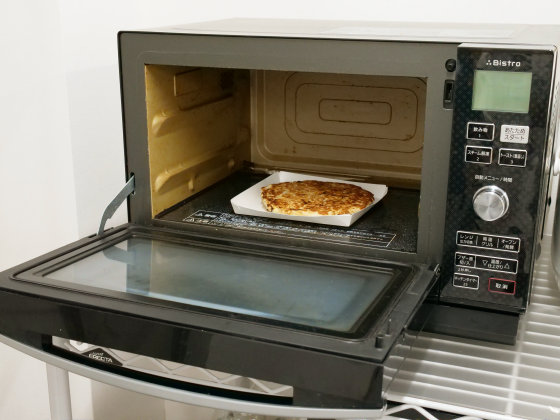 Apply sauce to warm okonomiyaki and sprinkle with plenty of smoked mayonnaise.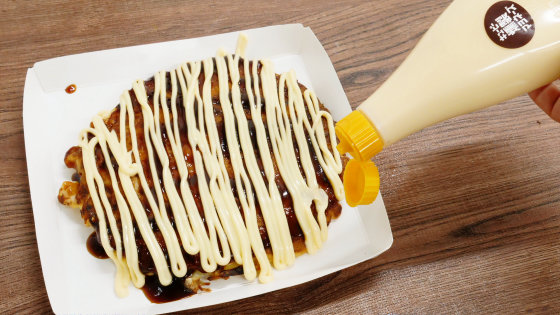 …… But the taste of the sauce was too strong, so I could hardly understand the smoked aroma. There is also the characteristic of smoked mayonnaise that the acidity does not leave behind, and the mayonnaise feeling as an accent was also modest.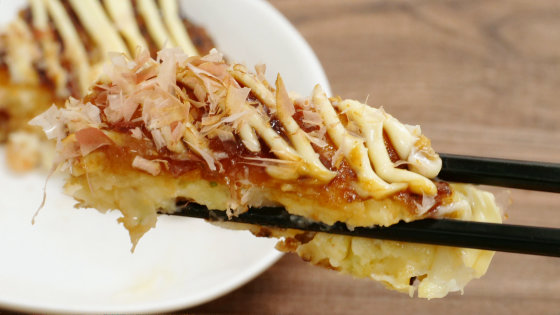 So, when I actually tried eating it with various ingredients, the smoked feeling of the exquisite line that 'simple ingredients stand out, and the taste does not fight even when combined with deep-tasting ingredients'. If you are looking for a full-fledged smoked flavor, you may find it a little unsatisfactory, but since it can be used as a substitute for mayonnaise and you can easily enjoy the smoked flavor, I felt that it has considerable potential as a seasoning. .. It can be used for various ingredients, so if you have one at home, it will be convenient in terms of increasing the variety of flavors.

Smoked mayonnaise is scheduled to be shipped nationwide from February 10, 2021 (Wednesday), and the price is 220 yen excluding tax. The best-by date before opening is 7 months at room temperature including the date of manufacture.