CIA publishes over 2700 pages of UFO-related documents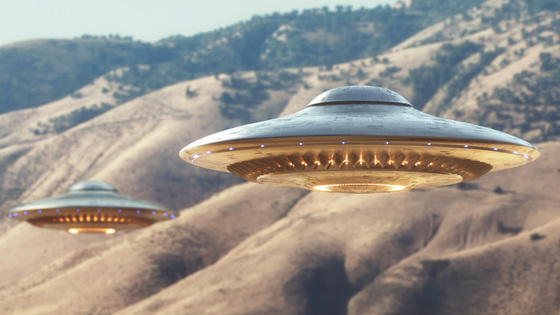 As the name implies, flying objects whose identity has not been confirmed are called unidentified flying objects (UFOs), and are being verified by public organizations in the United States and Japan. In 2020, the U.S. Department of Defense released a declassified movie of UFOs, but this time the documents related to UFOs held by the Central Intelligence Agency (CIA), an intelligence agency that reports directly to the U.S. president, are complete. Published in.

UFOs: The Central Intelligence Agency (CIA) Collection --The Black Vault
https://www.theblackvault.com/documentarchive/ufos-the-central-intelligence-agency-cia-collection/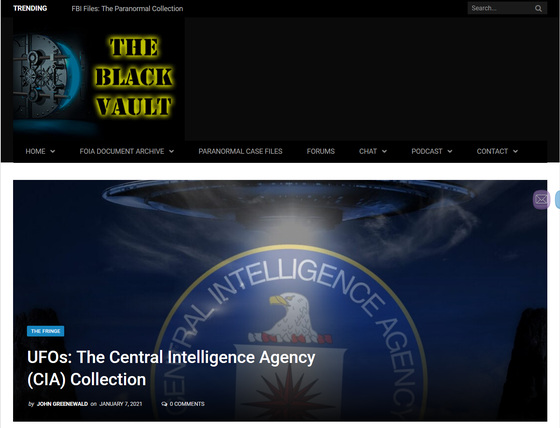 You Can Now Easily Download All CIA UFO Documents to Date
https://www.vice.com/en/article/pkdqjy/you-can-now-easily-download-all-cia-ufo-documents-to-date

At the end of 2020, the US Congress passed an additional financial support for the new coronavirus infection (COVID-19) worth $ 900 billion (about 93 trillion yen). Together with this additional economic support measures, various over to 5600 page bill has been passed, some of the bill 'seeks to publish a UFO-related information within the Department of Defense is six months' is included It was said that it was.

The bill has released CIA documents related to UFOs, reports The Black Vault, a site that organizes declassified documents.

The series of documents dates back to the 1970s and has a total volume of 2780 pages. The original document is in TIF format on a CD-ROM and has a total size of 149MB. The following is the actual CD-ROM.

This was the CD, as received from the CIA. Pic.twitter.com/XA4VggETqM

— ???????? T̷h̷e̷ ̷B̷l̷a̷c̷k̷̷V̷a̷u̷l̷t̷ ???????? (@blackvaultcom) January 7, 2021


In order to obtain the documents, The Black Vault created 10,000 applications, 2.2 million pages in total, based on the Freedom of Information Act , and converted all the documents into a searchable PDF format.

The following is a document (PDF file) 1 example . It is reported that the Deputy Director of Science and Technology was shown something about the UFO that was brought in, but some of it is painted black.

1 / In this CIA #UFO document, the Assistant Deputy Director for Science & Technology (A / DDS & T) was shown SOMETHING related to a UFO that was hand carried to him. He decided he would personally look into it, and after, he gave advice on moving forward. That advice is classified. Pic.twitter.com/PyVEr3zCny

— ???????? T̷h̷e̷ ̷B̷l̷a̷c̷k̷̷V̷a̷u̷l̷t̷ ???????? (@blackvaultcom) January 8, 2021


'I think the CIA's UFO-related documents are just the tip of the iceberg that shows that there was a covert operation in American history,' said The Black Vault.

The @CIA #UFO documents are just the tip of the iceberg on what I feel is one the most provable cover-ups in American history.

For those who want to see the evidence, my book outlines not only this CIA material; but also documents from all over the IC. Https://t.co/Bf5r0HgSG5

— ???????? T̷h̷e̷ ̷B̷l̷a̷c̷k̷̷V̷a̷u̷l̷t̷ ???????? (@blackvaultcom) January 13, 2021
in Note, Posted by log1i_yk