The second production of 'Movie Sumikko Gurashi' is decided, the previous work is a hit overseas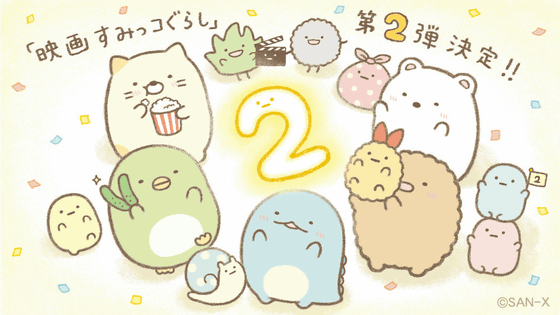 Anniversary screening was held on November 8, 2020 (Sunday), which marked the first anniversary of the release of the popular movie 'Sumikko Gurashi Tobide no Ehon to Himitsuko ' in 2019. The production decision for the second 'Gurashi' has been announced.

'Movie Sumikko Gurashi Jumping Picture Book and Secrets' Official Website
http://sumikkogurashi-movie.com/


\ #Movie Sumikko 1st Anniversary Screening End /

Thank you for joining us ????

' # Movie a corner Gurashi one year is only anniversary from the public U-pop picture book and secret', thus able celebration together with you, is full of gratitude staff ✨ ???? Pic.Twitter. com / aMwfP3NyIe

— The second movie 'Sumikko Gurashi' will be released in 2021! [Official] (@sumikko_movie) November 8, 2020


'Sumikko Gurashi' is a work that depicts the characters who are calm in Sumiko, and in addition to developing character goods, it was made into a movie for the first time in 2019. When it was released, it became popular because it was a movie that even adults could cry, and mobilized 1.22 million people.

Also, in the summer of 2020, it will be released in Hong Kong, Taiwan, and Thailand in sequence, and especially in Taiwan, it is a long run, recording the second place after 'Theatrical version' Demon Slayer: Kimetsu no Yaiba 'Infinite Train Edition' as a Japanese movie released in 2020. It's a hit.

In commemoration of the second release of the movie, a festive illustration by the original author, Yuri Yokomizo, who worked on the character design of Sumikko Gurashi, has been released.

\????Notification????/

The second production of ' #Movie Sumikko Gurashi' has been decided ????????

Celebration illustrations arrived from Yokomizoyuri ???? Sumiko and the others look happy ????

Scheduled to be released nationwide in 2021 ✨
Please look forward to the follow-up report ❣️ #Movie Sumikko 1st Anniversary pic.twitter.com/iQLqn0R7GD

— The second movie 'Sumikko Gurashi' will be released in 2021! [Official] (@sumikko_movie) November 8, 2020


The movie is scheduled to be released in 2021.