Apple requires developers to specify 'information such as data collected by apps and purpose of use' in a new form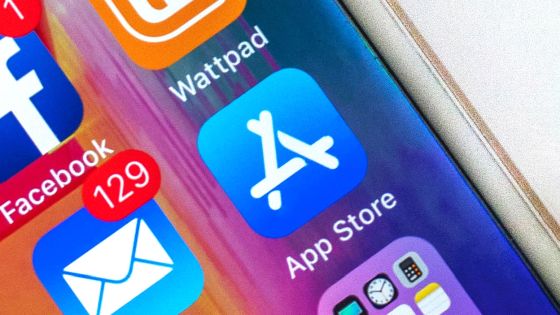 Apple announced on November 5, 2020 that it will display a label on the App Store product page that clearly states 'app privacy practices.' The new label will be introduced in 2020 to help users know what data they collect and what they use it for before they download it from the App Store.

App Privacy Details --App Store --Apple Developer

https://developer.apple.com/app-store/app-privacy-details/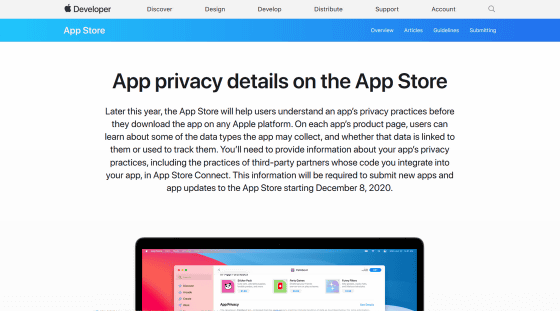 Apple says new'nutrition labels' for app privacy will be required starting December 8 --9to5Mac

https://9to5mac.com/2020/11/05/app-store-privacy-labels-developers/
App privacy'nutrition labels' coming to App Store on Dec. 8 | AppleInsider
https://appleinsider.com/articles/20/11/05/app-privacy-nutrition-labels-coming-to-app-store-on-dec-8
On November 5, Apple announced the introduction of a label that articulates privacy practices. With this change, developers will need to provide detailed information about privacy practices for apps that are already published on the App Store.
Information on app privacy practices can be provided through
App Store Connect
, a web-based tool that allows developers to upload, submit, and manage apps to the App Store. This information is also required when submitting new apps or providing app updates after December 8th.
Apple is urging developers who respond to privacy practices to be prepared with the following:
-Answer all possible data collections and uses, including cases where specific data is collected and used with limited information only.
-Answer must follow App Store review guidelines and laws.
· Developers are responsible for keeping their answers up-to-date on their own and will respond promptly through App Store Connect if privacy practices change.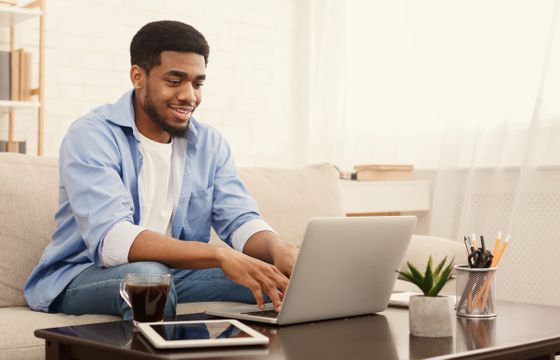 Examples of data collection that developers should provide information are 'contact information such as name, email address, phone number, address, address book', 'health / fitness data', 'payment information and credit card information', ' 'Location information' 'Confidential information such as race, race, sexual orientation, pregnancy, childbirth, disability, religion, political opinion' 'Content information such as emails, text messages, photos, videos' 'Website browsing history' ' Includes search history, user identifiers, device and app usage, and more.

It is also necessary to answer about the purpose for which the app uses user data, 'third-party advertising', 'developer advertising and marketing', 'analysis of app effectiveness and user behavior', 'product personalization', 'app function' It is also necessary to clarify what will be done using the data. They also need to provide information about whether each piece of data is linked to the user or anonymized.

The 'app privacy practice label' that is actually displayed to the user looks like this. Users can see this label to know what data is collected and how it is used before downloading the app.