'Amazon Prime Video users don't actually buy content,' Amazon claims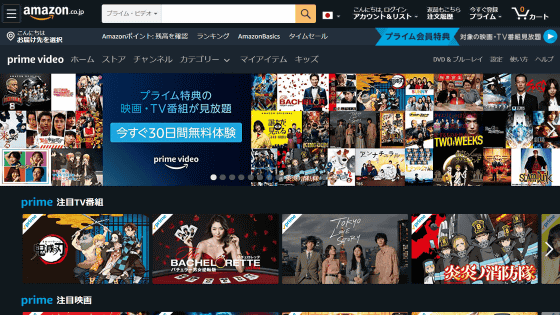 Amazon Prime Video, Amazon's streaming service, gives subscribers the freedom to watch large amounts of content, as well as rent or purchase some shows and movies. Regarding this Amazon Prime Video service, Amazon claimed that 'users are not actually purchasing the content of Amazon Prime Video,' reports overseas media such as Hollywood Reporter.

Amazon Argues Users Don't Actually Own Purchased Prime Video Content | Hollywood Reporter

https://www.hollywoodreporter.com/thr-esq/amazon-argues-users-dont-actually-own-purchased-prime-video-content
Amazon says users don't own content bought on Prime Video | AppleInsider
https://appleinsider.com/articles/20/10/28/amazon-says-users-dont-own-content-bought-on-prime-video
Amazon argues Prime Video customers don't own purchased content | Fox Business
https://www.foxbusiness.com/technology/amazon-argues-prime-video-customers-dont-own-purchased-content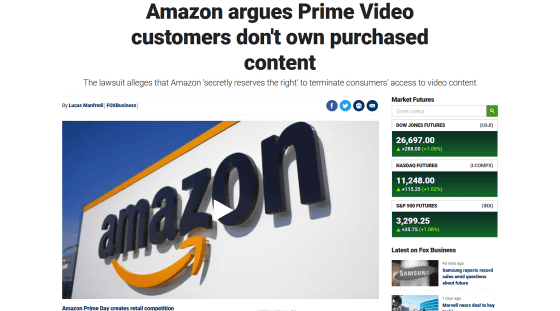 It all started in April 2020 with a lawsuit filed in a California district court by Amanda Caudel, who lives in California. 'Amazon secretly reserves the right to terminate access to content purchased by consumers through Prime Video at any time,' Caudel accuses Amazon of unfair competition and false advertising. ..

In a lawsuit, Caudel pointed out that Prime Video content averages $ 5.99 for rental, while it averages $ 14.99 for purchases. Amazon has the right to stop access to the content, while giving consumers the illusion that they can own the content if they make a purchase with Prime Video by deliberately raising the price at the time of purchase. Claims to be.

In response to this proceeding, Amazon filed a petition seeking dismissal of Mr. Caudel's proceedings on October 26, 2020. According to Amazon, Caudel has purchased a total of 36 titles on Prime Video, 13 of which were purchased after the April 2020 proceedings. Amazon explained that Caudel had not suffered any damage and was not in a position to be the plaintiff in the proceedings, as both titles are still available for viewing.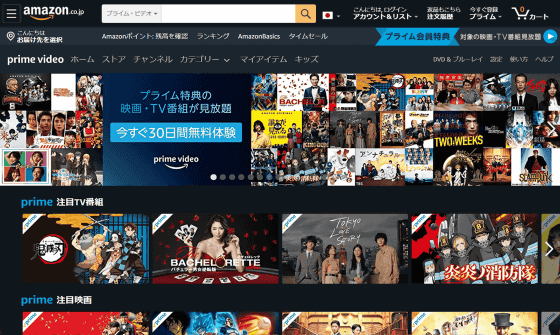 Amazon also argues that it does not hide that consumers may not be able to access content purchased through Prime Video, which is clearly stated in the Terms of Service.

If you check the
terms
of
use of
Amazon Prime Video, 'In principle, purchased content can be continuously downloaded and streamed according to the form provided by the customer from this service. However, the license restriction by the content provider And for other reasons, these may not be playable. Amazon shall not be liable to you if you are unable to download or stream your Purchased Content. ' I can do it.



Amazon's lawyer, David Biderman, said, 'The most relevant contract here, Prime Video Terms of Service, is presented to consumers every time they purchase digital content on Amazon Prime Video. The Terms of Use explicitly state that the purchaser only obtains a limited license to watch the video content and that the purchased content may not be available due to license restrictions or other reasons. ' Said.

Also, Amazon points out that it doesn't matter if consumers, including Caudel, actually read the terms of use, and that they agreed to what was stated when they agreed to the terms of use. 'The Merchant's Terms of Service in online consumer transactions are valid and enforceable when consumers receive reasonable notice of the Terms of Service,' Biderman argues.

In addition, Biderman repeatedly complained that 'plaintiffs'did not purchase'if they knew that they could lose access to digital content purchased from Amazon Prime Video, but in 2020. I've purchased content 13 times from April 24th to September 6th, 2020, 'he said, pointing out that Caudel's claim is problematic.

Caudel's attorney, Michael Reese, said Amazon's claim that 'users don't actually own the content they purchased' is an insult to consumers and that Amazon misleads consumers. Claims to emphasize. He continued to compete with Amazon.