'Ghibli Subtitle Maker' where you can play with your favorite subtitles on the images of Ghibli works released for free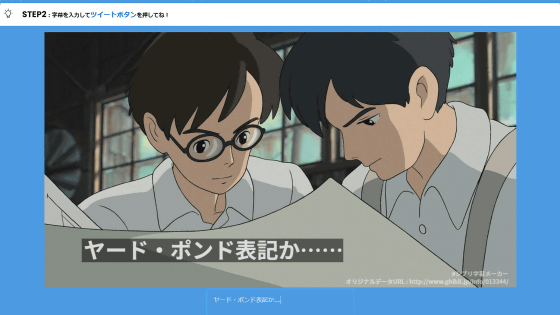 In September 2020,
Studio Ghibli started offering a total of 400 images in the work
for free, and it is now possible to use it freely within the bounds of common sense. With this as a trigger,
Yoshiwo Konogi (@yoshiwo_konogi)
, an engineer who created the
official
chatbot for 'Weird Girl ~ Weird High School Girl Amaguri
Chiko ~
' serialized in Young Animal, easily created a Ghibli image with subtitles.・ We have developed '
Ghibli Subtitle Maker
' that can be posted on Twitter.
Ghibli Subtitle Maker
https://konogi-tools.com/ghibli/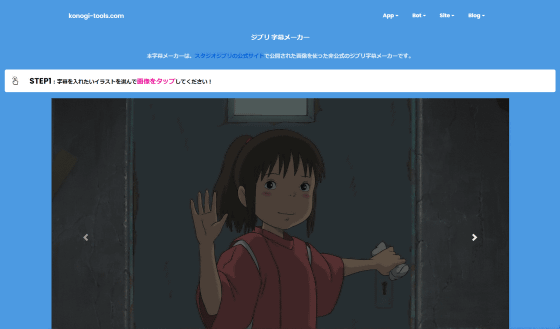 When you access the top page of 'Ghibli Subtitle Maker', you will first be asked to select the image you want to add subtitles to. Click the arrow icon at the end of the image ...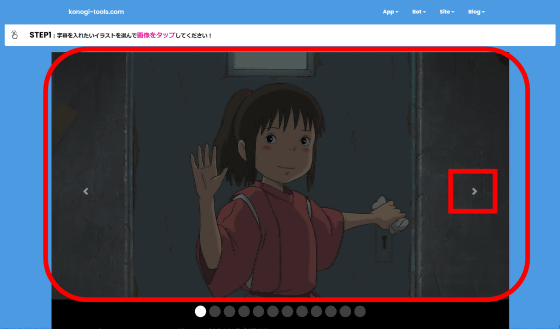 You can see the following image.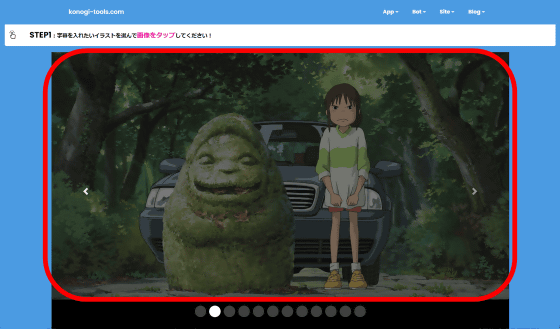 At the time of writing the article, a total of 12 images from '
Spirited Away
', '
Arrietty
of Borrowing', 'The
Wind
Rises', 'From Up on
Poppy Hill
', 'Tales from
Earthsea
', '
Ponyo on
the Cliff by the Sea', and '
The Tale of Princess Kaguya
'. The image was prepared.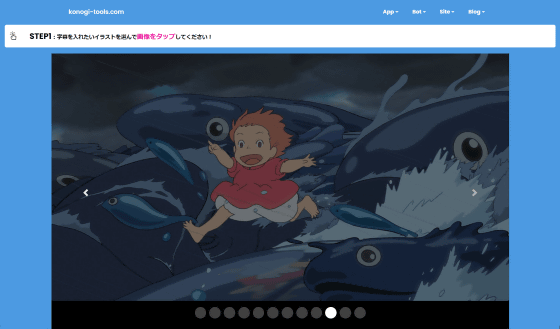 Click on the image you want to add subtitles to select it ...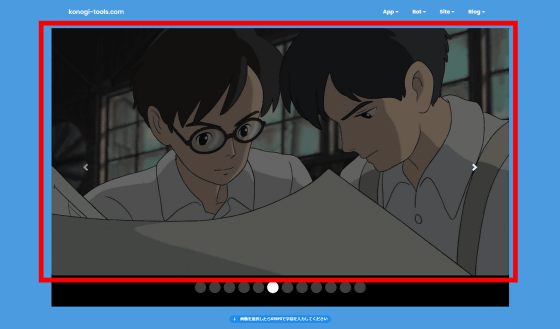 Next, enter the subtitles. The entered subtitles are reflected in the image at the top, so you can create while checking the finish.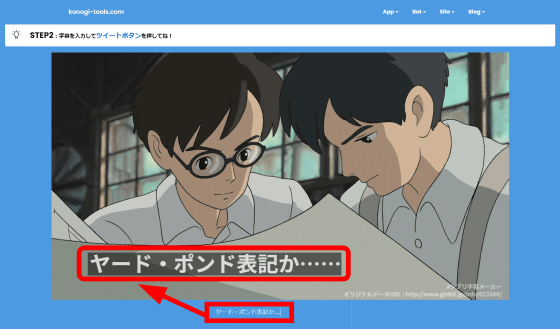 Subtitles do not need to be grouped on one line, and line breaks are possible.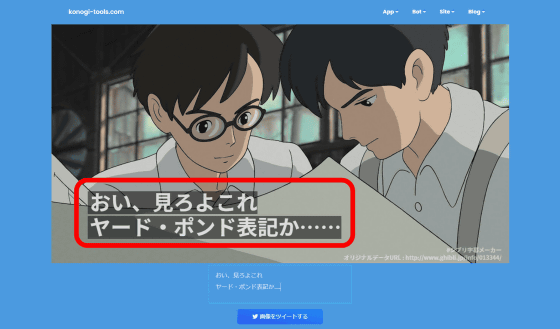 After entering the subtitles, click 'Tweet the image'.




A confirmation screen will appear saying 'Tweet the created image', so click 'Tweet' ...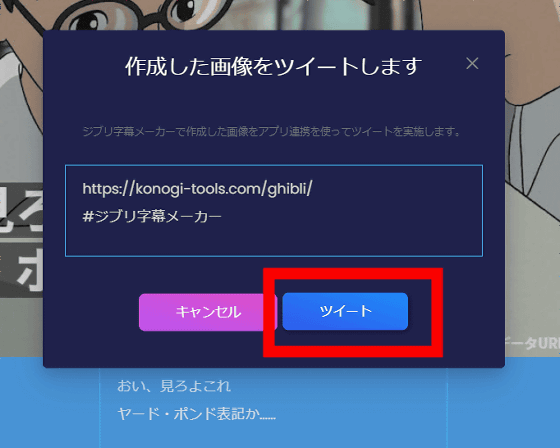 You will be asked to link your Twitter account with 'Ghibli Subtitle Maker'. After confirming
the permissions you want to grant to the third-party app,
click 'Authenticate linked app'.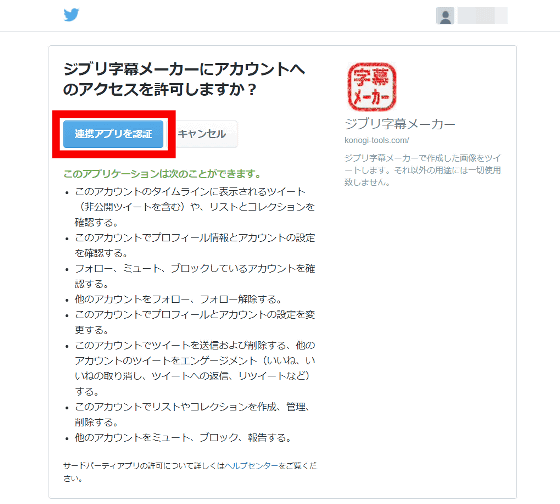 Then, I was able to post an image with subtitles created with the linked Twitter account. Tweets are tagged with the URL of '
Ghibli Subtitle Maker
' and the hashtag of '#Ghibli Subtitle Maker'.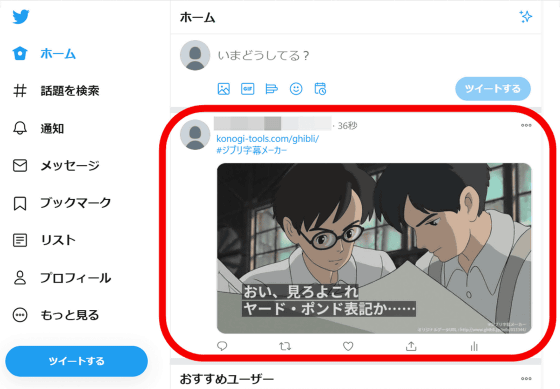 With 'Ghibli Subtitle Maker', you can easily play with the provided Ghibli images.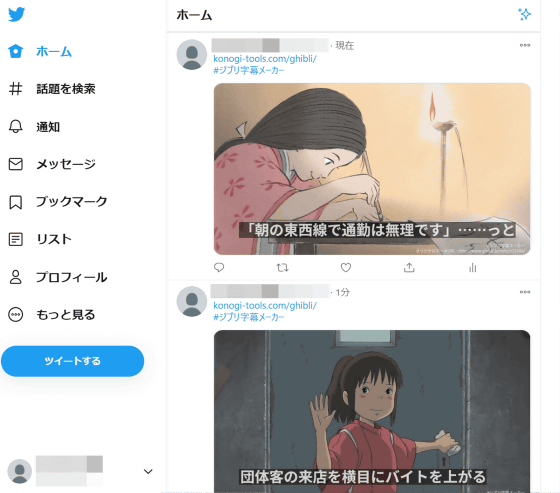 In addition, the official page says, '* Please refrain from posting anything that is offensive to public order and morals, defamation, political or religious postings using this subtitle maker.' You are warned to avoid adding.