September 2020 was 'the hottest September in history' announced by EU research institutes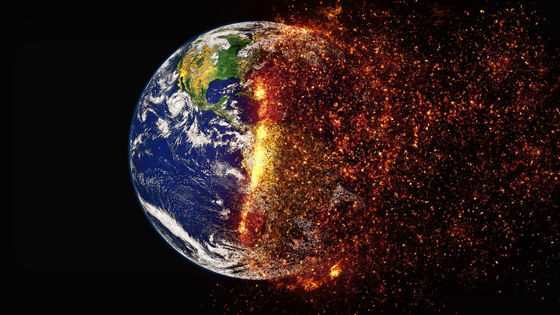 The EU's Copernicus Climate Change Service (C3S) announced on October 7, 2020 that 'September 2020 was the hottest September in observation history.'

September brings record-breaking warm temperatures and low sea ice | Copernicus

https://climate.copernicus.eu/september-record-breaking-warm-temperatures-low-sea-ice
2020 Had the Warmest September on Record, Data Shows --The New York Times
https://www.nytimes.com/2020/10/07/climate/hottest-september.html
September was world's hottest on record, EU climate change service says | Reuters
https://uk.reuters.com/article/uk-climate-change-record-idUKKBN26S1E6
The average temperature of the whole world is expressed by the
average temperature deviation
compared to the
average
year because it is difficult to measure the temperature of a wide area. C3S announced on October 7 that the average temperature anomalies for all months in 2020 were ranked in the top four observation records for each month. Above all, January and May exceeded the past records by 0.03 ℃ and 0.05 ℃, respectively, and reached record highs. Furthermore, it turned out that September 2020 was a record-breaking month, with temperatures 0.05 ° C higher than September 2019, which was the hottest month so far.
The following is a comparison of the temperature anomalies in September from 1979 to 2020 with the average values in September from 1981 to 2010. The highest bar graph for September 2020 on the far right indicates that September 2020 was the hottest month in observation history.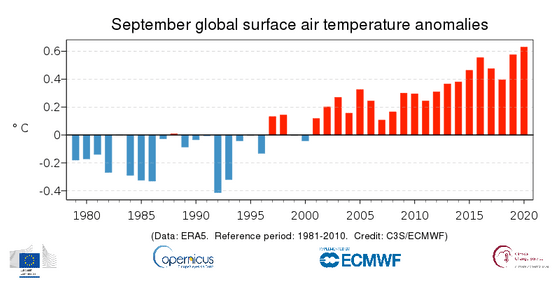 According to C3S, it is a global trend that September 2020 was hot. The following shows the results of comparing the temperature in September 2020 with the average in September from 1981 to 2010, and the red part shows that the temperature is higher than the past record. If you look at the map, you can see that the red areas are spreading in the EU, Russia, the Middle East, South America, Australia, etc., and that high temperatures were recorded all over the world in September 2020.

???? September #temperature highlights from #Copernicus # C3S :

???? ️ Globally and in Europe, September 2020 was the warmest September on record, with well above average temperatures in many regions
???? ️ Cool La Niña conditions in eastern tropical Pacific

More ➡️ https://t.co/8QuqiUawEX pic.twitter.com/GDRNLboyh0

— Copernicus ECMWF (@CopernicusECMWF) October 7, 2020


Among them, Siberia, Russia, was hit by an unusually high temperature. The temperature from winter to spring in this area was unusually high, for example, the temperature in May 2020 was 10 degrees Celsius higher than usual. This trend continued into the summer, with some observatories recording a maximum temperature of 38 ° C, which is unusual for the Arctic Circle.

In addition, the area of ice in the Arctic Ocean is said to be the second smallest in the history of observation in September. Experts predict that 'the ice in the Arctic Ocean will be completely thawed by 2050.'



In April, the US National Oceanic and Atmospheric Administration (NOAA) announced a forecast that '2020 is about 75% likely to be the hottest year in history and more than 99% likely to be in the top five.' It is expected that the temperature will continue to be higher than usual.

Freyja Van Borg, a senior researcher at C3S, told Reuters that 'when temperatures rise, extreme meteorological phenomena such as heat waves and heavy rains occur frequently and become more severe. Greenhouse gas emissions If the quantity remains the same, the earth will warm up even more. '