Democratic-led report on Google, Amazon, Facebook, and Apple market monopoly released, with opposition from Republican lawmakers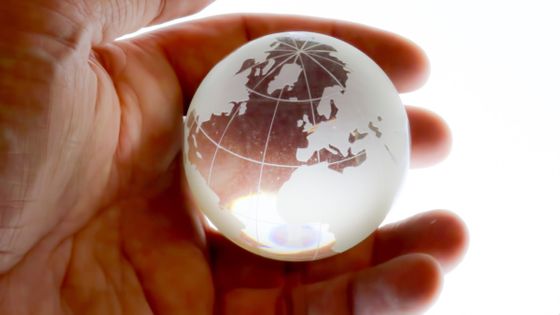 Since June 2019, the
United States House
of
Representatives
Antitrust Subcommittee has been investigating the market monopoly of giant tech companies such as Google, Amazon, Facebook and Apple for over a year. Due to disagreements between Democrats and Republicans over the content of the report summarizing the findings and future measures, the Democrat-led report will be released without the approval of the Republicans. It has become.
House Democrats say Facebook, Amazon, Alphabet, Apple enjoy'monopoly power'
https://www.cnbc.com/2020/10/06/house-democrats-say-facebook-amazon-alphabet-apple-enjoy-monopoly-power.html
Big Tech Was Their Enemy, Until Partisanship Fractured the Battle Plans --The New York Times
https://www.nytimes.com/2020/10/06/technology/lawmakers-big-tech-power-bipartisan.html
In recent years, the Democratic and Republican parties have been in step with the US House Judiciary Committee's Antitrust Subcommittee to investigate the market monopoly of giant tech companies. In July 2020, Google CEO Sundar Pichai, Amazon CEO Jeff Bezos, Facebook CEO Mark Zuckerberg, and Apple CEO Tim Cook were invited to a hearing to answer questions from lawmakers about market monopoly. I did.
Whether Google, Amazon, Facebook, Apple are sweeping rivals and monopolizing the market, each CEO's remark is like this --GIGAZINE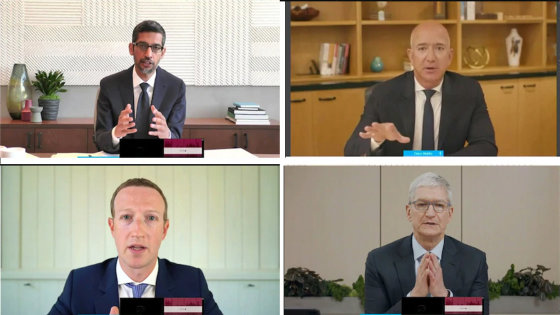 However, just before the final investigation result was released as a report, the release of the report was postponed from the original schedule because the confrontation between the members due to the party's policy became serious. As a result, Democrats published a 449-page
(PDF file) report
without the support of Republicans.
The Democratic Party's report points out that Google, Amazon, Facebook and Apple are enjoying monopoly power, and Congress and executive agencies need to curb the market monopoly power of giant tech companies. The market monopolies reported to be possessed by each company are as follows.
・ Google:
Dominates the market for general online search functions and search advertising functions. By linking Google's various services with a wide range of user data, Google can reinforce its advantage.
Amazon:
Dominates most third-party sellers and many of their suppliers. 'Amazon's market dominance is at its peak' in relation to third-party sellers on the platform, and it engages in a wide range of anti-competitive activities in dealing with third-party sellers.
Facebook:
Enjoys monopoly power in the online advertising and social networking markets. An email was also
found
suggesting that Zuckerberg was aware that 'Instagram could be a potential competitor' when it acquired Instagram in 2012.
-Apple:
Dominates the market in distributing software apps on iOS devices. By controlling the operating system and app store, Apple 'creates and implements barriers to competition while prioritizing its own products and discriminates against and eliminates rivals.'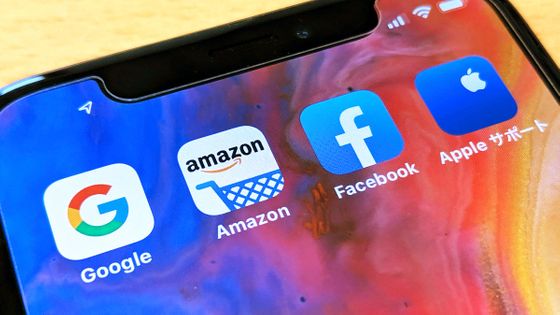 The report encourages the following items to curb market monopoly by giant tech companies:

• Imposing structural separation on large tech companies and prohibiting dominant platforms from entering adjacent fields. This includes the dismantling of technology companies and the functional separation of various business units from the parent company. For example, it could include separating YouTube from Google, or Facebook separating Instagram and WhatsApp.
• Instruct agencies that monitor antitrust law to presume that mergers by dominant platforms are anti-competitive.
• Prevent dominant platforms from prioritizing their own services and provide 'similar conditions for comparable products and services.'
· Require the services of dominant companies to be compatible with competitors and allow users to transfer their data.
-Invalidate 'problem cases' regarding antitrust law.
-Request the Federal Trade Commission (FTC) to collect data on market monopolies on a regular basis.
-FTC and Justice Department Antitrust Bureau budget increase.
-In the event of a dispute between a company and a consumer / worker, private enforcement can be achieved by eliminating the 'compulsory arbitration clause' that enforces resolution by a private arbitration institution instead of the court and restrictions on class action Strengthen.

Republicans participating in the Antitrust Subcommittee have proposed bold measures such as 'dismantling high-tech companies,' 'strengthening restrictions on corporate mergers,' and 'mandating data interoperability,' which are advocated in the report. He said he was against some. Republicans are worried that these restrictions will hinder the business of tech companies and hinder economic growth and innovation. It has also been pointed out that the fact that 'anti-conservative prejudice' remains in the reports based on the reports of the technology platform is also causing a backlash from the conservative party members.

Meanwhile, Republican Rep. Ken Buck has created his own report, which is different from the report released by the Democratic Party. 'I agree with Chairman Sicilini (Democratic Rep. David Sicilini, who chairs the Antitrust Subcommittee) that giant technology has been anti-competitive,' said Buck, who regulates the market monopoly of large corporations. He agreed that he should do it, but argued that he disagreed with the Democratic Party's proposal.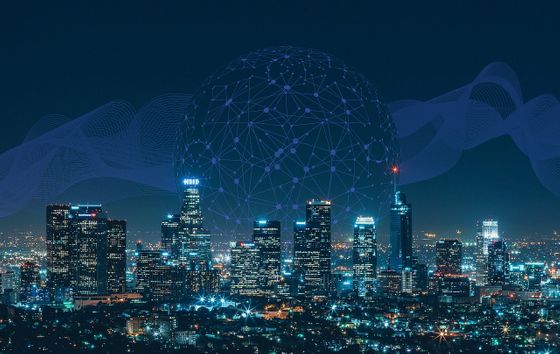 In response to a report released by the Antitrust Subcommittee, Apple argued that it does not have a dominant market share in the category in which it operates. 'I strongly disagree with the conclusions drawn about Apple in this report,' he said in a statement.

Apple'Vehemently Disagrees' With US Tech Company Antitrust Report --MacRumors
https://www.macrumors.com/2020/10/06/apple-disagrees-antitrust-report/?scrolla=5eb6d68b7fedc32c19ef33b4

In his blog, Amazon also argued that it did not monopolize the retail market, stating that 'the global retail market in which Amazon is competing is surprisingly large and highly competitive.'

Fringe notions on antitrust would destroy small businesses and hurt consumers
https://blog.aboutamazon.com/policy/fringe-notions-for-regulating-retail-would-destroy-small-businesses-and-hurt-consumers