Former employees vehemently oppose Chinese billionaires who bought BitTorrent, what's happening?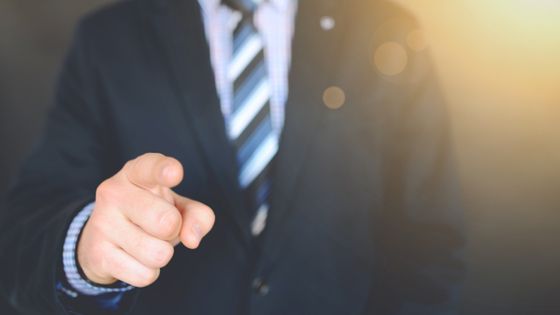 In 2018,
BitTorrent
, a developer of file sharing systems, was acquired by
Justin Sun
, the founder of '
TRON
', a platform and virtual currency that uses blockchain technology. Former employees testify that there has been a great deal of confusion and ethical issues within BitTorrent since Sun took the lead.
Justin Sun: the crypto millionaire who acquired BitTorrent — and waded into the trade war --The Verge
https://www.theverge.com/21459906/bittorrent-tron-acquisition-justin-sun-us-china
In 2018, TRON, which has blockchain technology at its core, acquired BitTorrent, creating the world's largest decentralized ecosystem. It is also clear that
Bram Cohen
, the creator of
BitTorrent, had left
BitTorrent when the acquisition by TRON was announced.
BitTorrent, a P2P file sharer with more than 100 million active users, is acquired by the virtual currency 'TRON', creating the world's largest decentralized ecosystem-GIGAZINE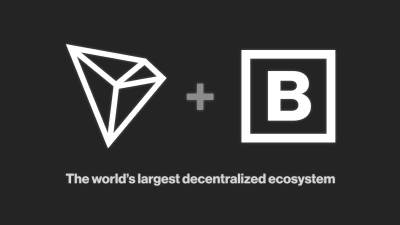 Originally, BitTorrent didn't have the radical and tyrannical in-house culture that Silicon Valley startups often have, allowing employees to work patiently on creative projects while finishing up their jobs in a reasonable amount of time. It was said that. A BitTorrent employee who testified to foreign media The Verge enjoyed the slow pace of work and commented, 'The company wasn't growing crazy.'
However, it seems that BitTorrent's management was gradually in jeopardy, and rumors spread that BitTorrent would be acquired around 2018. Eventually, it turned out that the person who bought BitTorrent was a young Chinese billionaire and TRON owner, Sun, and some employees welcomed the acquisition by a cryptocurrency company using blockchain technology. That's right.
However, shortly after the acquisition of BitTorrent, Mr. Sun suffered a scandal. The point that 'the content of the
white paper
released by TRON is significantly similar to the white paper of the
cryptocurrency
project including
Ethereum
' made a noise on the Internet, and it was accused that TRON had plagiarized the white paper. .. Mr. Sun defended himself as 'there was a problem in translating from Chinese to English', but he said that there was no explanation to BitTorrent employees.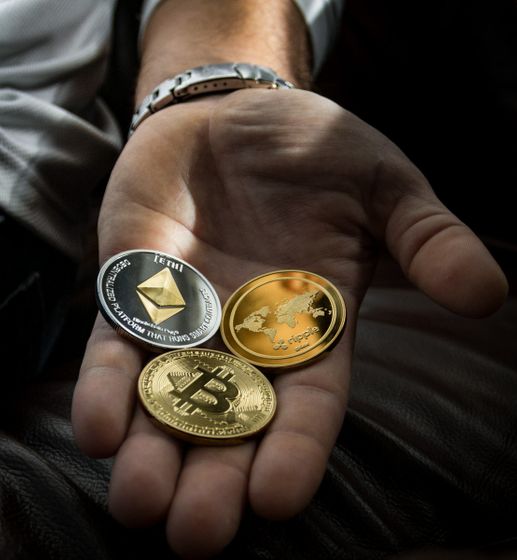 Formerly attending a business seminar hosted by Alibaba founder Jack Ma, Sun has joined the ranks of millionaires with the success of the live stream chat app Peiwo. This is an app that combines the dating app Tinder and audio functions, and it seems that users had a strong aspect as a pornographic app, such as increasing excitement through sexual conversation.

Eventually Peiwo was removed from the iOS and Android app stores and was suspended by Chinese authorities for 'disturbing socialist values,' but Sun continued his business across the United States and China. When BitTorrent was acquired for $ 140 million in 2018, it received a lot of attention, partly because it was in the middle of a trade war between the United States and China.

BitTorrent executives at the time were concerned that the U.S. government could intervene in the acquisition of BitTorrent by Chinese company TRON, but Mr. Sun said he did not mind the risk of a trade war. Former BitTorrent executives describe Sun as someone who thinks 'I can avoid this barrier' even if there is a barrier, which is an important idea as an entrepreneur, but he cares about detailed rules and risks. He points out that it is also an act without doing anything.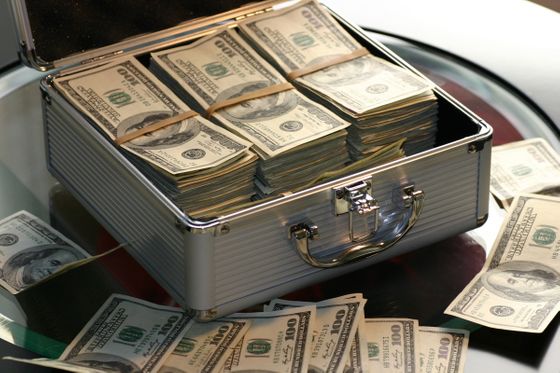 With Mr. Sun's inauguration, BitTorrent's headquarters moved from an old building to a prime location in downtown, and the entire conference room became Mr. Sun's office. Mr. Sun behaved intimidatingly against his employees and at the same time confused them by leaving his cell phone and confidential information on his unlocked office desk for weeks in China. It was.

In addition, a secretary made an appointment for a clinic for Mr. Sun's visit and was immediately dismissed for 'sending Mr. Sun to the doctor by Uber.' Mr. Sun was hoping that the doctor would come to him, and the choices made by the secretary had greatly hurt Mr. Sun's mood. A former BitTorrent employee told The Verge that he might be acting like a spoiled child because he doesn't know how to spend a lot of money.

With Mr. Sun's inauguration, BitTorrent's internal culture has changed significantly. BitTorrent regularly set up a forum for discussions between senior executives and employees, but Mr. Sun censored the questions in advance and tried not to answer questions that he did not like. In addition, he was furious at the question 'What if the value of TRON's cryptocurrency becomes zero?' From an anonymous employee, and 'I hunted down who asked this question and hunted down the whole family. It is reported that he even said, 'I will kill you.'

In the question and answer session that was actually held at ZOOM, Mr. Sun and TRON executives participated remotely from Beijing. When asked about the survival of TRON, a Beijing employee argued, 'Do you question Justin's ability?' And argued that rude questions should not be asked. He said he did.

Born in a poor countryside, Sun is said to have succeeded with intelligence and concentration, and a former employee said, 'He's like a machine. He can work 20 hours a day.' It is said that Mr. Sun wants BitTorrent to introduce a work style called '996' of '9 am to 9 pm' and 'working 6 days a week', which is becoming a norm mainly for high-tech companies in China. I am. A former employee testified that Mr. Sun once said, 'Americans are lazy, but more creative than Chinese.'

What is the reality of long working hours '996' that is becoming a norm in China? --GIGAZINE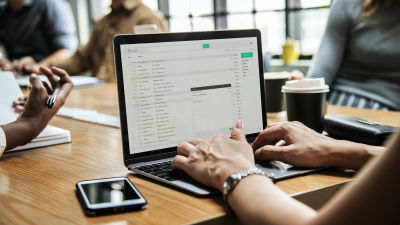 To sum up the story of the person who testified to The Verge, Mr. Sun's business was not necessarily backed by innovative technology, but was marketing that attracted a lot of attention and withdrew money from users. In the process, Mr. Sun also carried out a 'Tesla car gift campaign' etc., but it was pointed out that this was illegal and it burned, and Mr. Sun was very rough screaming and kicking the door ..

Mr. Sun also attracted attention for winning the right to eat lunch with millionaire Warren Buffett for more than $ 4.5 million (about 470 million yen). Two weeks before the luncheon, he replied to President Trump, who tweeted that he was not a cryptocurrency fan, 'You are confused by fake news,' and invited him to a luncheon with Buffett.

Mr. President, you are misled by fake news. #Bitcoin & #Blockchain happens to be the best chance for US! I'd love to invite you to have lunch with crypto leaders along with @WarrenBuffett on July 25. I guarantee you after this lunch, nobody will know crypto more than you! Https://t.co/ZpRFEbninv

— Justin Sun ???? (@justinsuntron) July 12, 2019


However, a week later, Mr. Sun announced on Twitter that 'the luncheon will be postponed because a kidney stone was found.' The next day, a Chinese newspaper reported on allegations of Mr. Sun's illegal financing, gambling and money laundering.

According to a former employee, Mr. Buffett is a 'symbol of capitalism' for the Chinese authorities, so after winning the bid for Buffett's luncheon, Mr. Sun was warned by the Chinese authorities. Chinese officials, who continued to ignore the warning and boiled down by inviting President Trump to a luncheon, detained six executives and Sun's father at TRON's Chinese office. is. Upon receiving this news, Mr. Sun said with a smile, 'One female employee was crying,' and said that the former employee felt 'very ruthless.'

In the end, Mr. Sun made up an excuse for kidney stones to cancel Buffett's luncheon and reported it on Twitter. In addition, the Chinese version of Twitter's Weibo account posted an apology saying, 'I didn't sleep all night yesterday, remembered my memory, reflected on my actions and words. I'm ashamed of over-marketing.' I did. However, Mr. Sun was laughing when he told the employee that the kidney stone was a lie.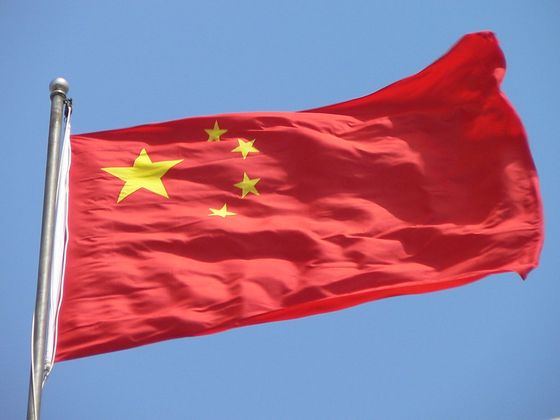 by Craig Nagy

In addition, former employees have testified that Mr. Sun routinely rebuked his subordinates and sometimes used violence. Software engineer Lukasz Juraszek testified that engineering director Cong Li had witnessed the scene shortly after being beaten by Sun, and another Chinese employee was also violent by Sun. That's right.

Another big problem is the live streaming app called 'BT Live' that Mr. Sun promoted. Live streaming using the BitTorrent protocol can be of great significance to dissidents oppressed by the central government.

However, a former employee who can understand Chinese happened to know the vision of BT Live, which Mr. Sun spoke to some aides in Mandarin. 'Justin Sun wants this to be a pornographic app that can circumvent China's censorship and the Great Firewall ,' said a former employee. BT Live's goal was to abuse the BitTorrent protocol. I testify that it was a pornographic app.

Of course, BT Live also allows oppressed people to talk about freedom, democracy, political reforms, etc., but at the same time, the Pandora's Box, which risks sexual exploitation of children and a breeding ground for terrorist content. It can be said that. Mr. Sun, who received the backlash from the team, said that he moved the BT Live project to China, and there is a possibility that the app will be completed by Chinese employees. 'In my opinion, Justin Sun is an evil genius. No one can stop him,' said a former BitTorrent employee.

In addition, Mr. Sun posted a blog article that refutes the report of The Verge. Former employees claim that the allegations are false and are in dispute with lawyers.

An Open Letter to Anyone Who Cares to Read | by BitTorrent Inc. | Sep, 2020 | Medium
https://medium.com/@BitTorrent/an-open-letter-to-anyone-who-cares-to-read-d068ee5a3ce3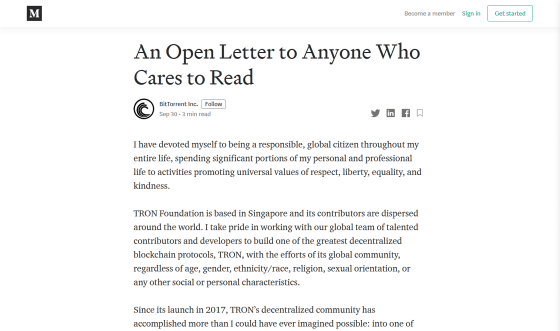 in Note, Posted by log1h_ik