'Kontrast', an app that allows you to fine-tune the background and text color of your web design for free.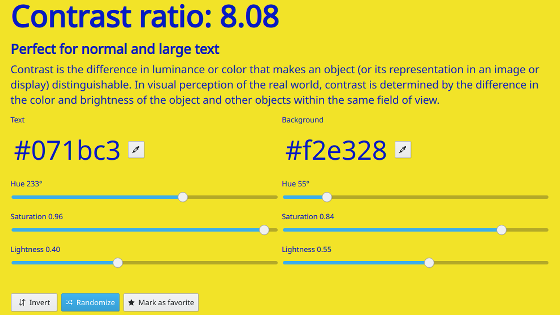 When creating a website, it is very troublesome to set the text and background color and check it, and if it does not look good, change the text and background color again and check it. ' Kontrast ' is an application that can be downloaded for free, which allows you to output the color code while fine-tuning and checking the background and text colors.

Presenting Kontrast | Carl's blog

https://carlschwan.eu/2020/09/15/kontrast-1.0.html
According to the sample image released, the startup screen of Kontrast looks like this.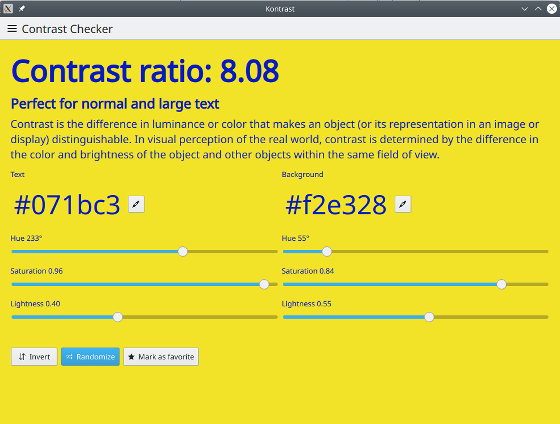 You can adjust the color of the characters (left) and background (right) with the Hue, Saturation, and Lightness sliders, and output the color code according to the settings.




By clicking the 'Randomize' button, it is possible to generate a random color combination with contrast.




An app for mobile has also been created, and it seems that the same functions as for desktop can be used.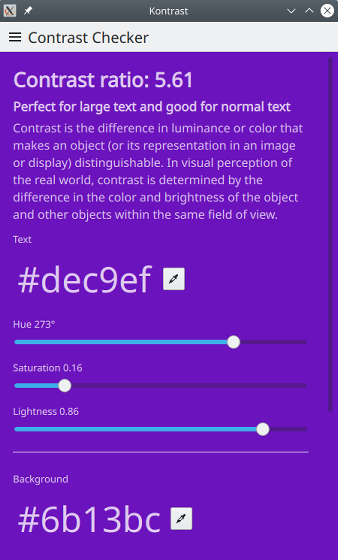 At the time of writing the article, Kontrast is compatible with Linux and the mobile OS Plasma Mobile , and the Android version will also be distributed. The Linux version of Kontrast can be downloaded for free from the URL below.

Kontrast—Linux Apps on Flathub
https://flathub.org/apps/details/org.kde.kontrast

In addition, Kontrast is open source software developed by GitLab, so you can also download the source code from the URL below.

Accessibility / Kontrast · GitLab
https://invent.kde.org/accessibility/kontrast