Movie that prints variously with 'Creality CR-30' that enables 3D printing with unlimited size on the belt conveyor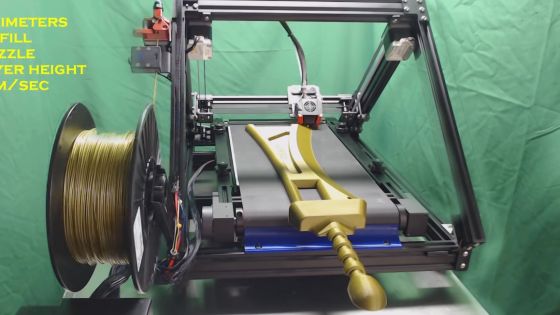 Most 3D printers print modeling objects by stacking modeling materials in the vertical direction, but this method is not suitable for mass production of modeling objects, and there is a disadvantage that small models can print only small objects. Did. The new model ' CR-30 ', which is planned to be released by 3D printer maker '
Creality
', limits the mass production and size by stacking materials diagonally while moving the modeled object using a belt conveyor. Overcoming
Creality Developing Belt-Driven Desktop 3D Printer «Fabbaloo
https://www.fabbaloo.com/blog/2020/8/25/creality-developing-belt-driven-desktop-3d-printer
Creality is a manufacturer whose main products are inexpensive desktop 3D printers, and has popular models such as CR-10 in its lineup. Creality's next-generation model 'CR-30' is the first model with a new printing structure that incorporates a belt conveyor.
In the
movie published by
NAK 3D Designs
on his YouTube channel, you can clearly see how the CR-30 is printing a model.
Creality's CR-30 Prototype in Action-YouTube
Below is a print of a cylindrical shaped object.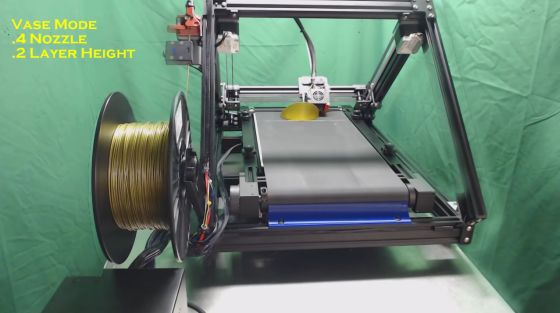 The materials are stacked diagonally while moving the belt conveyor.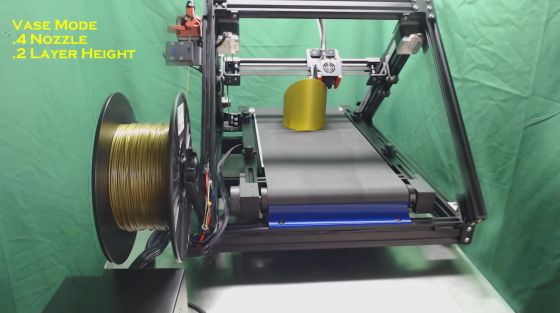 The prints were printed in no time...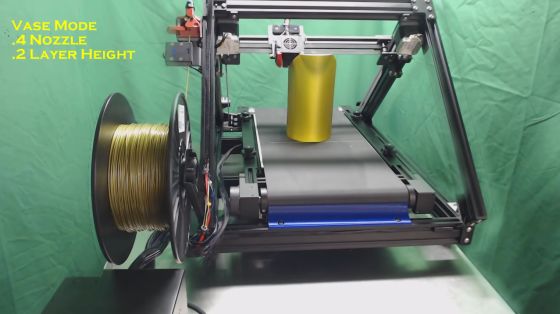 Printing is completed.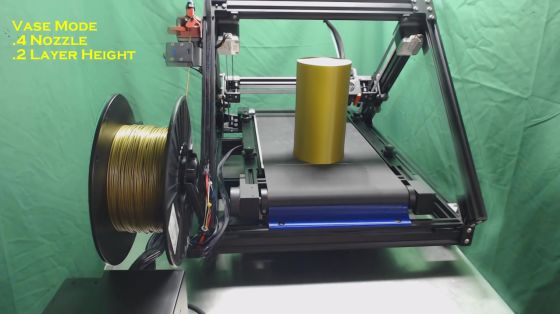 The model that reached the end of the belt conveyor...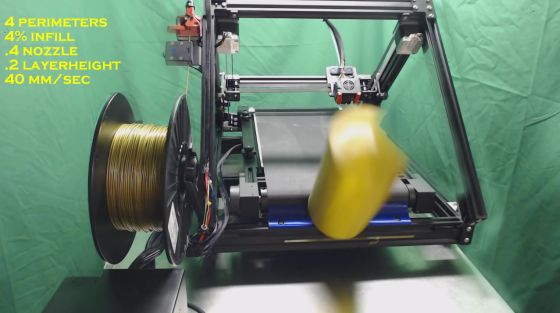 Separate yourself from the belt.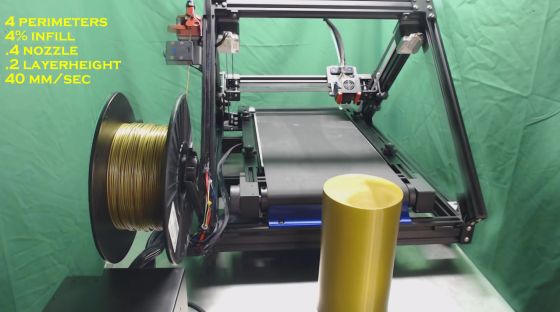 With CR-30, it is possible to mass-produce shaped objects.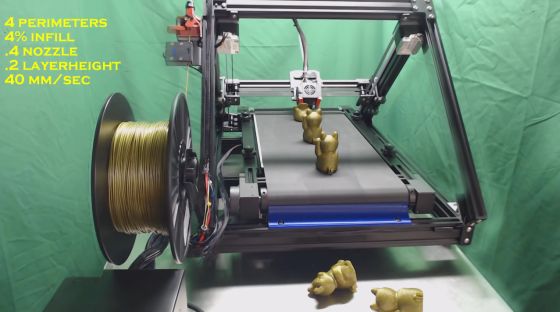 The printed lucky cat looks like this.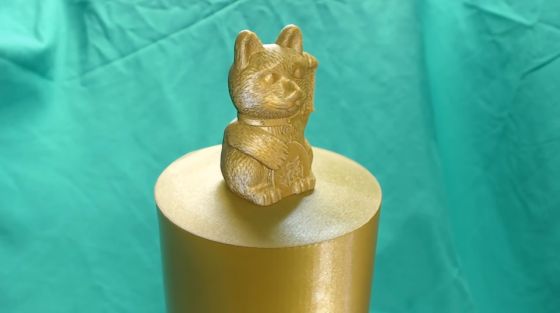 No step is found due to a calculation error during printing.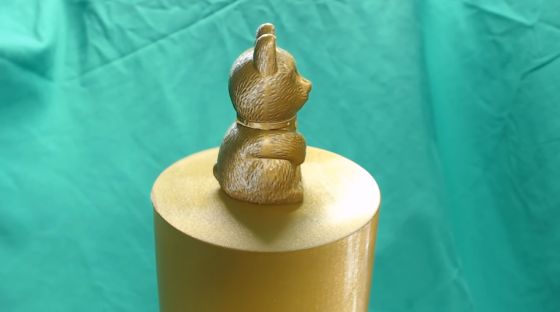 Since the CR-30 does not have a size limit for the modeled object in the direction in which the belt conveyor flows, it is possible to print larger modeled objects than models of the same class.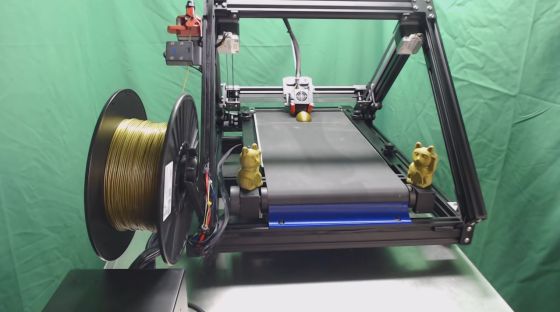 Something will be printed while being watched by the beckoning cat.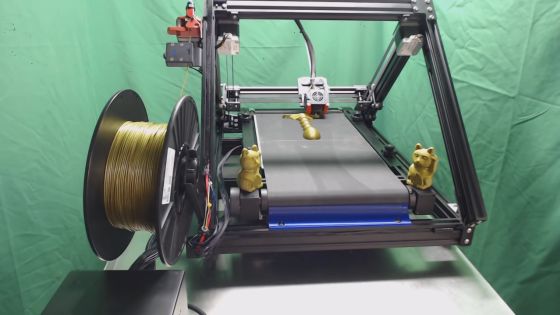 Gradually I started to get an idea of what I was printing.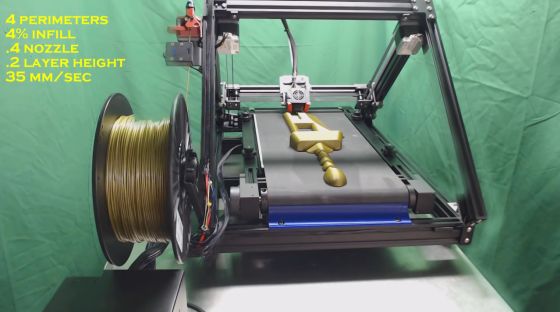 Since it uses golden materials, it feels quite divine.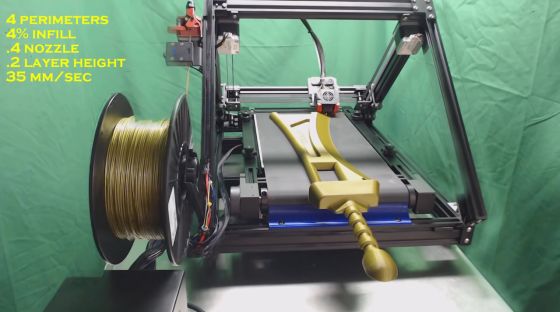 Even the big sword that seems to appear as an RPG item can be printed with the CR-30.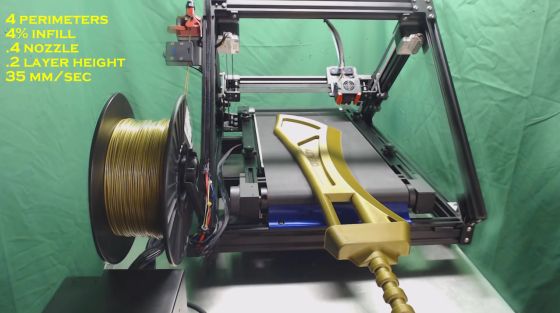 On the 3D printer news site ' Fabbaloo ', CR-30 has one Bowden type extruder, the size of the printable object is 200 mm × 250 mm × unlimited, the thickness of the layer to be stacked at the time of printing is 0.2 mm, It is estimated that the nozzle diameter is 0.4 mm and the printing speed is 40 mm/sec.