A review of 'Nisshin Yakisoba UFO Daimori Soupless Pork Ramen Garlic back fat soy sauce flavored egg yolk paste' that has completely reproduced 'Jiro series'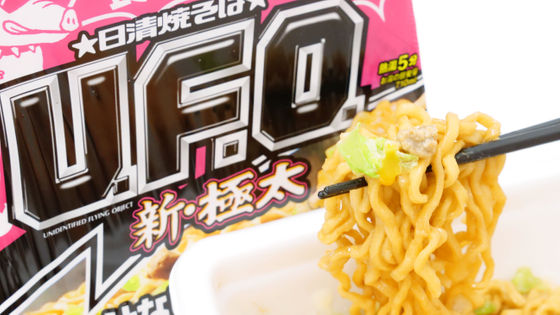 A long-selling brand of cup yakisoba '
Nissin Yakisoba UFO
' series, '
Nissin Yakisoba UFO Daimori Soupless Pork Ramen Garlic Backfat Soy Sauce Egg Yolk Paste
' is available to easily enjoy
soba-
free ramen
soba.
Appeared. It was a powerful dish that combines pork umami, garlic, and back fat, gutsuri-based soy sauce sauce, and Nisshin Yakisoba UFO, the thickest new and thick wave noodles in history, which I actually tried.
'Nissin Yakisoba UFO Daimori Soupless Pork Ramen Garlic Backfat Soy Sauce with Egg Yolk Paste' (Released on August 24) | Nissin Foods Group
https://www.nissin.com/jp/news/8790
The package of 'Nissin Yakisoba UFO Daimori Soupless Pork Ramen Garlic Backfat Soy Sauce Egg Yolk Paste' is based on pink color, and the illustration of a pig dressed in a punk rock style costume is drawn.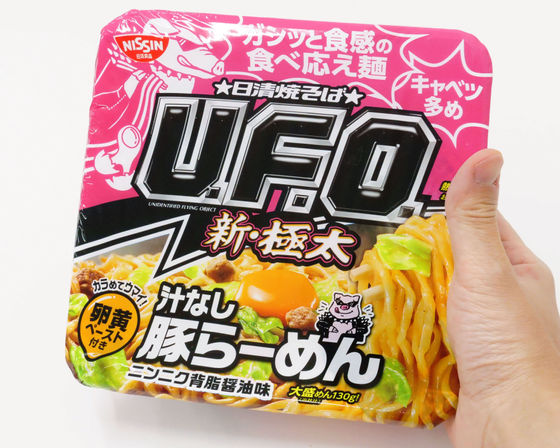 The raw materials are as follows, and the content is 172g (of which 130g of noodles). For the sauce, pork fat, soy sauce, pork extract, pork seasoning oil, etc.




Calories are 788 kcal per meal.
Since Nisshin Yakisoba UFO has 556 kcal per meal
, it seems to be a cup high-calorie cup Yakisoba.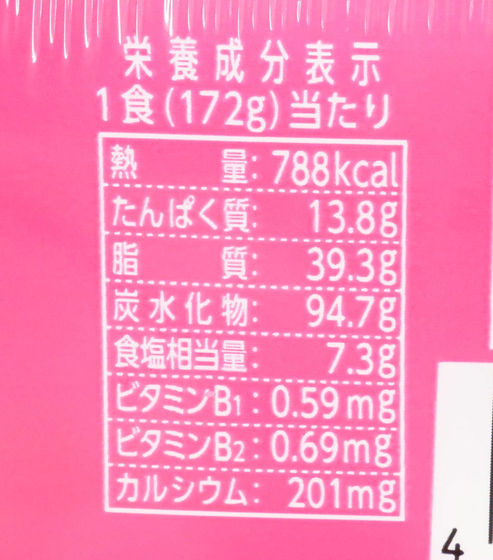 When I opened the lid, it contained noodles as well as liquid sauce and egg yolk paste.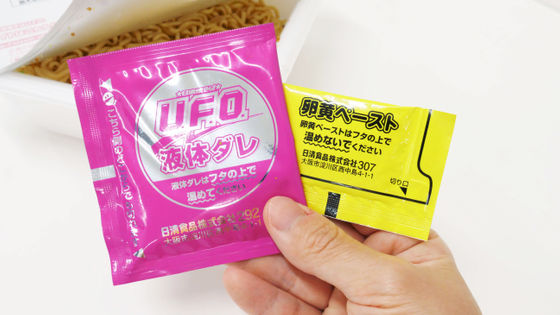 First, pour hot water into the cup. The required amount of hot water is approximately 710 ml, and it is already in the cup.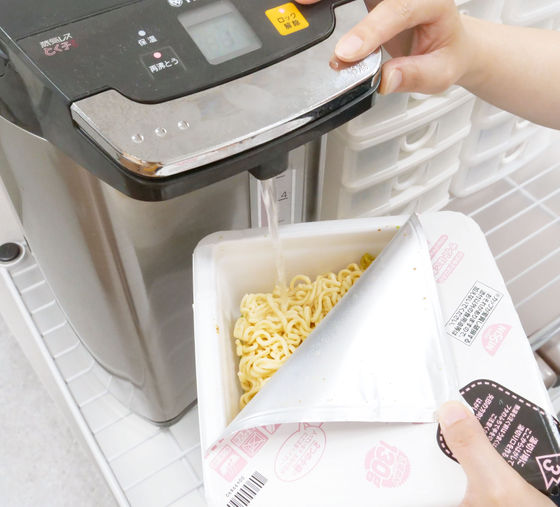 Nisshin Yakisoba UFO is the thickest noodle in history, and the waiting time is 5 minutes.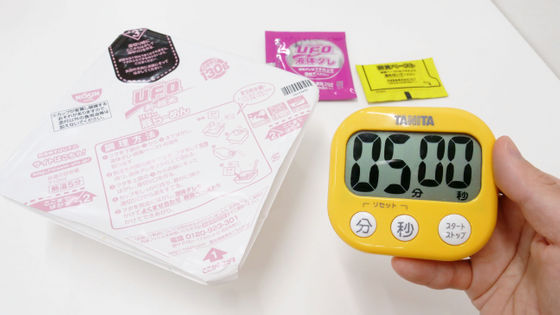 After 5 minutes, throw out the hot water...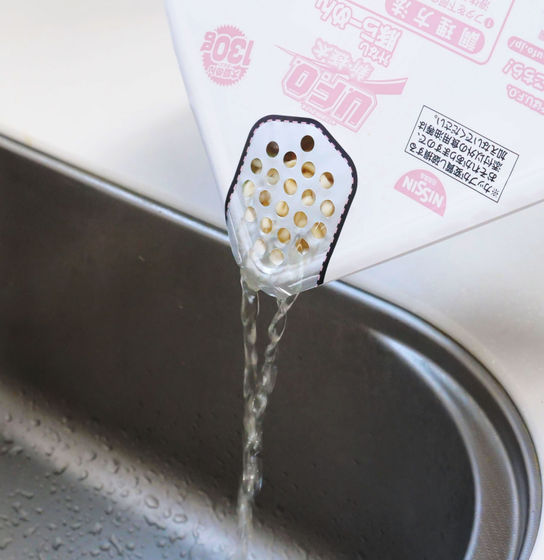 Pour the liquid sauce and stir well.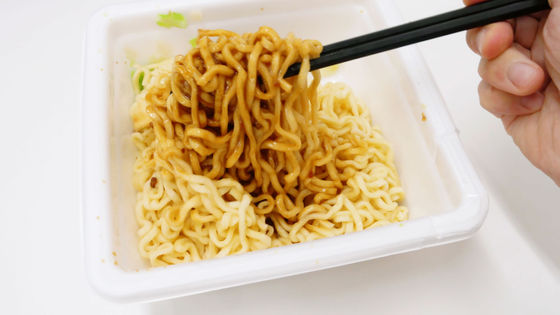 Mix well and add egg yolk paste to finish.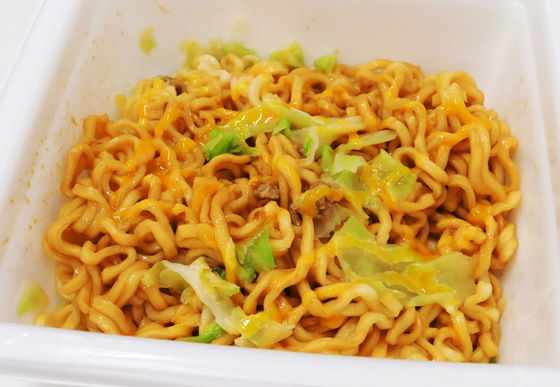 When I tried to eat it, the sauce with guttsu and soy sauce had a strong garlic flavor and the richness and flavor of the back fat, and it had a completely Jiro taste. Perhaps because of the egg yolk paste, the taste is milder and easier to eat than the Jiro series ramen you eat at the store.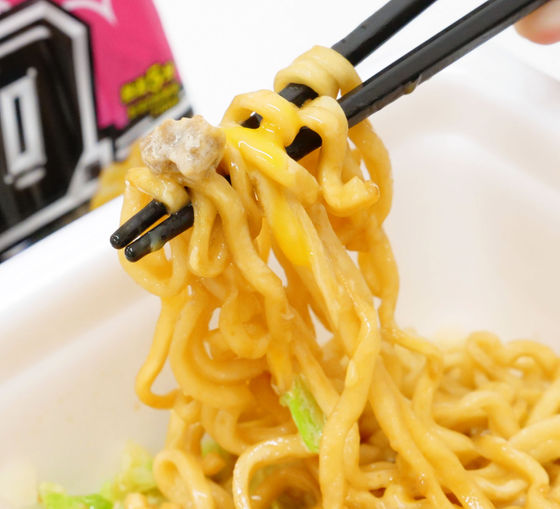 The new, extremely thick wave noodle called 'Nissin Yakisoba UFO's thickest in history' is chewy but moderately chewy, and has a good texture.
Officially
, the word 'Jiro' is not used at all, and although the package does not look like that, it was a dish that only apparently reproduced the taste of Jiro.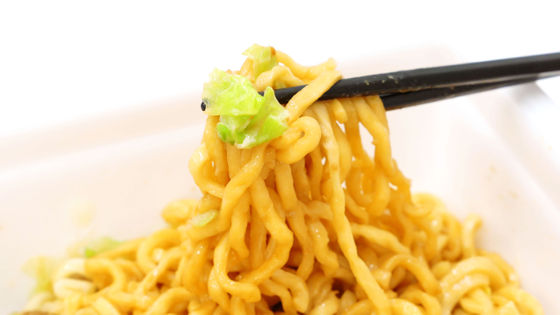 'Nissin Yakisoba UFO Daimori Soupless Pork Ramen Garlic Back Fat Soy Sauce with Egg Yolk Paste' will be available for purchase from convenience stores and other stores nationwide from August 24, 2020. The suggested retail price is 245 yen excluding tax.