I tried a pizza hat 'a little spicy half & half' that you can taste both spicy meat sauce and authentic keema curry with one pizza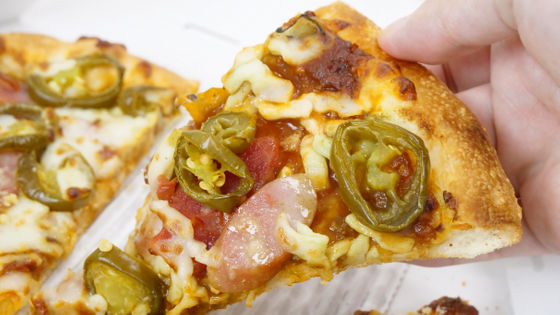 A pizza made of ``a fiery meat sauce '' that uses plenty of jalapeno and green chili sauce based on tomato sauce, and `` burning kea curry '' made with minced meat and grilled vegetables with more than 30 kinds of spices. 'Slightly spicy half & half ' has appeared in the delivery menu of Pizza Hut from July 7, 2020 (Tuesday). I was wondering how spicy the pizza with 'hot spice' was, so I actually ordered and tried it.

'Slightly spicy half & half', which is a single 'fire meat sauce' and 'burning keema curry' that fulfills the wishes of the spicy party, is released for a limited time 'spicy'!

https://pizzahut.jp/topic/chotto_gekikara/half
First of all, from the order.
Go to
the
Pizza Hut
site,
enter
your zip code and click 'Order Now'.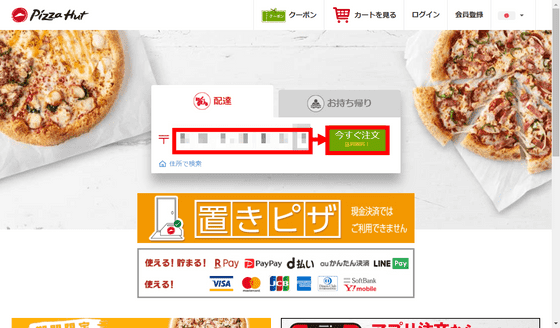 Select 'Slightly spicy half & half' from the pizza menu.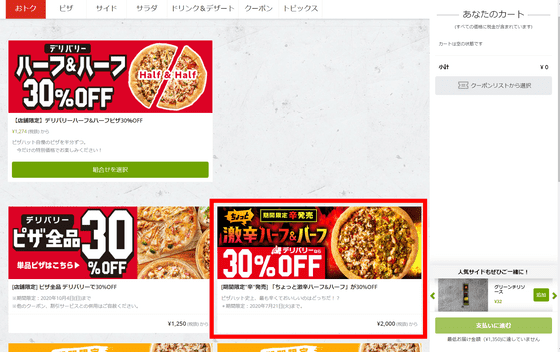 The size can be selected from 8-cut 'M size' or 12-cut 'L size'. Also, the fabric is 'Hand Toss' only. After selecting the size, click 'Select'.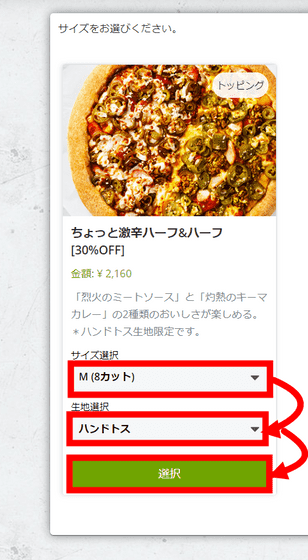 Then click 'Proceed to payment', enter your address and payment method, and your order is complete.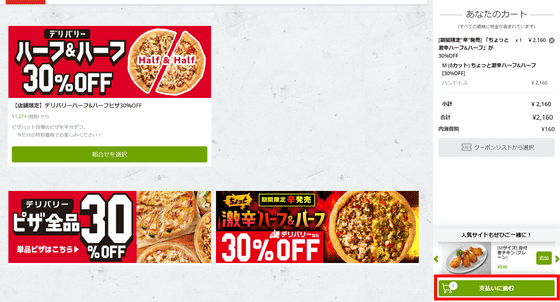 That's why the ordered pizza arrived. 'Slightly Spicy Half & Half' is a combination of two types of pizza: 'Flame Meat Sauce' and 'Burning Keema Curry'.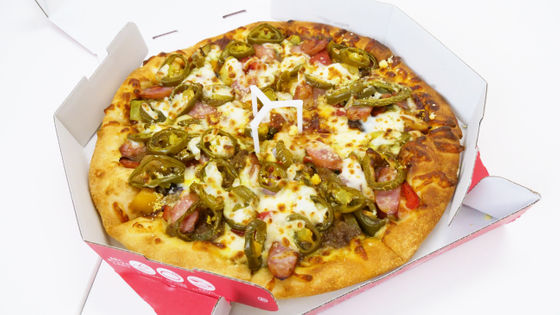 Both look similar, but you can see plenty of tomatoes under the cheese in the 'Flame Meat Sauce'...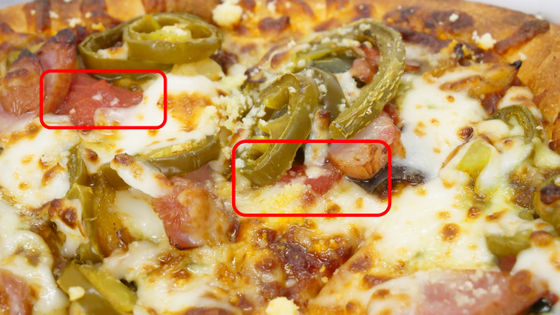 You can see the brown curry sauce from the bottom of the cheese is 'Scorching Keema Curry'.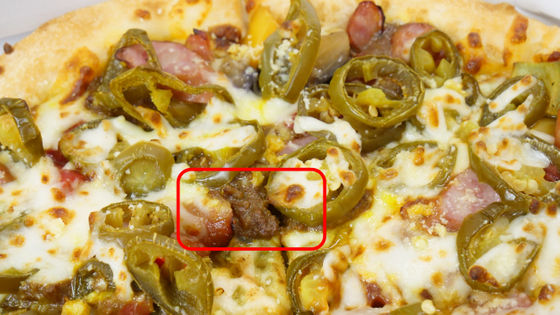 When I tried 'Flame Meat Sauce', the refreshing acidity of tomato sauce and the refreshing spiciness of jalapeno were excellent, and it was a pizza with simple spiciness. My tongue hurts and I don't know what it tastes, but it's quite spicy, so people who are not good at spicy foods should be careful.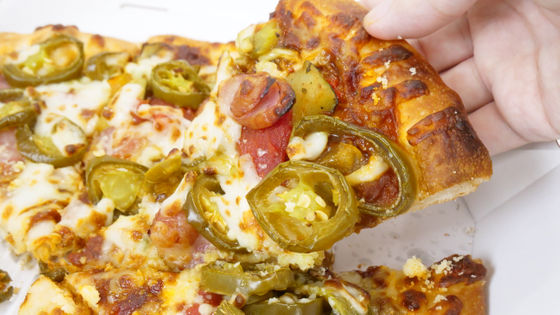 When you use green chili sauce, which you can get for free, the refreshing spiciness that spreads in your mouth from the moment you eat 'Flame Meat Sauce' is added to the spiciness that draws after.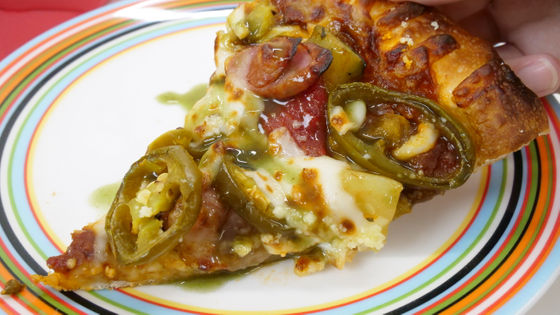 Next, I ate 'Burning Keema Curry'. A lot of jalapeno is also topped here, and it is quite spicy, but the spicy spice enhances the sweetness of grilled vegetables and the taste of ground meat, so the vector is different from 'meat sauce' The spiciness. The overall spiciness is a bit more modest than 'meat sauce'.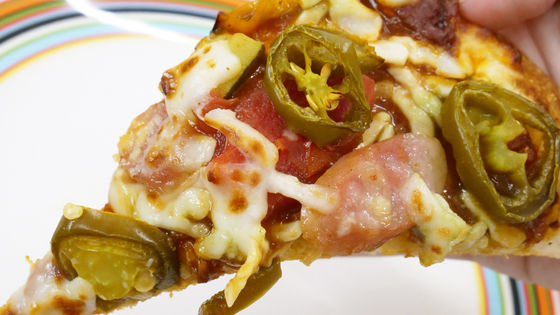 If you add green chili sauce to 'Burning Keema Curry,' the spicy spiciness of curry is combined with the sourness and rich chili sauce to create a more complex spice.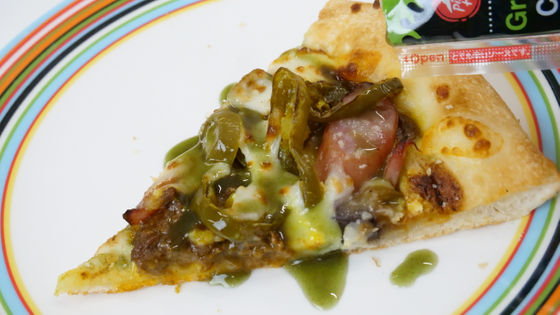 You can order Pizza Hut'Slightly Spicy Half & Half' from Tuesday, July 7, 2020. The price for the M size is 3132 yen including tax and the L size is 4860 yen including tax, but the delivery price for all pizza products will be 30% off during the period from June 22 (Monday) to October 4 (Sunday). Since it is in the campaign , you can order delivery for 2160 yen including tax for M size and 3348 yen including tax for L size.