Tesla's stock price surpasses the $ 1000 mark, market capitalization is about 20 trillion yen and it is thin with Toyota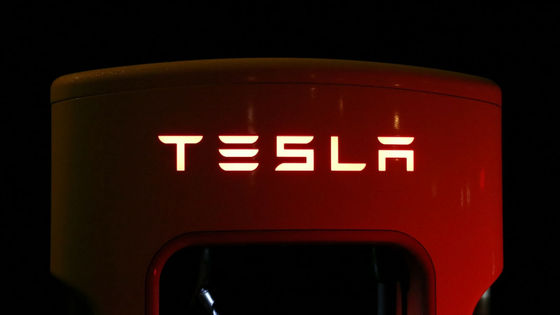 The stock price of American electric car maker
Tesla
has reached the level of 1000 dollars (about 107,000 yen). Established in 2003, Tesla is a small manufacturer whose
production exceeded 1 million units
in March 2020, but its market capitalization is catching up with Toyota.
Tesla becomes most valuable automaker as more workers contract COVID-19-The Verge
https://www.theverge.com/2020/6/10/21286562/tesla-stock-most-valuable-automaker-slot-as-more-workers-contract-covid-19
Tesla's stock price showed a sharp increase in February 2020, temporarily reaching 900 dollars (about 96,000 yen), but then fell. On March 18, 2020, it fell to $361 (about 39,000 yen), which is equivalent to the end of 2019. However, the stock price then began to rise and reached $1025 on June 10, 2020.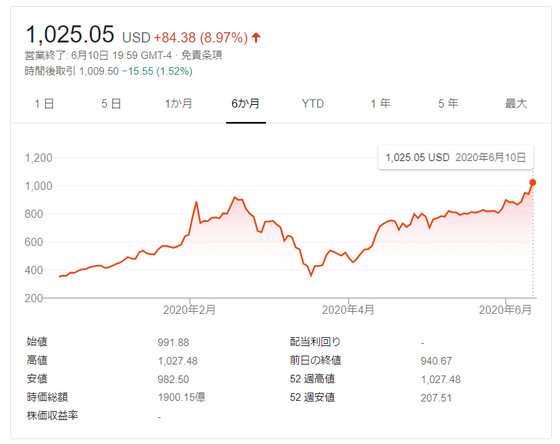 As of June 10, 2020, the market capitalization is 190 billion dollars (20 trillion 300 billion yen), which is close to Toyota's market capitalization of 22.8 trillion yen.

The rise and fall of Tesla's stock price is believed to be largely related to the new coronavirus infection (COVID-19). Around March 2020, when the stock price fell, COVID-19 was in full swing in the United States. The Tesla manufacturing plant in Fremont, California , was closed on March 23, 2020 at the request of the state.

Meanwhile, CEO Elon Musk often said, ' The panic of the new coronavirus is ridiculous. ' 'The government's self-isolation order is a fascist .' In May 2020, while filing lawsuits against the county authorities over the reopening of the Fremont factory, which had been temporarily closed, the Fremont factory was reopening.

Tesla ignores the closing order and restarts the factory, ``only me if arrested'' Mask CEO-GIGAZINE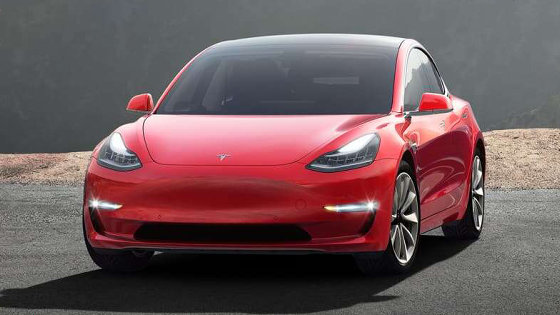 After May 2020, in addition to the overall strong US stock price, Tesla himself ' equipped with a cheap Tesla car with a battery that can withstand 1.6 million kilometers ' in China We will reduce the selling price twice. " "The COVID-19 pandemic caused a delay in production, but the annual production volume in 2020 is expected to reach 500,000 units. " It is expected to continue to rise.


in Ride, Posted by log1k_iy