Tesla's first quarter 2022 revenue was about 2.4 trillion yen, and sales exceeded 300,000 units, up 67% year-on-year.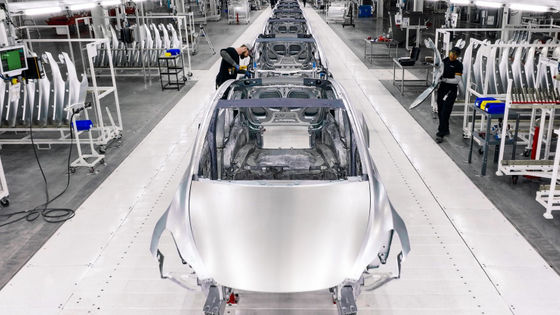 On April 20, 2022, Tesla released its financial results for the first quarter from January to March. As a result, total revenue increased 81% from the same period of the previous year to reach $ 18,756 million (about 2.4 trillion yen), recording a record high profit, showing that good performance continues.

Tesla Vehicle Production & Deliveries and Date for Financial Results & Webcast for First Quarter 2022 | Tesla Investor Relations

https://ir.tesla.com/press-release/tesla-vehicle-production-deliveries-and-date-financial-results-webcast-first-quarter
Tesla (TSLA) earnings Q1 2022
https://www.cnbc.com/2022/04/20/tesla-tsla-earnings-q1-2022.html
According to Tesla's announcement, the company produced about 305,000 cars in the first quarter of 2022 and sold about 310,000.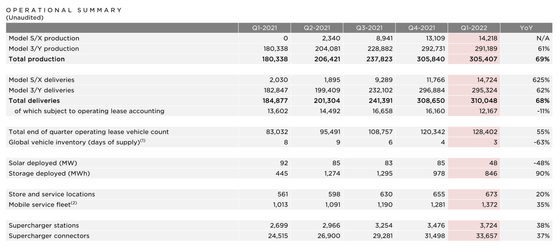 Supported by strong EV demand, automobile-related revenue increased 87% year-on-year to $ 16,861 million (approximately ¥ 2.16 trillion), and total revenue increased 81% year-on-year to $ 18,756 million. have become.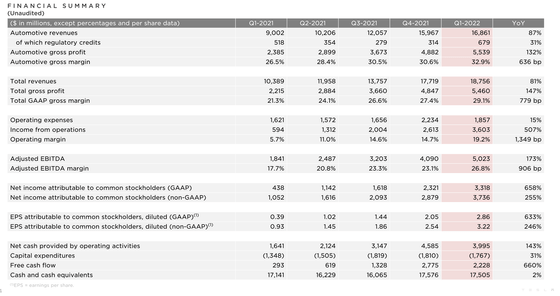 Tesla is increasing not only the number of vehicles sold but also the sales per vehicle, and the gross profit margin of automobile-related products reached a record high of 32.9% in the first quarter of 2022, compared with 26.5% in the first quarter of 2021. rice field. The company describes the growth in profits as 'increasing the average selling price of automobiles and increasing the number of vehicles delivered.'

'We are confident that 2022 will grow by at least 50% above the 2021 figures,' Tesla CEO Elon Musk and CFO Zach Kirkhorn said in a statement. On the other hand, he also points out that the 'increased sales' was lost by one month due to the spread of the new coronavirus infection and the lockdown in China.

'We are working to get back to full production as soon as possible, with limited production resuming,' Kirkhorn said of the impact of lockdown.

At Tesla's Shanghai factory, which was forced to suspend operations due to lockdown, some employees, mainly those who have completed two vaccinations, are living and working in the factory, using sleeping bags to sleep in the factory. It has been reported that there is a reality.

Report that employees are forced to sleep at the factory in Tesla's Shanghai factory --GIGAZINE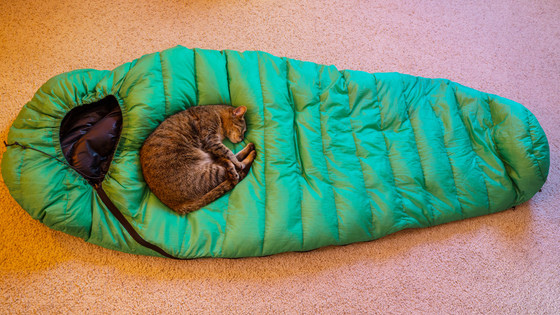 Despite this deterioration in the business environment, Mr. Musk said, 'We can expect to produce 1.5 million units by 2022.' According to Musk, customers ordering cars from Tesla face long waits for delivery, with some deliveries having to wait until 2023.

On the other hand, Mr. Musk said, 'When it comes to fully autonomous driving, I have never seen a'fake dawn'that seems to be able to break through so much and cannot break through in the technological development I have been involved in.' He admitted that it took longer than expected to realize an autonomous vehicle.

in Ride, Posted by log1l_ks