Two Facebook engineers retired over social media censorship issue, Mark Zuckerberg CEO justified


Twitter warned that it 'praises the violence' while Facebook warned that it did not warn Trump's SNS post that suggested that military forces would suppress opposition and protests. , Facebook is accused of Mark Zuckerberg's decision. Zuckerberg's stance was criticized by many Facebook employees, including executives, resulting in a virtual strike and the retirement of two engineers. In response, Zuckerberg argued that his decision was correct.

Mark Zuckerberg defends hands-off Trump policy to employees after walkout-The Verge

https://www.theverge.com/2020/6/2/21278601/mark-zuckerberg-facebook-trump-posts-employee-call-fact-checking-voter-misinformation
Mark Zuckerberg criticised by civil rights leaders over Donald Trump Facebook post | Technology | The Guardian
https://www.theguardian.com/technology/2020/jun/02/mark-zuckerberg-criticised-by-civil-rights-leaders-over -donald-trump-facebook-post
Mark Zuckerberg criticised by civil rights leaders over Donald Trump Facebook post | Technology | The Guardian
https://www.theguardian.com/technology/2020/jun/02/mark-zuckerberg-criticised-by-civil-rights-leaders-over-donald-trump-facebook-post
Facebook employees resign over Zuckerberg's treatment of Trump post
https://mashable.com/article/facebook-engineer-resigns-protest-mark-zuckerberg/
While Twitter
labeled
Trump's tweet as
'misleading' and
showed his intention to 'continue to do fact checks and warnings' after being accused of President Trump, Facebook's mark・Zuckerberg CEO
revealed that
'private companies should not do factual checks on political statements.'
This difference in posture is manifested in the following form. The city of Minneapolis was triggered by the ``Death of
George Floyd'
' case in which a black policeman George Floyd was suffocated by a white police officer in Minneapolis, Minnesota, USA on May 25, 2020. Then a large-scale riot occurred. Protest demonstrations and riots against the case have spread to the United States, but in response to this, President Trump suggests ``when the looting starts, the shooting starts (to counter by shooting if looting occurs)'' and suppression by the military Did. A warning saying 'I am praising violence' is displayed on this comment on Twitter, and the content of the tweet is hidden on the timeline, and I can not retweet, like, reply.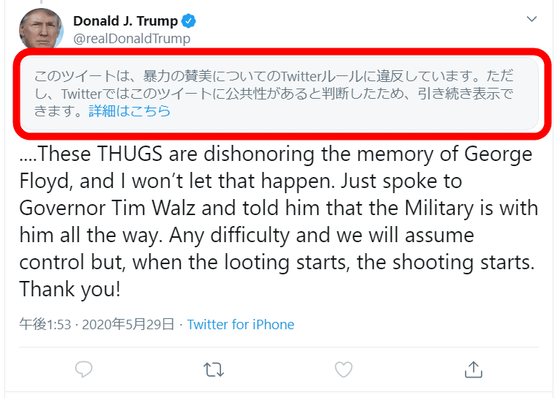 On the other hand, no warning is displayed on the Facebook post that made the same statement.


In response, Zuckerberg has issued a statement outlining Facebook's policy. "I'm responsible for reacting as a leader of institutions committed to free expression, not just personal abilities. Many people are angry about Facebook leaving Trump's post," said Zuckerberg. We know that, but our position is, 'As much expression as possible should be valid unless a specific harm or danger is spelled out with a clear policy.'' It shows the idea that the media should not censor political statements.


Facebook's Mark Zuckerberg directly explains his policy to President Trump resented by censorship of social media-GIGAZINE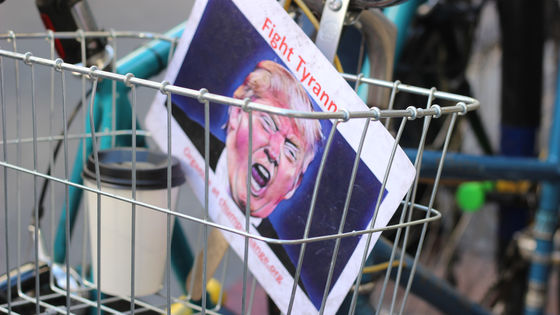 Zuckerberg's CEO's stance has been criticized from inside and outside Facebook, saying 'it is unacceptable to provide a platform to incite violence and spread false information.' Many employees, including executives, said they were disappointed by Zuckerberg's CEO decision on Twitter, and about 400 employees performed a virtual strike. Also, at least two engineers have
resigned from Facebook
following Zuckerberg's decision.
Facebook employee openly condemned Zuckerberg's response to ``President Trump's social media censorship problem''-GIGAZINE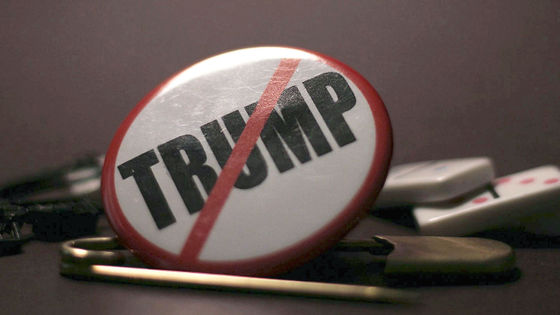 ``We should have been more transparent to our employees,'' Zuckerberg said in response to internal opposition and employee retirement. The choice is difficult, but correct.'
The audio from the meeting, obtained by
news media
The Verge
, said that Zuckerberg's CEO 'was very difficult to handle this post made by the president.' 'I was thinking about the issue all day after waking up. It was a pain for me personally,' he said. Zuckerberg also responded to President Trump's statement at the meeting, 'My first reaction was disgust.' 'I don't want the leader to appear at this moment. It is a moment of calmness and seeking empathy for suffering people.'
``Our decision afflicted people inside the company and called for media criticism,'' said Zuckerberg, but we need to separate our personal views from the rules of our policies and platforms." Perhaps this decision incurred a huge cost to the company to do what we consider right,' he said of his decision.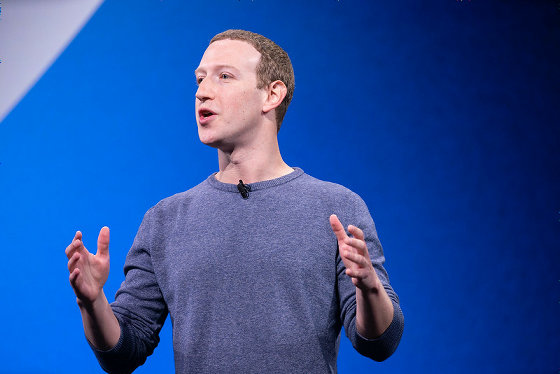 by Billionaires Success

In the view of Zuckerberg, President Trump's policy to allow violent remarks at the same time allows him to post 'painful and valuable content' such as footage of George Floyd being killed by police. On the other hand, an employee asked, ``Why the smartest people in the world are distorting our policy because they don't want to trump President Trump instead of advancing social issues? There is also a counterargument as to whether or not. In addition, executives also accused 'Mark is making a precedent for people who may also make harmful statements on Facebook.'

Zuckerberg, who also predicts that the United States will face a long period of uncertainty, suggests that it may revisit policies that limit or label content that drives violence. Facebook also states that it already has experience handling content about violence and conflict in several countries. Still, Zuckerberg sees this decision as a 'plus' to Facebook's impact on the world, saying, 'I deliver a'voice' that we can't get anywhere else to so many people. I think that protecting this ability will be a debate for a while,' he said.

In addition, The Verge points out that 'Facebook treats moral issues as legal issues' in response to such intentions of CEO Zuckerberg.