SpaceX's 'Crew Dragon', the first manned spaceship in a private company, successfully docked on the ISS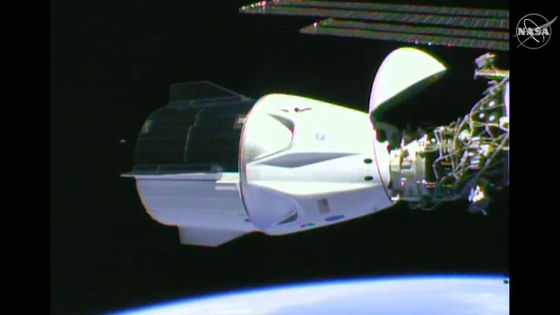 The
SpaceX
spacecraft Crew Dragon, which had been reported to have successfully launched at 4:22 on May 31, 2020 Japan time, was successfully docked with the
International Space Station (ISS)
at 23:22 on the same day. Then a small welcome party in the ISS is held, boarded the ISS from Crew Dragon
National Aeronautics and Space Administration
is that of an astronaut Mr. Douglas Hurley and Robert Benken of
(NASA)
has been warmly welcomed.
SpaceX's 1st Crew Dragon with astronauts docks at space station in historic rendezvous | Space
https://www.space.com/spacex-crew-dragon-demo-2-docking-success.html
Astronauts Dock With Space Station After Historic SpaceX Launch-The New York Times
https://www.nytimes.com/2020/05/31/science/spacex-astronauts-arrival.html
SpaceX, a private space development company founded by Elon Musk, succeeded in launching Crew Dragon, the first privately-owned spaceship Crew Dragon as a private company on May 31. You can understand the history of the launch and how it was launched by reading the following article.
Launch movie & photo summary of America's first private spaceship by NASA and SpaceX-GIGAZINE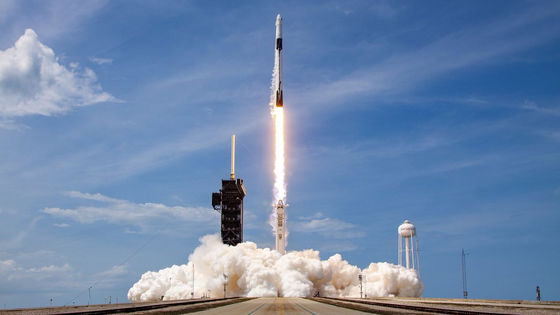 Crew Dragon, which was safely in orbit, started docking work on the ISS at 23:16 on the 31st. The docking of the Crew Dragon is fully automated, but a final test of the manual piloting feature is also done before docking.
Below is a video of the docking moment.
Docking confirmed! @AstroBehnken and @Astro_Doug officially docked to the @Space_Station at 10:16 am ET: pic.twitter.com/hCM4UvbwjR

— NASA (@NASA) May 31, 2020
. @ AstroBehnken and @Astro_Doug are about an hour away from joining the crew on board the @Space_Station .Watch : https://t.co/bXCGg5kzBB pic.twitter.com/JdTnsqKvB6

— NASA (@NASA) May 31, 2020


Crew Dragon is docked to the following parts of the ISS. The HTV-9, which is located near the Crew Dragon, is the Stork No. 9 launched from the 2nd launch point of the Yoshinobu Launch Point on the Tanegashima Space Center in Japan on May 21, 2020.
The AttoSpaceX #CrewDragon Makes Five Spaceships Parked At The Station. Https://T.Co/lLZYDJUn1N Pic.Twitter.Com/la06vhjgOW

— Intl. Space Station (@Space_Station) May 31, 2020


Mr. Hurley said of Crew Dragon's manual operation feel, 'I operated it like a simulator. Endeavour was very crisp and flew well.' The official name of the first civilian manned spacecraft that Mr. Harley and Mr. Benken rode is 'Crew Dragon C206', but the two people call it 'Endeavour (effort)'.

After that, Mr. Harry and Mr. Benken (both wearing black shirts) boarded the ISS at 2:02 the day after docking for about 3 hours, and both were NASA Chris, a crew member of the ISS. -We received a warm welcome and hug from Mr. Cassidy and Russian astronauts Anatoly Ivanisin and Ivan Wagner (wearing blue clothes).

Is The First This Time In Human History AttoNASA_Astronauts Have Entered The AttoSpace_Station From A Commercially-Made Spacecraft. AttoAstroBehnken And AttoAstro_Doug Have Finally Arrived To The Orbiting Laboratory In AttoSpaceX 'S Dragon Endeavour Spacecraft. Pic.Twitter.Com/3t9Ogtpik4

— NASA (@NASA) May 31, 2020


Mr. Harley (right), who got on the ISS, commented in communication with the ground, 'I am honored to be a member of this magnificent ISS.'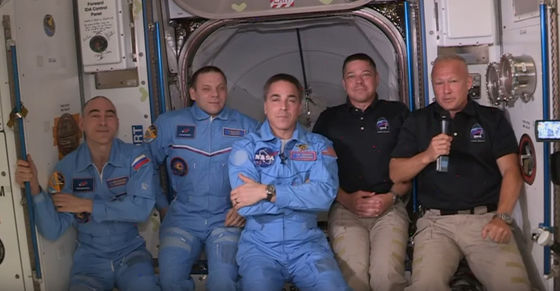 Benken (second from right) asked, 'Have you slept well?' 'It was a bit of a challenge on the first night, but the Crew Dragon flew very smoothly and had good airflow inside. I had a great night, and it helped me and Doug sleep soundly for seven hours. '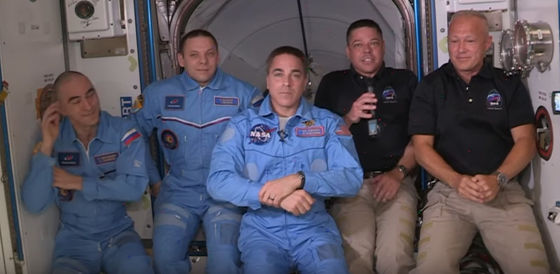 Mr. Harley and Mr. Benken who have safely arrived at the ISS are planning to stay in space for up to 4 months.