In a terrorist incident in which Apple refused the government's 'iPhone unlock request', authorities announced that 'FBI unlocked without Apple's cooperation'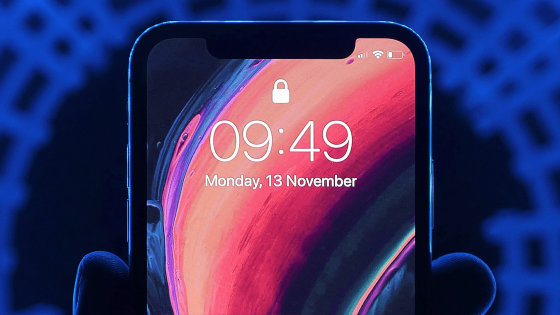 In an investigation into a terrorist incident at a U.S. Navy airbase in December 2019, Apple had received requests from authorities to unlock the iPhone, but it continued to refuse. In this case, on May 18, 2020, Attorney General William P. Barr said, 'Unlocking was possible thanks to the FBI's great work, not Apple,' 'the suspect was closely associated with al Qaeda. Has been announced. 'We have been supporting the FBI 24 hours a day,' Apple argued against the official's announcement.

Attorney General William P. Barr and FBI Director Christopher Wray Announce Significant Developments in the Investigation of the Naval Air Station Pensacola Shooting | OPA | Department of Justice

https://www.justice.gov/opa/pr/attorney-general-william-p-barr-and-fbi-director-christopher-wray-announce-significant
[Update: Apple responds] FBI links Pensacola shooter to Al-Qaeda with cracked iPhones with 'no thanks to Apple'-9to5Mac
https://9to5mac.com/2020/05/18/fbi-links-pensacola-shooter-to-al-qaeda-with-cracked-iphones-with-no-thanks-to-apple/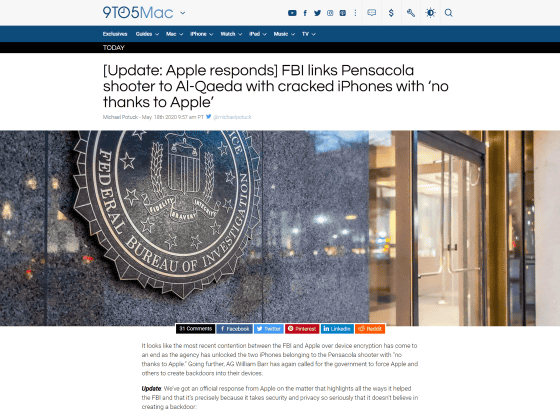 In December 2019, a Saudi lieutenant trained at the US Pensacola Naval Air Station shot a gun, killing three people and injuring eight others. On January 13, 2020, Attorney General William P. Barr announced that the incident was terrorism and called on Apple to allow suspected Mohammed Saeed Alshamrani, who was shot dead on the scene, to access his locked iPhone. Did. However, Apple declined this request.
This isn't the first time authorities have asked Apple to unlock an iPhone during an investigation. Apple grants access to iCloud data if there is a search warrant, but refuses access to the device. For this reason, the authorities are looking for ways to unlock the device without relying on Apple, requesting the
world's highest level smartphone crack group 'Cellebrite'
, and have
also established
a
specialized laboratory
.
Should an 'unlock iPhone' be done in a criminal investigation? -GIGAZINE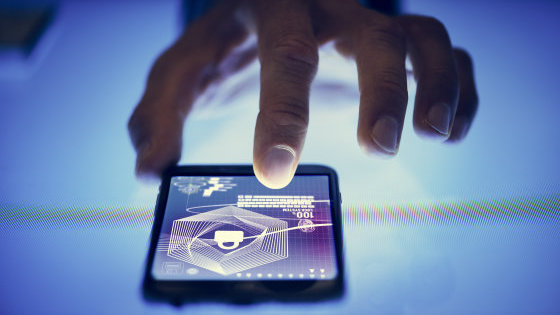 On May 18, 2020, Attorney General Barr also announced that Alshamrani's iPhone could be unlocked for one of the Pensacola Naval Air Stations. As a result of having access to information on the iPhone, Alshamrani has been preparing for terrorism for many years, joining the Saudi Air Force to carry out special operations, and contacting Al Qaeda until just before the attack It turned out that I was taking it.
In his announcement, Attorney General Barr said, 'Thanks to the FBI for a great job, not Apple, we were able to unlock Alshamrani's iPhone. The pile of information found in the phone is now Valuable to the research being done, and important to the safety of the American public, this information could not have been found without the creativity and good luck of the FBI and many time resources. The Security Department can't stay in the hands of large corporations spending money on legal access and public security. It's time to make a legislative resolution. '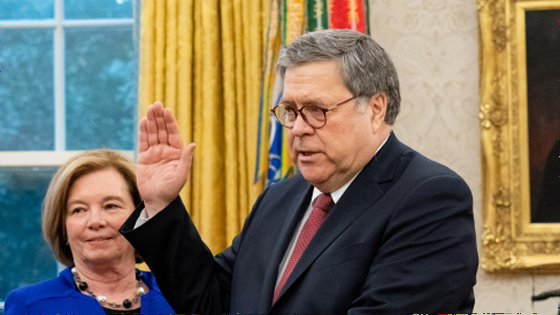 Authorities have long called on Apple to ' create a backdoor that can bypass the iPhone's encryption ,' but Apple has consistently rejected it. Following the announcement of Attorney General Barr this time, technology news site 9to5Mac asked Apple for comments, and Apple returned the following answers.

"Apple responded to the FBI's initial request for information several hours after the December 6, 2019 attack and continued to support law enforcement agencies during the investigation. ICloud backups, account information, It provided all available information, including transaction data for multiple accounts, and provided ongoing technical and investigative support to the FBI offices in Jacksonville, Pensacola, and New York over the next few months.

In this and thousands of other cases, we are working around the clock with the FBI and other investigators who keep the US safe and criminal justices. As a proud American company, we consider it our responsibility to support the important work of law enforcement. False claims about us are an excuse to weaken the encryption and other security measures that protect millions of users and our national security.

We take the responsibility for national security so seriously that we do not believe in the idea of creating a backdoor. Backdoors can make all devices vulnerable, threatening national security and the data security of our customers. There is no 'backdoor justice'. And we don't think Americans need to choose between 'weak encryption' and 'effective investigation.'

Our customers trust Apple in that 'information is kept secure'. And one way to keep it safe is to apply strong encryption to your device and server. We sell the same iPhone all over the world. We do not store customer passcodes and do not have the ability to unlock passcode protected devices. The data center deploys powerful hardware and software to keep information safe and ensures that the system is backdoor-free. All conventions apply equally around the world. ''