Twitter allows employees to work from home even after the end of the new Corona


Twitter CEO Jack Dorsey sent an email to employees on Tuesday, May 12, 2020, informing him that he will allow employees to work from home even after the pandemic of the new coronavirus is over. did. Employees in jobs requiring physical work such as server maintenance will continue to be required to commute to the office.

Twitter Will Allow Employees To Work At Home Forever

https://www.buzzfeednews.com/article/alexkantrowitz/twitter-will-allow-employees-to-work-at-home-forever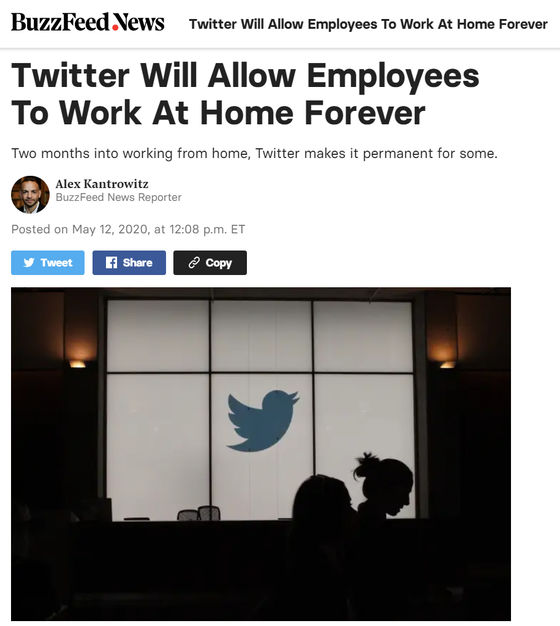 Twitter is now letting employees work from home indefinitely-The Verge
https://www.theverge.com/2020/5/12/21256060/twitter-employees-work-from-home-covid-19-pandemic
Twitter says staff can continue working from home permanently | TechCrunch
https://techcrunch.com/2020/05/12/twitter-says-staff-can-continue-working-from-home-permanently/
Dorsey said in an email to employees, 'If our employees are in a role and situation where they can work from home and they want it, we will do that.' 'Employees not in those positions To create a warm and welcoming atmosphere with some additional precautions so that our office feels safe to return to. ' On the other hand, after the pandemic of the new coronavirus, it is allowed to work from home, and the environment is as safe as possible for employees who need to go to work such as server maintenance.
A Twitter spokesman told BuzzFeed News, "We have been very excited about how employees work from home since we were one of the first companies to work from home with the new coronavirus. However, we will continue to work and put the safety of people and communities first. ' At the beginning of March 2020, when Twitter's infection with the new coronavirus began to spread, Twitter
encouraged employees to work from home
.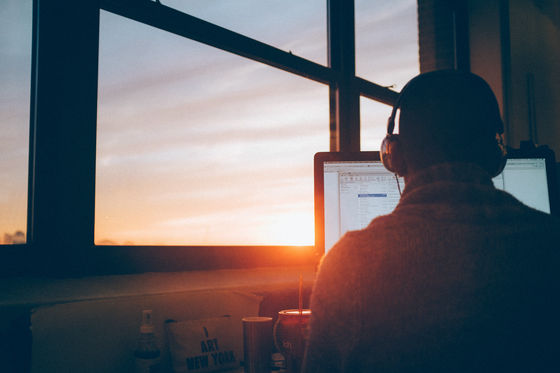 When remote work is allowed on Twitter, BuzzFeed News interviews Twitter Human Resources Director Jennifer Christie. At the time, Christie said, 'People who have resisted working remotely have noticed that they have made a strong move toward their goals even after remote work began. Managers, who didn't think they could manage it, took a new perspective, and I don't think we can go back to our old style of work, "said Remotework, which has transformed the way Twitter works. It is said to have been done.

Twitter says it will not resume office operations until September 2020, with a few exceptions. 'It's a careful, purposeful, step-by-step approach to each office,' he said. .. In addition, Twitter will cancel almost all business trips until September 2020, and there is no plan to hold an event that will be held face-to-face even after September 2020.


in Note, Posted by logu_ii