New coronavirus infections top 1 million worldwide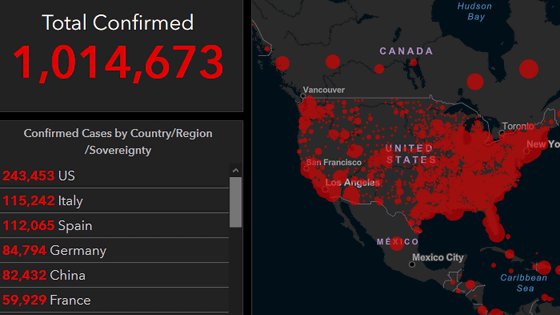 The count of Johns Hopkins University revealed that the number of people infected with the new coronavirus, which occurred at the end of 2019 and is rampant worldwide in 2020, has exceeded 1 million.

Coronavirus COVID-19 (2019-nCoV)

https://www.arcgis.com/apps/opsdashboard/index.html#/bda7594740fd40299423467b48e9ecf6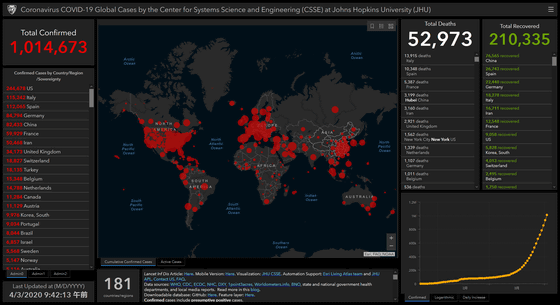 It's Official: Over 1 Million Global Coronavirus Cases Have Been Detected
https://www.sciencealert.com/global-coronavirus-cases-barrel-past-1-million

New Corona Global Infections Exceed 1 Million Dead More Than 50,000 | NHK News
https://www3.nhk.or.jp/news/html/20200403/k10012365561000.html

According to information updated at 8:32 on Friday, April 3, 2020, the number of infected people worldwide is 1,0113,157. The largest number is 243,453 in the United States. Below are 115,242 people in Italy, 112,065 people in Spain, 84,794 in Germany, 82,432 in China, and 2495 in Japan.

The number of dead is 52,983. The breakdown is 13915 in Italy, 10,348 in Spain, 5387 in France, 3199 in Hubei, China, 3160 in Iran, 2160 in the United Kingdom, and 1397 in New York City, USA. You. Japan has 62 people.

From the cumulative infection graph, we can see that the spread has accelerated in March.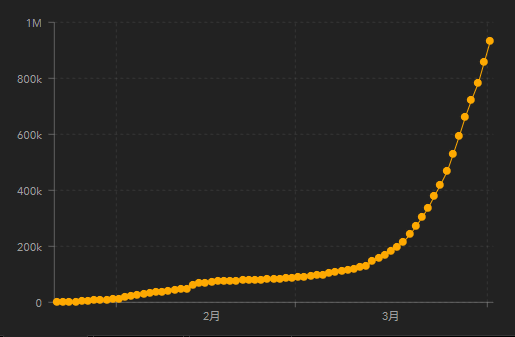 Here is a graph of the number of infected people by day. The number of new infections once decreased from late January to early February, but has since risen to almost the right.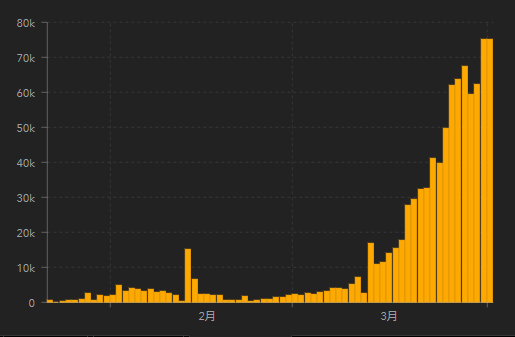 in Note, Posted by logc_nt