Mortality rate rises 20% after 1 million COVID-19 infected people are reported in India in 4 days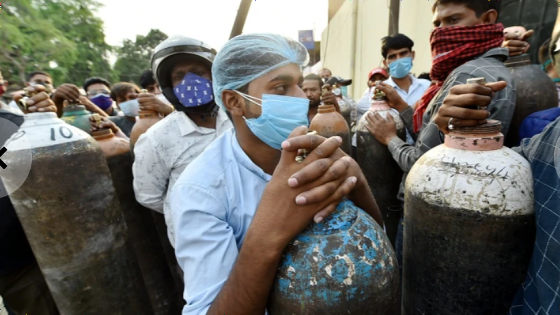 It was reported on April 22, 2021 that the number of new cases exceeded 1 million in 4 days in India, where the new coronavirus infection (COVID-19) is rapidly expanding. The highest number of new cases per day was 297,430, which was recorded in the United States in January 2021, but India has reported more than 314,835 cases.

Covid-19 cases India: One million cases in 4 days, record deaths: India's Covid'storm' in 10 charts | India News --Times of India

https://timesofindia.indiatimes.com/india/covid-19-indias-total-tally-crosses-1-56-crore-cases-more-than-2000-deaths-in-24-hours/articleshow/82173838. cms
Bihar crosses 12k Covid cases, mortality rate up 20% | Patna News --Times of India
https://timesofindia.indiatimes.com/city/patna/bihar-crosses-12k-covid-cases-mortality-rate-up-20/articleshow/82185645.cms
In India, the spread of COVID-19 peaked in the fall of 2020, and the number of cases has been declining since then. From this, it was said that India 'successfully suppressed COVID-19'. However, if you look at the graph below, you can see that the signs of the second wave were born around March 2021 and the infection exploded in April.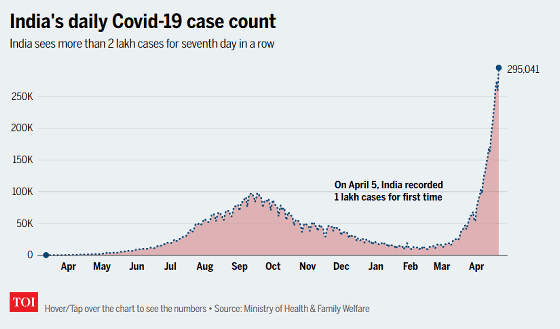 The number of cases seen worldwide is in the order of the United States, India, and Brazil. The graph below shows the average number of cases for 7 days, and it is clear that the infection is spreading rapidly in India among the three countries.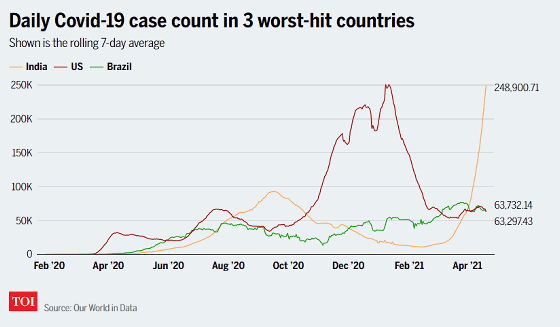 The death toll exceeded 2000 per day in April. It's also worth noting that the mortality rate has risen by as much as 20% in the last 20 days.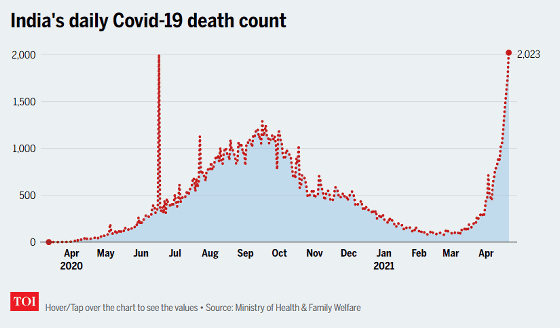 In India, the number of 24-hour cases reached 314,835 on April 22, 2021, exceeding the maximum number of 297,430 cases recorded by the United States in January. The total number of cases so far is 15,930,965, and the number of cases has increased sharply since February, and the number has tripled in the past 17 days.

With 3.14 lakh new Covid cases, India reports world's highest single-day tally --Coronavirus Outbreak News
https://www.indiatoday.in/coronavirus-outbreak/story/with-three-lakh-new-covid-cases-india-reports-world-highest-single-day-tally-1793702-2021-04-22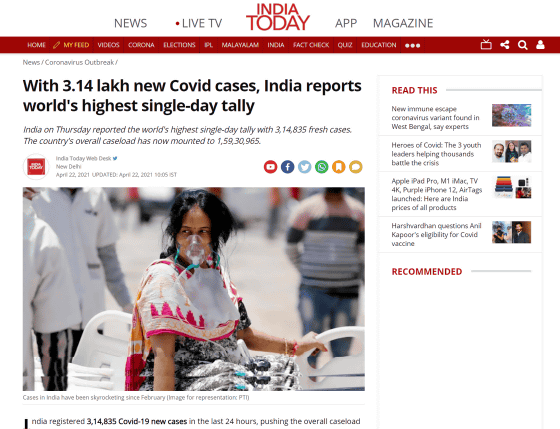 The top five states with the highest number of cases are Maharashtra (67,468), Uttar Pradesh (33,106), Delhi (24,638), Karnataka (23,558), and Kerala (20,000). In 2414), 54.38% of new cases were reported in these 5 states, and 21.43% occurred in Maharashtra.

In addition, tests conducted in Maharashtra have revealed that more than 60% of new cases in the state are due to the mutant strain 'B.1.617'. B.1.617 contains multiple gene mutations including the spike proteins 'E484K' and 'D614G', and is characterized by easy avoidance of immunity. For this reason, it is thought that even people who have been infected with COVID-19 in the past and have antibodies will be infected. Mutant strains have been detected in Maharashtra since around March, but it is said that rapid expansion of mutant strains has been observed in other parts of the country in April.

New immune escape Covid variant found in West Bengal, say experts --Coronavirus Outbreak News
https://www.indiatoday.in/coronavirus-outbreak/story/coronavirus-india-new-immune-escape-covid-variant-found-west-bengal-1793286-2021-04-21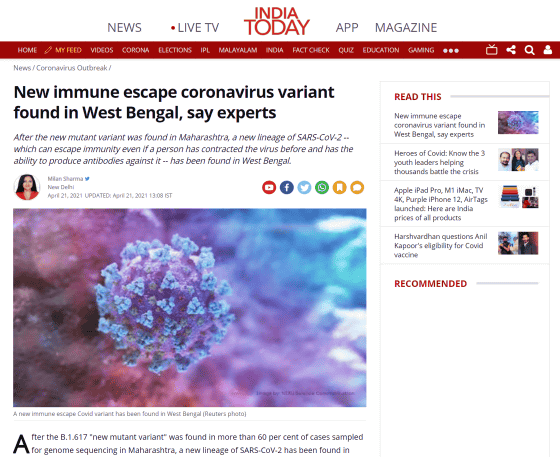 And as the number of newly infected people increases, the medical field is under pressure, and inpatients are required to be discharged due to lack of medical oxygen.

Covid-19: With oxygen running out, Delhi-NCR hospitals asking patients to leave | Delhi News --Times of India
https://timesofindia.indiatimes.com/india/covid-19-with-oxygen-running-out-delhi-ncr-hospitals-asking-patients-to-leave/articleshow/82203482.cms

Due to the lack of medical oxygen in the hospital, the patient's family is in a situation of forming a long line at the oxygen replenishment center with a gas cylinder in hand.

Serious oxygen crisis persists in India as Covid cases soar | In pictures | India Today
https://www.indiatoday.in/coronavirus-outbreak/photo/serious-oxygen-crisis-persists-in-india-as-covid-cases-soar-in-pictures-1793608-2021-04-21/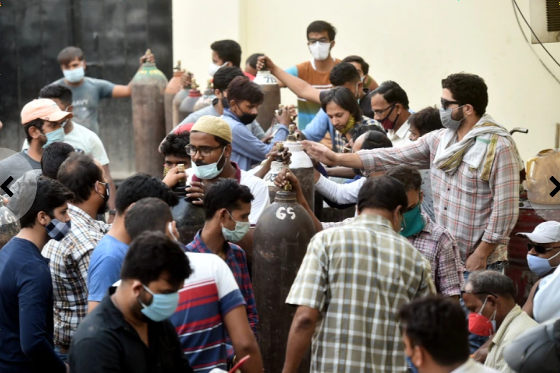 The cause of the rapid spread of the infection in India is not yet clear, but it seems that one of the reasons is that religious festivals, sporting events, elections, etc. were held without infection prevention measures after the declaration of containment. I am.

Why is the infection exploding in India, which should have 'successfully contained the new corona'? --GIGAZINE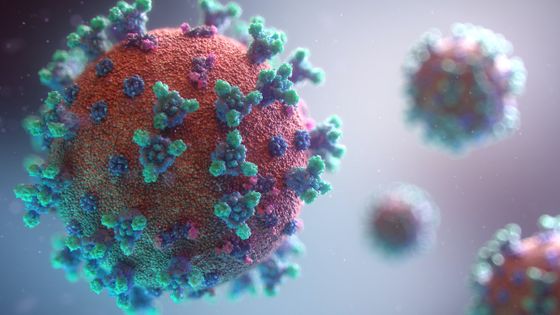 On the other hand, it is not clear whether the mutant strain is associated with the spread of infection. The BBC reported in an article dated March 25 that scientists believe that the mutant strain is not the cause of the outbreak, but as of April 22, the newsletter may have some effect from the mutant strain. It is reported that .

It was reported on April 22 that five mutant strains derived from India have been confirmed in Japan as well.

Indian mutant strain confirmed 5 cases in Japan Chief Cabinet Secretary Kato 'Strengthening monitoring system': Jiji.com
https://www.jiji.com/jc/article?k=2021042201037



Following the rapid spread of the infection in India, Canada has announced that it will suspend flights from India and Pakistan for the next 30 days.

Covid-19: Canada bans flights from India, Pakistan for 30 days | India News --Times of India
https://timesofindia.indiatimes.com/india/covid-19-canada-bans-flights-from-india-pakistan-for-30-days/articleshow/82205739.cms

in Note, Posted by logq_fa