'FAN GATHERING' Shining Hathaway 'Heirs to GUNDAM' Report Approaching the Secret of 'Mobile Suit Gundam Flash Hathaway'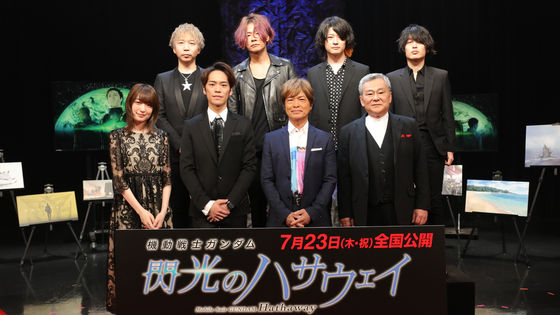 It is a Mobile Suit Gundam 40 anniversary, spinning a new 100 years of the universe century, 'UC NexT 0100,' the second installment work of the project Hathaway of events 'FAN GATHERING' flash approaching the secret of 'Mobile Suit Gundam flash of Hathaway's. '' Heirs to GUNDAM "was held at Zepp Diver City on March 24 (Tue). From the viewpoint of preventing the spread of the new type of coronavirus infection (COVID-19) and ensuring the safety of the audience, it was conducted with no audience but was distributed via the Internet.


[Information lifted] Fan event-'Flash Hathaway' Heirs to GUNDAM--YouTube


The venue was Zepp Diver City. Nearby is the Unicorn Gundam statue.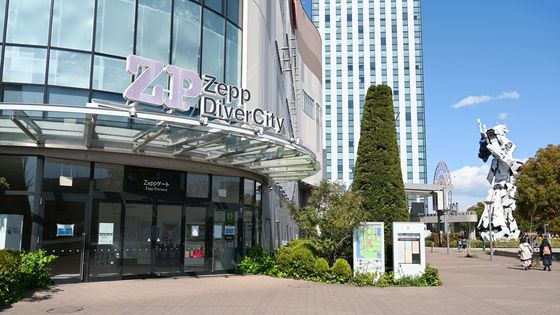 After the event, MC Yuki Ayami was afraid that the event was held with no spectators, `` Mobile Suit Gundam '' `` Mobile Suit Z Gundam '' `` Mobile Suit Gundam ZZ '' `` Mobile Suit Gundam Char's Counterattack '' Starting with 'Mobile Suit Gundam UC' and 'Mobile Suit Gundam NT' and the digest VTR of the Gundam series of the universe century.

After the video, Toru Furuya as Amuro Rei, Shuichi Ikeda as Char Aznable, anime critic Ryota Fujitsu , SunriseProfessor Naohiro Ogata appeared, and `` Reverse Char Deep Dig Talk '' was held Was.

The following is an abstract. A headline is provided for each section of the content, and a link is provided so that you can jump to the relevant time of the distribution video from the headline. For details, check the distribution video.

◆ Reverse Char digging talk
Mr. Yuki Ayami (hereinafter, Ayami):
'Mobile Suit Gundam: Char's Counterattack' was released in 1988. This is the first Gundam series to be a completely new theatrical original, focusing on Amuro and Char and depicting the end of a series of stories. Mr. Furuya and Mr. Ikeda look back on those days.

Toru Furuya (Furuya):
After the first Gundam, `` Z Gundam '', Amuro and Char appeared in this `` Char's Counterattack '', but from the Zeta we are no longer the main, and after nearly 10 years, two people It was a pleasure to fight in a fully four-person, fully-maintained manner.

Ayami:
How about Ikeda-san?

Mr. Shuichi Ikeda (hereinafter Ikeda):
The title is 'Char's Counterattack', so I said, 'Has my spring finally arrived?'

Furuya:
After that, I expected that there would be 'Amuro of Counterattack', but there isn't yet (laughs)

Ayami:
Not yet (laughs). At the time of the release, Mr. Ogata?

Producer Naohiro Ogata (hereinafter, small):
I was just 14 years old and my friend and I decided to settle Amuro and Char, and now we have changed places, but I saw it at a movie theater called Sotetsu Mobil . I saw it, but I wasn't sure what I was in the second year of junior high school (laughs), and on my way home, I returned with a friend saying, 'She said,' I'm saying, 'LaLa is my mom.' I remember.

Ayami:
I reviewed it three times before I understood the content. This time, anime critic Fujitsu-san said that there are many things that he would like to talk about.

Ryota Fujitsu (Fujitsu):
At the time of 'Z Gundam', director Tomino said, 'The sub-attack title of this work is Char's counterattack.' But actually, it was Camille. With the title of 'Char's Counterattack' at the time of doing a movie across the next 'ZZ', fans' expectations increased that 'things to come' came. At that time, a special TV program called Yasuko Tomita talked about "I like Char," and she was given a President Char's costume. Director Tomino replied in a newspaper interview that 'I want an adult man to see', a work with the sadness and cuteness of an adult man. I think that it is a title that you can see the feelings of Amuro and Char when you watch it as an adult.

Ayami:
Did you receive feedback from adult men?

Furuya:
Until Char's Counterattack, Amuro was a boy, and she looks and looks better. In the popularity polls of anime magazines, Char was roughly in first place, and Amuro was in second or third place. In 'Char's Counterattack', Amuro finally became an adult and a subordinate was able to exist, and she was 29 years old. I thought that it was over Char even in popularity. There are quite a lot of fans who say, 'I like Amro in' Reverse Char 'the most.'

Ayami:
From a woman's point of view, when I was first, Char was an adult and Amuro was a child, but when I saw 'Reverse Char,' I wonder if my mind was actually the opposite ...

Furuya:
That's right!

Ayami:
It was a work whose perspective changed anew. Did Ikeda not complain about that?

Ikeda:
No, I have no complaints. In 'Reverse Char', a little Mazakon-like part came out, and Amuro became fine and worthwhile. No way, I didn't think it would be done that way.

(Laughs)

Ayami:
How did Mr. Fujitsu and Mr. Ogata look from a male perspective?

Fujitsu:
As you have just mentioned, Amro treats ν Gundam as a professional for the first time in Char's Counterattack. The strength is carefully drawn in the direction. On the other hand, Char is carrying the country, saying that he is a clown alone, rather than the sorrow of a man. Each character was three-dimensional, and there were new situations and emotions, and I felt that it became difficult to perform.

Furuya:
I got in smoothly. I have a sweetheart, Chain Agi, but she was my throat strike type. Bertochika was not good at it (laughs), so I was able to do it comfortably due to the reaction.

Ikeda:
I was having fun in the studio (laughs)

Fujitsu:
Char is between Nanai and Ques.

Ikeda:
That's really troublesome. Speaking of being a man, it's true ... but I think it was hard. I guess Char was secretly watching the scene where Nanai throws a glass.

Ayami:
This time, posters from those days are lined up behind.

Small type:
The right end is from Noriyoshi Sadasaki . At that time, I went there to look for the final showdown, and I didn't know, but I thought Amuro was cool. Like the first place in the NHK's All Gundam grand voting , ν Gundam was cool and I thought, "If you ride, ν Gundam is good". 32 years later, she became really aware of her feelings. I think Gundam is interesting because I want to have a woman like Nanai. Tomino-san wrote 'Reverse Char' in his forties.

Fujitsu:
I'm in my late forties

Small type:
I first met Tomino in his 60s, but I think he was still young at the time. How was it in the studio?

Ikeda:
How are you

(Laughs)

Furuya:
I have the impression that I was quite involved in the work.

Fujitsu:
'Reverse Char' is also written by Tomino, and has the impression that 'Tomino concentration' is particularly high. Do you have any impressive scenes or lines?

Furuya:
After all climax, it is the place to stop Axis. Char is immersed, and Amuro has won.

Ikeda:
There are times when Mr. Tomino's dialogue is 'Is Japanese correct?'

Fujitsu:
There's a little flying.

Ikeda:
But it's good to talk. It's strange. Although it's not my line, Bright's 'What are you doing!' Suddenly looks like a captain in the neighborhood (laughs). It is abrupt, but it comes alive when viewed in the flow. I'm angry if I fix it as 'Mispri' (laughs)

Fujitsu:
Quite a distinctive ending.

Small type:
When talking between the cockpits, Tomino's special technique seems to be engaged and not engaged.

Ikeda:
Amuro's 'I'm going.' 'If you go on your own ...'

(Laughs)

Furuya:
That's because the battlefield is scary. It's the same as singing or singing because you're scared at night.

Ikeda:
That idea is amazing. It's natural now, but it's about episode 2. When I first heard it, I thought, 'Oh?'

Ayami:
Now it's a line that everyone wants to say as a great line.

Ikeda:
That line has come out all the time, but everyone seems to be very hard. I don't want to imitate Amuro because it was done by Amuro.

Furuya:
You want to make use of each character, and you want to say the same words but different nuances.

Fujitsu:
In terms of Amuro's strength, period drama researcher Taichi Kasuga said, 'The sword of' Reverse Char 'is wonderful.' It is written that ν Gundam goes down and cuts Sazabi, something like the idea of the sword fight cultivated in historical drama even though it is a robot animation, and it is said that `` Amuro can be strong '' I think that it is attractive that it is in a shape that you can see when you look at it.

Ayami:
A scene in which Char appeared on a horse and wrestles with Amuro because of the 'wrestling' from the sword. The scene is likely to be a trauma from Hathaway's perspective, but do you remember when you played?

Furuya:
The two fight at the end of the first Gundam even with fencing, so fighting with the body at the end without going through a mobile suit is a novel and interesting thing in robot animation, and I think that it will remain impressive.

Ayami:
An adult man is fighting like this.

Small type:
You have to be drunk.

Ayami:
I think Char tends to perform calmly, but how was Mr. Ikeda performing?

Ikeda:
Char is gradually becoming incompetent with Amuro, so as a new type of character. So I don't know if there is a feeling like 'I wonder if I can do it with my bare hands' (laugh). It's enviable to call out to Ques and take him.

Furuya:
Well, it's a good-looking guy.

Fujitsu:
That's Char's charisma. 'If you follow this person, you will see a new world.' But Amuro also had the professional feeling of trying to get a gun right away, saying, 'I'll do it after you do it.' At that time, Yoshinobu Inano, who was particularly good, was in charge of the original drawings. It seems to be difficult to draw spinning around in a wrestling way, so I think that it is a scene that is impressive with the performance + picture of the two people.

Small type:
After this, there is also an approach between ν Gundam and Sazabi, and because Gundam is not only a battle using ordinary weapons, but also an extension of physical things, it is very emotional even in mobile suit battles I think that's the point.

Ayami:
In 2019, it was released to the United States and there was a 4DX screening, and it was transmitted that it was loved. Also, the reputation of the famous animation director from that time was good.

Fujitsu:
Ghost in the Shell was told by Mamoru Oshii, director of Ghost in the Shell, and by Hideaki Anno, director of Neon Genesis Evangelion, and doujinshi appeared in the 1990s. That is also the point to review the reverse Char, and it feels like a part of the current popularity.

Ayami:
A novel published about a year after Char's Counterattack was the novel Flash Hathaway. Here, Fujitsu went to an interview with those who are familiar with the story of the novel's birth, so please look at the video. (Interview video 44: 23 ~ )

Fujitsu:
I would like to talk to Mr. Inoue, who was involved in the birth of the original, about the fact that Flash Hathaway will be a movie. First of all, what kind of position did you start witnessing the novel at that time?

Shinichiro Inoue (hereinafter referred to as Inoue):
Since 'Char's Counterattack' was released in the spring of 1988, I think that 'New Type' was in its third year. I don't think anyone can believe it, but 'Reverse Char' was said to be 'this is the last Gundam.' The reason is that the story of Amuro and Char is settled. Tomino also has a TV series and a theater work, and the two protagonists are finally settled. It was advertised as the end of the story of the universe century, and I saw Mr. Tomino work hard. On the other hand, it was also the time when the SD Gundam was fashionable, and as various stakeholders, there was a feeling that interest in SD was shifting from the universe century, and Mr. Tomino had a dilemma as `` Is it going to lose? '' I think not. At the time, as an editor, I was thinking, 'This may be the last Gundam.' I was so lonely that I wasn't able to make it anymore because I was a fan, and at the same time I was really interested in how a boy named Hathaway Noah would live. At the age of 13, a favorite girl named Ques Palaya dies in the movie version and shoots a chain Agi. It is insane to say clearly. What do I do after this, if I can not make a theatrical version or a new TV animation, I have a feeling that I want to read at least the following of Hathaway with a novel, I want to see, Please write the story you made the hero. '

Fujitsu:
What kind of reaction was it?

Inoue:
He was so quiet and angry that he accepted it, as he expected, 'that kind of order will come.'

Fujitsu:
How was the response back then?

Inoue:
Even among the fans, there was something like a feeling of craving that `` Gundam may not be seen anymore '', so there was a response that `` The sequel is still like this, even though it is a novel, it will be released '' . Also, from that time, there was a voice saying, 'I want you to make an animation.' After more than 30 years, it is finally a miraculous animation.

Fujitsu:
Who gave the title 'Flash of Hathaway'?

Inoue:
This is Tomino. The word 'flashing' doesn't come out easily, but when I got it, I thought it was a great title.

Fujitsu:
What is Tomino's charm as a novelist?

Inoue:
An insight and an eye for society. It seems that the character is drawn with instinct without thinking too much about the character, and the part that is also reasonable is the charm as a novelist.

Fujitsu:
It is a rare case that the director of the video is different, based on the novel by Director Tomino.

Inoue:
This is the first time. I also want to see 'Flashing Hathaway' as an audience as soon as possible. Although it is a work more than 30 years ago, even if you read it now, I think that it is a work that is closer to reality than it is old, and I am also worried about how Murase will direct it. As a spectator, I look forward to completion.

Small type:
Mr. Furuya whispered to Mr. Inoue 'Amuro of Counterattack', wouldn't that happen?

Furuya:
That's right (laugh)

Ayami:
There may have been a chance. As it was in the interview, the phrase '' Reverse Char 'may be the last Gundam' is impressive, but at the time, they thought that this was the last time to play Amuro and Char ?

Furuya:
I thought that I would not live in the harsh environment of stopping Axis, but when I asked Mr. Tomino, he was deceived as saying 'No, I do not understand' (laughs), and 'Eh? Finally, 'T' flew ...? ' No way, I didn't think there would be a later work.

Ikeda:
I was in the seat of the launch, I thought that Amuro and Char were settled with this, and if the director said, 'Thank you for about 10 years,' the director laughed like Mr. Furuya's story I remember I was still in my thirties and thought that 'adults are adults and there are various circumstances, and they may make use of dead people', and I didn't go any further (laughs). Gundam has created a variety of works since then, but I think it's deeply relevant that we enter a new era with Tomino's original work, 'Shining Hathaway'.

Ayami:
How about Mr. Fujitsu who went to the interview?

Fujitsu:
In my sense, there was a 'knot here', but at the same time, it was also a time when SD Gundam and 'the way Gundam was changed'. It was a new phase in which after 10 years, 'Gundam was enthusiastic about junior and senior high school students', the audience became adults and a new Gundam for elementary school students was created. Flash Hathaway is a work in the middle of the universe century. I came out in early spring, and when I bought it around summer, I thought about five more prints and thought again, 'This is what everyone has been waiting for.'

Ayami:
The novel 'Mobile Suit Gundam Flash of Hathaway' has a cumulative total of 1.3 million copies, so I think that the expected value was amazing even from the numbers. Mr. Fujitsu, was there a connection with the historical background at the time?

Fujitsu:
It is a feeling of anticipating the times. It is recalled that 1989 was the end of the Cold War and the era of civil war and terrorism. Flash Hathaway quickly made the main character, Hathaway, a leader in anti-federal organizations. If you're doing robot animation on TV, you're not in a position as a hero. Instead, they are trying to change the world mainly by terrorism and assassination, not by major military operations. That was an idea that was ahead of the times.

Ayami:
I'm surprised to see Tomino look ahead.

Fujitsu:
'The earth's environment is polluted and mankind has to go out into space' is already in Z Gundam. Because it's before the word 'environment' is used, you have a foresight.

Ayami:
So far, we have talked about the release of 'Char's Counterattack' from the time of the release of 'Flash Hathaway'. . In addition, Mr. Furuya and Mr. Ikeda will recreate the famous scene of Char's Counterattack on this spot. Then please.

Furuya and Ikeda played the last part of Char's Counterattack, the exchange of Amuro and Char over the falling Axis, and the scene where mobile suits gathered without enemies to push back Axis. Gave me (Special video
56: 06-
/ Reading of live dialogue
57: 38-
)
Furuya-san has published photos on Twitter.
Last night's theatrical version `` Mobile Suit Gundam ~ Flash of Hathaway '' presents a fan event to everyone ♪ Shuichi Ikeda and ♪ reverse Char's climax scene with two people in the waiting room before recording ♪ pic.twitter.com/gNx2bBgfko

— Toru Furuya (@torushome) March 25, 2020


◆ 'Mobile Suit Gundam Flash Hathaway' special news video 2nd release & main cast announcement
After reading the live dialogue, the second bulletin video was released for the first time.

`` Mobile Suit Gundam Flash Hathaway '' The second special news video with voice of the main cast released-gigazine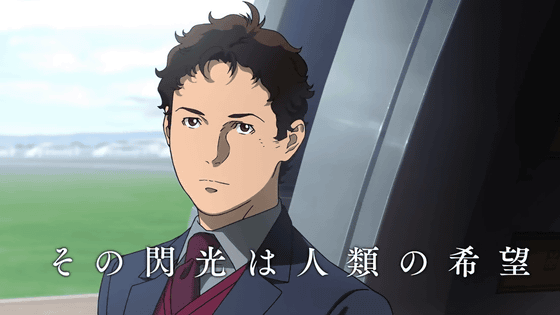 With this video, it was announced that Hatsaway Noah was
Kenno Ono
, Gigi Andalusia was
Rena Ueda
, and Kenneth Sleg was
Junichi Suwabe
.
From left, Mr. Suwabe, Mr. Ono, Mr. Ueda.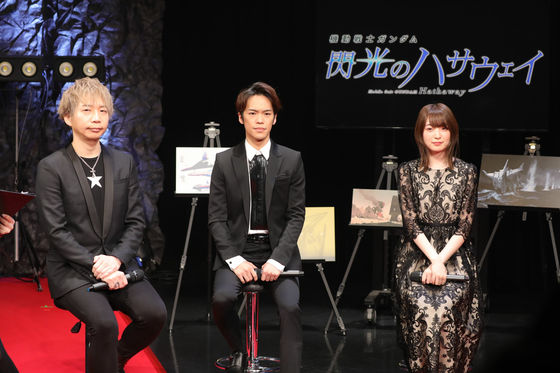 Ayami:
Immediately, Mr. Suwabe will ask for his impressions at the moment when the role is decided.

Mr. Junichi Suwabe (hereinafter, Suwabe):
I was really happy, 'I did it !!' To be honest, I was aiming ... I feel sorry for these things, sorry. Because I wanted to come out very much. To parents at home ... No, it's better not to playfully. I'm not really joking, I'm really nervous! I saw the live dialogue of Mr. Furuya and Mr. Ikeda with my sleeves and felt trembling with excitement ... I was really happy. I was impressed if I could live in the universe century.

Rena Ueda (hereinafter referred to as Ueda):
On the other hand, I was very happy, but the pressure was so great that I wanted to escape, I wanted to escape from here. Despite this, I strongly felt that I wanted to do what I could because I was myself.

Kensho Ono (hereinafter referred to as Ono):
I was incredible at first. When I received the message 'I'm determined,' I thought about 'No, again (laugh).' It gradually turned into a real feeling, and like Mr. Ueda, I felt that I had to do it while feeling the pressure, so I feel that I am working hard now.

Ayami:
With the appearance of the three sides, a teaser visual has appeared on the monitor behind. With the composition of Char and Amuro looking back around Hathaway, it gives the impression that Hathaway will take over the will of the two. Do you have any advice from Mr. Furuya to play the hero of the universe century?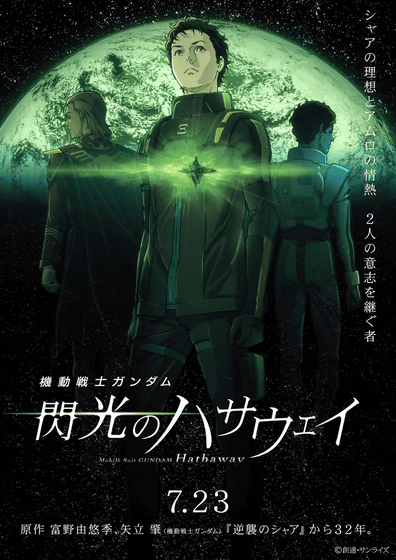 Furuya:
I can't say anything like that, but ... Ono-kun is also from Himawari Theater Company?

Ono:
That's right.

Furuya:
I am my junior. 'Mobile Suit Gundam' is a big title and I think it's different from other anime. It has a 40-year history and has fans all over the world. One good thing is that doing a Gundam hero changes your life. I told Miyano-kun at the time of Gundam 00. He is also from the theater company Himawari. I feel his life has changed a lot. First of all, it won't eat up.

(Laughs)

Furuya:
The Furuya family has been supported by Gundam for the past 40 years. I think that is a very good thing. To do so, I think there is still some pressure on the role of Hathaway, but I believe that I should believe in myself as a new type and play it out with that sensitivity. Please do Ono-kun's Hathaway.

Ono:
Thank you very much.

Ayami:
How about Mr. Ikeda from the perspective of Char?

Ikeda:
It looks like I'm turning around, but I'm a man who abandoned the past, so I turn around ... I'm a little worried about the flashing Hathaway. With Gundam celebrating its 40th year, I hope that young people will create a new Gundam world for the next 50 years. I would also like to be able to participate in Gundam World, not just Hathaway, if there is something that I can participate in.

Small type:
What about Haiku Association?

Ikeda:
No, well ...

Suwabe:
Thank you very much. I'm afraid.

Ikeda:
We do some together.

Suwabe:
Yes, like 'SEED Destiny'.

Ikeda:
Gigi is one flower in this defeated work. 'I'm going to be a good woman.'

Ueda:
I'll do my best.

Small type:
How about 'La Lamy'?

Ikeda:
LaLaa is nice, but that girl will die, lol

Small type:
It's bad luck (lol)

Ikeda:
I hope that you will live a reasonable life.

◆ Flash Hathaway Deep Digging Talk
Mr. Furuya and Mr. Ikeda left, and Mr. Fujitsu joined again, and a deep talk was held on 'Flashing Hathaway'.

Ayami:
I ask Mr. Ogata. Why did you now want to visualize Flash of Hathaway?

Small type:
When I was a junior high school student, I saw 'Reverse Char' and was curious what Amuro and Char had done since. Then, when I was feeling sick, when I stopped by a bookstore, I read, 'I see' Hashaway of Flash '. Is there anything written after that?' It is a generation that has received. Then, I started working with Tomino in this position, and when I read the novel again, Tomino always studied the social situation, as the story of Mr. Inoue and Mr. Fujitsu came out. Now, like a prophecy, modern society is approaching where Tomino was worried. Although it was a novel written 30 years ago, I strongly thought that people who saw it now would be good, so I decided to make it a video this time. In addition, Tomino-san has sold about 8 million copies in all works, and there is also a need to raise his reputation as a novelist.

Ayami:
It has already been announced, can you please introduce the staff of this work?

Small type:
Then, it is summarized in the VTR. (Staff introduction 1: 14: 01- )

Fujitsu:
I have a question for Mr. Ogata. As I mentioned earlier, Mr. Tomino is the first person to supervise Tomino's original work. Why did you choose Shusei Murase ?

Small type:
For the first time in an interview with Mr. Inoue, I realized that it was the first time for others to make the original film directed by Tomino. It is very sensible to think it that way. At the time of the release of 'Reverse Char', I was still a junior high school student if I had visualized it as it was, but if I wanted to stuff, I would like Mr. Tomino to join, and in that flow, the music was Shigeaki Saegusa , drawing was I think it was Hiroyuki Kitazume . However, since it has been 30 years since then, to visualize this 'Hathaway' this time, of course, those who have liked 'Hathaway' will be of course pleased, From now on, I have to love the things I made for 20 or 30 years, so I thought I had to make films that could be seen by the next generation. Tomino himself has a strong desire to make something new right now, and there is not much in Tomino today who says, 'Re-do the work that I did in the past.' I chose Murase-san when I was drawing for 'UC', and it was around Axis in Episode 7, the images were amazing, and recently, trailers for 'Genocide Organ' and 'Blade Runner' The biggest thing is that you want to turn Hathaway into a film with Mr. Murase's visual sense, including that atmosphere. The staff has a large back calculation from there, and Murase is a type that approaches the live-action direction, so the character design etc. is also a game work and illustrator called pablo uchida-kun while referring to the illustrations of Mikimoto Haruhiko 's novel I have asked people who are active as a design to swing in the real direction. Also, the actor's play also chose these three sides because he wanted a play close to the life-size of the character, and a live-like play. Prior, Tomino to supervision have reportedly that the fact that the 'do it please let me' and 'go with Murase-san', this san and Miki Moriki YasushiYasushi 's, Nozomu Sasaki to talk to, such as Mr. 'this kind of direction Please let me go. '

Fujitsu:
Starting from here, I felt that I was determined to make a 2020 work. Right now, Tomino is working on one studio, and when he's doing an animation of his original work next to him, he thinks he might want to say something. What is the sense of distance in the field?

Small type:
When I first went to talk to me, 'Please let me do Hathaway', I thought that it was pretty easy to say, 'Oh, good,' as in Inoue's novel. When talking about `` I want to go with Murase-san, '' Murase-san did the drawing of the opening scene of 'F91' and the cool parts, and Tomino recognized that he was an animator. I think it was a Korean movie that should be watched, such as 'Weaknesses in the production of this' or 'I can't do this.' Until the day before, I was saying, 'I don't remember Hathaway?' But I thought, 'Oh, I remembered it unexpectedly.' 'If you make this as a reference, it's OK because the source is interesting.' But I was angry at the notice.

(Laughs)

Fujitsu:
How angry was that?

Small type:
The first notice of 'NT' was pretty strange. That was because 'NT' was pretty flashy, so I purposely did a place where the tension was low, but I was scolded that 'You don't understand the meaning of the notice.' I thought that was exactly the case, so I made it with care from there.

Ayami:
How is your current production situation?

Small type:
My studio is still the same, but I think you will come out with staff introductions later, but only Mr. Sawano's playfulness has been firmly completed.

Ayami:
'Only' means ...

Small type:
Anyway, dubbing ...

Suwabe:
Let us work.

Small type:
At the beginning, three people have been recorded, but it is still about half. I guess half isn't there. From here onwards.

Suwabe:
When can I say when I recorded it?

Small type:
OK

Ono:
Last year 11 ... Month?

Suwabe:
It was about late autumn. At that time, I feel like saying, 'I have a good year.'

Ono:
I think we had an early 'good year'.

Ueda:
It will be spring.

Small type:
At first it was called Next Winter, but there were various things and it was like this.

Ayami:
I think that it is made carefully.

Ono:
By the way, in the PV I saw earlier, there was a line that was not OK. There was a guy who did not record in the actual production and recorded in the test.

Small type:
It will be a detailed story, but it is divided into parts like ABCDE, the three parts of AB have been firmly recorded, and C has not yet finished the picture, so Mr. Ono and Mr. Ueda as drawing reference I had it recorded temporarily, but I used the ones in it.

Ono:
I was surprised because my heart was not ready.

Ayami:
The production materials are now arranged to surround you. What was your first impression of the character you played?

Ono:
Flash Hathaway was about 12 years after Reverse Char, and Hathaway was also a boy when he was a reverse Char. That is the impression.




Small type:
When filming in 2020, he wants a play close to what he's thinking at the age of 25. Hathaway is 25 years old with various things such as quess, so he is a person with a shadow part, and he is doing anti-Federalism activities, so he is a person who can play the shadow part firmly , Ono-san was selected for the audition. I think it's hard under pressure.

Ono:
I think that the past that I have is quite large, and it is a bit different to keep it out. I'm currently digging deep into the characters, so that it's a bit of a moment when it can be seen or hidden, and I wish I could catch it with my new type sensitivity.

Small type:
Hathaway is difficult and I usually have to play a normal youth, but in a sudden, myself comes out.

Fujitsu:
In a part that was not in the video of Mr. Inoue's interview, from the point of view of the editor in charge at the time, Hathaway was a character with a vacant place that has been lost, and it seems that the skill of the action stands out so far Mr. Inoue said that he was different from the Gundam hero.

Suwabe:
Kenneth is at first glance, it is an elegant man, there is a cracked atmosphere with a suit, but it is a decent soldier and it is a moderate class, so I think that it would be nice to have a good balance and a good adult feeling You. To be honest, at the time of the audition, 'This may be the goal.' Since I received the character design as a reference, my face and age ... I sometimes thought, 'Is it okay or not?' At the audition, but Kenneth was able to do the audition with a feeling that he felt right in himself, I thought it was always good.




Small type:
Kenneth is a mid-30's adult who has a brutal and elegant man. So, in the industry, such landlords gathered, and among them the strength of the voice of Mr. Suwabe, because the soldiers are at the base, even though he is an excellent man, sometimes he is called a crazy dog We chose Suwabe because he felt something.

Ueda:
When I saw it for the first time, I thought at first glance that it was an adult-like, beautiful person, but if I looked closely, it changed to the impression that it looked like an adult but there were some girls-like places 'It's a figure with a pretty girl with an adult.' While I was auditioning, I gradually lost my place and felt 'feminine', 'cute', 'girlish', 'unstable', 'Ayausa', and 'a sense of space'. I have come to be able to do it, and I have the impression that it is also an attractive woman.




Small type:
Since this story is like moving at a giggling, I auditioned at a number of prominent members, just like at Suwabe and Ono. Gigi is a girl and an adult, and I think it is a difficult character with fragility. Regarding Ueda, the approach at the audition is different from the others, and she looks like a natural and pretty girl, but she also feels scared and mysterious, so the staff members are all 'Ueda-san'. have become.

Ueda:
It's was so.

Fujitsu:
Gigi is a culmination of characters such as Fam, Fal, and Ques, which Tomino has been drawing for a long time, but Hathaway of Flash is not a melodrama, but one point is how the emotions of the three people shake. It was a story.

Ayami:
Each character is attractive, but the mechanism is also very impressive.

Small type:
At the time of the novel, mechas existed.

Fujitsu:
Moriki draws a Gundam for a novel, and almost one shot is OK. Mr. Inoue said that there was no evidence that the people concerned checked.

Small type:
Ξ Gundam isn't shown yet, but Penelope is like that, but when it comes out from the anime side, the design is such that the number of lines will never be OK. Is Inoue bad? (Lol)

Fujitsu:
Maybe Inoue told Director Tomino, 'Please wear a Minofsky craft,' so it's a bigger one. I guess Moriki also drew it because he thought it was a novel, 'it wouldn't have to be for animators to draw.'

Small type:
At the time of "UC", Katoki was saying the same thing (laughs). Now, Mr. Katoki has dropped this into animation design, and some trailers are moving it. It's hard to do by drawing, so I'm using CG.

Suwabe:
That means you couldn't do it 30 years ago.

Small type:
Well, it could not have been reproduced.

Suwabe:
At first glance, I don't know what Penelope will be like. Complicated.



Fujitsu:
In addition, Penelope is an aircraft with a gimmick.

Small type:
In the novel, I mention it somehow, but after that, there are games, etc., and the settings are evolving steadily, so I am saying 'What should I do?' Messers are basically hand-drawn, but there are also 3D scenes, and since Mr. Murase is 3D-oriented as a whole, I think it will be different from Gundam until now.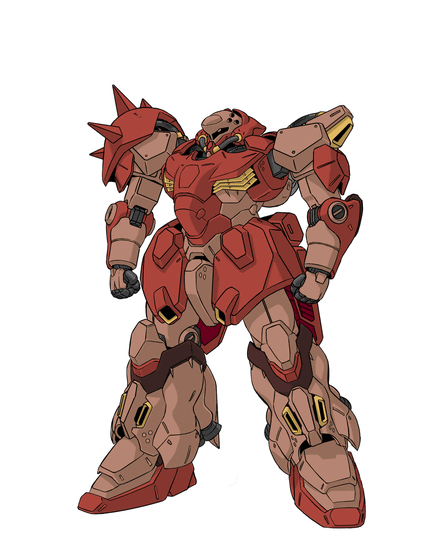 Fujitsu:
I ask, what happens to Ξ Gundam?

Small type:
I can't say!

Suwabe:
Because we haven't seen it either.

Small type:
I think it's just not done.

Ono:
I'm curious. I want to ride fast. I am looking forward to it.

Fujitsu:
Gustav Karl, a federal mass-produced aircraft, also appears in 'UC' and has various interpretations of games and so on.

Small type:
I do. When we did UC, we talked about Hathaway, and with that in mind, Gustav Karl appeared in UC, but now we're talking a lot, and if we can meet the next notice, Can you come out and show it? Already, I don't know which one ... I can't say any more.

Suwabe:
Not as 'UC'?

Small type:
In UC, it was made a bit massive, and I was thinking that this was not my glutaph curl, but please look forward to the next announcement ...

Fujitsu:
This is also a question that pokes into the corner of the box, but in the novel illustration, Bright had a mustache. What do you do there?

Small type:
Since Bright came out, it's about what to do. I think that is impressive.

Fujitsu:
I think that it was Mikimoto's nice idea to understand that time has passed in one shot.

Small type:
Well, I can't even say this, but 'I like it' (laughs)

Fujitsu:
(Laughs)

Ayami:
It has been heated, but there are also new production initiatives in this work.

Small type:
This style is often used in current animations, especially in theatrical works.However, not only the storyboard on the paper but also the V-conte, which has a timing and screen image that can be understood by the director When you have to draw. I guess there are cases where you can dub.

Suwabe:
There is

Fujitsu:
It's about sharing the flow and rhythm of the video once.

Ayami:
In addition, there are also panels around the town right now.

Small type:
The first episode is about Davao in the Philippines as the main stage, so I went to location hunting and took a lot of VTRs and photos with the directors. I sometimes found out when I went. Tomino said he did not go when he wrote, he said he did not go to Hong Kong in 'Z', and based on a travel book I saw at the National Library for 'Hathaway'. Famous places come out, but the shore where I walked is far away, so I have to go to the locals to understand the geographical relationship. I'm not going to play.

Fujitsu:
The details support reality.

Ayami:
There is something I really want to hear from Mr. Fujitsu.

Fujitsu:
There are two questions about the story. In the first place, the novel 'Senha' is a continuation of 'Bertochika Children' that is based on a scenario draft of the movie, but which video is a continuation of 'Bertochika Children' or a continuation of 'Reverse Char'? Is it?

Small type:
'Which' is hard to say at the moment ... Undoubtedly, it is definitely the continuation of 'Char's Counterattack' as a Sunrise video work. However, since it is the first time to visualize, when making it, I am also taking into account the novel version of 'Bertochka Children', so I can only say the vague thing that that element is not included at all.

Fujitsu:
If you look at it, I guess you know which one is the most.

Small type:
I agree. There are three of these, so you can see if you can see them all the way to the end.

Fujitsu:
Last but not least, is the novel complete and will the readers be surprised or impressed when watching the video?

Small type:
I don't know what will happen because the third scenario hasn't come up yet. To say, 'It takes time, please read it first.'

Fujitsu:
You can read it.

Small type:
After reading it ... I'm just doing the third scenario, so I'm not honest about what will happen.

Suwabe:
Is it the same as the original, or is it an original development ... Does Camille look solid?

Small type:
If Tomino was doing it, it could have been that way.

Fujitsu:
Murase is known to be an incredible animator, but when interviewing people involved in other works, he heard that he was 'a person who was deep and sharp in reading the story and was the person who wanted to be a director.' This time, with the combination of Murase-san and
Muto-
san, do you feel deep into the original?
Small type:
Mr. Murase was also detailed in the book, and this time I asked Mutou, but the direction was talked with the people themselves, but they are two slightly different people. While Murase-san is theoretical, Muto-san is a type that writes on emotions. I wanted to put something wetter than Murase's usual direction, so I asked for this combination. Murase is very elaborate, including making screens.
Ayami:
I would also like to expect a chemical reaction between them. I've heard a lot about Hathaway's view of the world, including valuable production materials so far, but I'm leaving here for Mr. Fujitsu, who has been involved in numerous in-depth talks. Fujitsu, thank you for today.
Fujitsu:
Thank you very much.
◆ Introduction to music
Following the in-depth talk on 'Hatsuway of Flash', a message VTR from Hiroyuki Sawano, who was in charge of the dramatic court, first heard about music-related topics.
Hiroyuki Sawano:
I just finished recording the other day. This time, we approached some orchestral songs and singing songs, and we hope that a variety of people participated and that we could get a satisfactory sound. This time, I had a meeting with the director and the producer, saying that I was conscious of the adult Gundam, so I was building a sound with that kind of approach rather than a song pressed with a melody. I made a song like Of course, some themes extrude melodies, but I think that approach was a different approach from previous Gundam works. This time as well, we created orchestral songs and song songs with the feeling that we could make the entertainment of the work more interesting, so I hope our customers will enjoy it.
Ayami:
How was this play order placed?
Small type:
As Mr. Sawano mentioned, he thinks he is an adult this time. Among them, this story is 12 years after 'Char's Counterattack', and since the universe century was originally a future story, I ordered that we want a futuristic sound. Mr. Sawano's play has already risen, and even though he's an adult, please ask him to keep down places he finds quite restrained. The usual 'special moves' were ordered as special moves, but the melody is already overflowing. Sawano-san always has good things, but he has an adult direction, some songs, and he listens. Mr. Sawano's music is a playful play that enhances everything when the screen is created with your voice, so I always think that I can no longer make a work without Mr. Sawano.
Ayami:
I want you to expect such a play. Finally, it is the announcement of the theme song artist of this work. [Alexandros]. Thank you for rushing to the busy place today.
[Alexandros] 3 people:
Thank you very much.
From the left, Hiroyuki Isobe, Yohei Kawakami, and Masaki Shirai.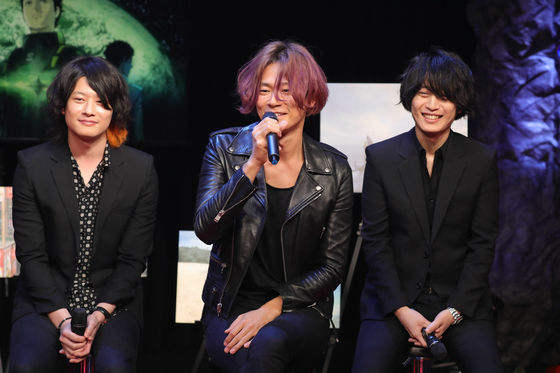 Ayami:
[Alexandros] started full-scale activities in 2007. This year's 2020 celebrates its 10th anniversary memorial year, with the release of the first best album that has already been released and live tours, as well as expectations for future projects, this is the most impressive rock band now. … I mean, is that correct?

[Alexandros] Yohei Kawakami (Kawakami):
Yes, definitely.

Ayami:
I would like to ask Mr. Ogata why he offered the theme song to [Alexandros] this time.

Small type:
Flash Hathaway will be screened all over Japan, but nowadays Gunpla sales are mostly overseas, and Hathaway will also be screened overseas. In doing so, I asked [Alexandros] that I would like a Japanese artist who can go abroad together.

Ayami:
What was your image at the time of ordering?

Small type:
This time, because of the first part, Hathaway's tension is at its highest, so I ordered for that, so I hope that the tension is high and the tempo is up.

Ayami:
How did you get the offer?

Kawakami:
I was so happy. I heard the theme song of another movie and liked it very much.

Small type:
' BLEACH '

Kawakami:
I also made that song in New York. It was a song that I could finally do while living with four people on how to go to this band overseas, so I was very happy to say that I liked it. I met through a friend, but I was thinking, 'Why would you say this?'

Small type:
This is a chance.

Kawakami:
'Actually ...' So, we belong to the place called ' RX-RECORDS ', but it is said that the manager was a geek and started 'RX-RECORDS' in order to do this kind of work someday.

Ayami:
It was calculated.

Kawakami:
You may have thought that it wouldn't be possible, but that kind of story.

Small type:
When I went to talk, he said, 'The RX-78 is empty.'

Suwabe:
Part number is 'RX-78'.

Kawakami:
A variety of artists also belong, but ourselves. We were, of course, happy and honored, but I think the manager is more than happy to cry.

Suwabe:
You mentioned that the tension was rising so much earlier.

Ayami:
Perhaps the manager's thoughts were drawn.

Small type:
As I was talking about earlier, there was something miraculous ...

Kawakami:
My big brother is also a big fan of Gundam, and when I was a freshman in elementary school, I was watching next to my brother watching Char's Counterattack. Recently, when I reviewed it again, there was a scene where I thought 'Oh !?'

Ayami:
This is the scene.

Kawakami:
Is Hathaway with Haro? I was wondering if the name of the band was [Alexandros] or 'Alexanders', and decided on 'dros'. This is already destiny.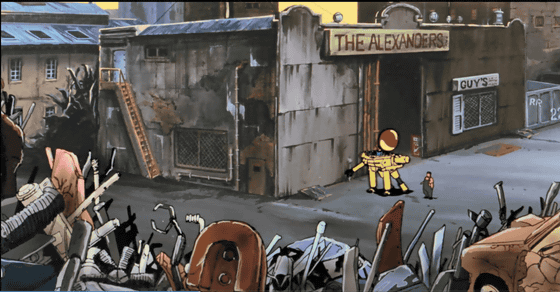 Ayami:
In the midst of joy and miracles, how is the current situation of production?

Kawakami:
Currently in production. There are many patterns now, and while reading novels and so on, various emotions sprout, so while trying to find out how intense or empty, how to put it into one song, how many patterns And now there are many songs in the smartphone.

Hiroyuki Isobe:
Every time we create a song, there's always a moment in the studio saying something, and it's a moment we can do something. This time, 30 years have passed since Char's Counterattack, and it's 30 years after that. , But it's fun, it's not like this, so I think you can always make something good. I hope you look forward to it.

Suwabe:
If you are careless, it will be covered by Hiroko Moriguchi.

Ayami:
There may be such a future (laughs). In fact, do you listen to each other and talk about music production?

Kawakami:
Because we make our own, we go home and listen to what we have done on the spot, and then go back to the studio to give us feedback and update. I guess only the members are listening now. Earlier, the manager heard for the first time.

Ayami:
Do you give up if you come across an opinion during the production? Do you push it off?

Kawakami:
There are various patterns. When I ask members to make arrangements like this, they sometimes come to mind when I hear them, so there are almost all times when they come into contact with arrangements in my head But it's fun to hit them, so I don't want to listen too much, and it's more poisonous to make a fight. It always becomes a song that feels thorny. When everyone makes a good job, they often have a bad taste, so I don't try to fight every time, but don't be shy.

◆ Ending
At the ending, Mr. Furuya and Mr. Ikeda joined, and everyone commented one word at a time.

Small type:
Thank you for watching today. In front of Mr. Furuya and Mr. Ikeda, I was able to show off in this way, and I feel that I am tight. We have received many hot messages about Hathaway. After receiving that, I want to create a work that can be left for the new generation with this staff. This time, the Gundam moves in Yokohama because it will be released in the summer. It's a tough time around the world, but hopefully we will be able to meet with a smile on July 23, so we hope to end this event. I hope you will continue to support Gundam and Hathaway for many years to come.

Kawakami:
I want to make a really cool song, so please look forward to it.

Ikeda:
Uncle will do a little better, thank you one. Let's do our best together.

Furuya:
I think that Theatrical version 'Hathaway of Flash' is a legitimate successor and successor to the universe century Mobile Suit Gundam that Amuro and Char were able to spun. I really hope that this work will gain new Gundam fans and further expand the Gundam world. Everyone who watched the distribution, go to the theater dozens of times in the dawn of the show, if you can connect to this `` flash of Hathaway '' big hit, the story of Amuro and Char will be animated again ……maybe. I hope that too.

Suwabe:
I met First Gundam when I was in elementary school, and since then I have been familiar with a series called Gundam. In the past, I have appeared in a work named Gundam, but today it is honored to say hello as a cast of a work bearing Gundam alongside Mr. Furuya and Mr. Ikeda like this, It is insensitive. 'Hasaway of Flash' role of Kenneth, I would like to do my best with the whole body, so please give it to the theater.

Ueda:
I think Gigi is a woman who plays an important role in the story, but I live with the will of Gigi. I wish I could work hard with such a will and her thoughts carefully and honestly.

Ono:
Ikeda-san and Furuya-san showed me the live performances close by, and I think that I felt like I was tighter again, and today I was able to raise the gear by one. It's a great honor to be a hero in the long history of the Gundam series, and I'll do my best to fulfill that responsibility. I hope you all look forward to theatrical release.


I will play Hathaway Noah in the theatrical movie 'Mobile Suit Gundam Flash Hathaway'.
We will respect the historical Gundam series and Nozomi Sasaki and face them with all the power they have. It is released on July 23. looking forward to. pic.twitter.com/KhfCrvQfgY

— Kensho Ono (@ono_kensho) March 24, 2020
I will be playing Kenneth Slegg in 'Mobile Suit Gundam Flash Hathaway'. After the presentation event, I was even more excited. Scheduled for release on July 23. First of all, please see it. Please look forward to it! https://t.co/tQzKo1pHDS pic.twitter.com/t1IjzNuJKF

— Junichi Suwabe (@MY_MURMUR) March 24, 2020
I watched Char's Counterattack in a movie theater when I was in high school. The day when the performance of the climax scene can be watched live is coming. With the help of Furuya and Ikeda remembering their names as colleagues, the day will come when they will be on the same stage. I didn't even think of that dust that day. That's goose bumps (laughs)

— Junichi Suwabe (@MY_MURMUR) March 24, 2020
Have you ever appeared in your Gundam series? The anime is SD Gundam Force, SEED DESTINY, AGE, G Reconguista, and Build Divers. If it is a game original character, you played Mark Guilder and Yu Kajima. In fact, we have been quite helpful.

— Junichi Suwabe (@MY_MURMUR) March 25, 2020


The movie 'Mobile Suit Gundam Flash Hathaway' will be released from Thursday, July 23, 2020.

◆ 'Mobile Suit Gundam Flash Hathaway' Information
Planning / Production: Sunrise
Original: Yoshiyuki Tomino, Hajime Yatate
Director: Murase Osamu
Screenplay: Yasu Mutou
Original character design: Haruhiko Mikimoto
Character design: pablo uchida, Naoyuki Onda, Shigeki Kouhara
Mechanical design draft: Yasuyasu Moriki
Mechanical design: Hajime Katoki, Kimitoshi Yamane, Seiichi Nakatani, Nobuhiko Genma
Color design: Suzuki Takako
Director of Photography: Shota Waki
CG Director: Takayuki Masuo, Tomohiro Fujie
Edit: Daisuke Imai
Sound direction: Koji Kasamatsu
Recording direction: Eriko Kimura
Music: Hiroyuki Sawano
Distribution: Shochiku
© 創通・サンライズ